Rice Water for Beautiful Skin and Long Shiny Hair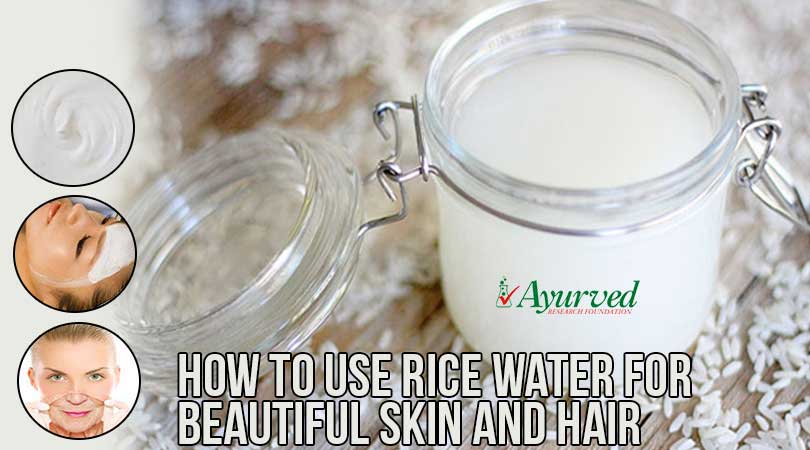 How to Use Rice Water for Skin and Health?
Who would not want to have flawless smooth and fairer skin with long shiny hair? Everyone loves to pamper themselves now and then with many of the beauty secrets they come to know. It's every girl's desire to have brighter skin and long beautiful hair. They are ready to pay any cost for things related to beauty. But why to pay when you can have magnificent results with home ingredients that too without paying high prices. Today we bring you the super beneficial hidden benefits of rice and rice water. Isn't it unbelievable that the rice we eat in our regular meals has so many qualities and is still not known to most of us?
Rice water is a very old method used by Asian ladies for glowing skin and hairs. This is the real beauty secret of their flawless skin and beautiful hairs. We always used to wonder how beautiful they are but never tried to find out the trick behind it. Rice water has high amounts of starch, which makes it rich in antioxidants that are very essential for our skin and hair beauty. Rice water can treat acne, eczema, gives your skin whiter tone, makes your hairs healthy and shiny, tighten up the pores and tones the skin.
While there are many more advantages of rice water since it treats skin irritation; it also regenerates cell growth and improves health of your hair as rice water contains protein that can repair hair. Rice water can be used by people with any skin type, be it normal, dry or oily. To prepare the rice water for beautiful skin and hairs we need only two ingredients Rice and water. To make rice water, the procedure you have to do is as follows:
You may like reading:
Best Diet for Healthy Skin
Turmeric Face Mask Recipe for Skin Problems
Rice Water for Beautiful Skin and Long Shiny Hair
Ingredients for Making Rice Water for Beautiful Skin and Hair
1.1/2 cup Rice
2.2 cup Water
There are two methods of preparing rice water, one is the concentrated form with boiling method and other one is simple form with no boiling method. You can use any one of them and you can also dilute the rice water as you like.
No Boil Method – Wash the rice with fresh water and rinse it, so that it will clear all the dirt and impurities, if any. Now place the rice into a bowl and cover it up with water. Let it soak for 10-15 min and then you will notice the color of water is changed to whitish. Now strain the water into a bottle. This is the quick rice water recipe.
Boil Method – This one is the concentrated form. It is prepared the same way you prepare the rice. After the rice are cooked. Strain the remaining water into a bowl and now the rice water is ready to use for washing your face or rinsing your hairs.
Now, once your beauty secret of rice water is ready to use, the next step is how to use this rice water for your skin and hair. Note that this rice water you made cannot be used for more than 3 to 4 days that too when stored in refrigerator, so better you prepare it fresh each time you need to use.
For Skin – Soak a cotton ball into the rice water, apply it on your face and massage slowly so that it will promote blood flow. It will clean all the dirt and will make your skin smooth. You can also make a face pack out of it by adding lemon to rice water, applying it on your face, leaving it for 30 min and then finally rinsing your face. You will feel the glow instantly.
For Hair – Shampoo your hair firstly and apply this rice water on your scalp and rinse all your hair through it. You can also apply rice water to the ends of your hairs by dipping them into the rice water. Keep it till 20 to 30 minutes and rinse it off with cold water and shampoo your hairs. You will notice a shine and smoothness in your hairs and you will feel a clean scalp as rice water is a very good hair conditioner. But remember not to use rice water on hairs more than once in a week otherwise rice water will start depositing on your scalp. Once in a week will do the wonders you wish for.
Using rice water for beautiful skin and hair heal scars and reduce wrinkles, fine lines, and inflammation, thereby leaving the skin clean, clear, smooth with a healthy glow as rice water contains nutrients such as zinc, iron, vitamin B, C and E. No more giving up on your thought of getting a fairer tone and beautiful hairs with regularly use of rice water for beautiful skin and hair.
You may like reading:
Face Masks Recipes for Glowing Skin
Aloe Vera Mask Recipe for Skin and Hair
You May Like…