Turmeric Face Mask Recipe for Skin Problems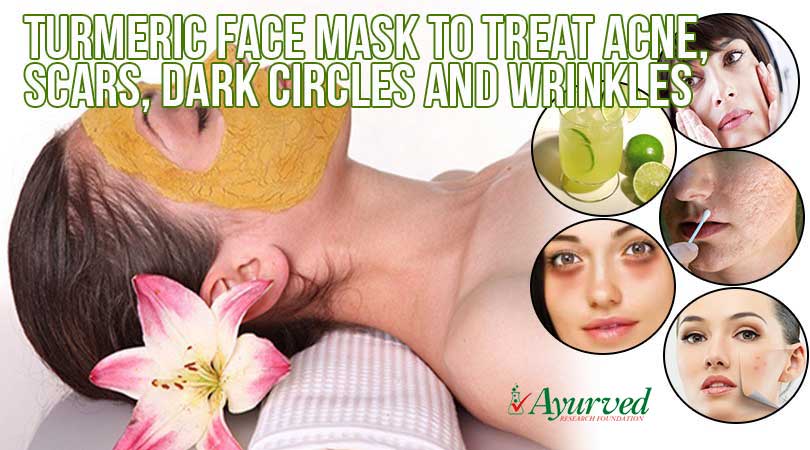 Turmeric Face Mask for Acne, Scars, Dark Circles and Wrinkles
Skin problems can occur at any point in life and these are very common. Every other person complains about having acne or scars. Everyone wants to own a blemish free smooth and flawless skin. It's a bitter fact that facial skin problems are clearly visible and cannot be hidden. It needs to be treated as quickly as possible. Let us discuss the most common skin problems you have to go through in your daily life.
Common Skin Problems
Acne: No one ever wants to see themselves with acne even in their worst of dreams. It is the most common problem which happens at any age. Do not ignore them as if not taken care or treated in time, they can leave scars on your face, which then can affect your confidence level. They are caused when hair follicle produces sebum, an oily substance which gets mixed with dead skin cells and blocks the skin pores resulting in acne.
Scars: There are various reasons behind having scars. They may be due to injury, burn, accident, acne or surgery and these can be frustrating enough due to their appearance. Some scars fade away with time while some of them last longer or permanently. They do not harm but we do feel embarrassed about our looks when we are not able to hide them especially on the face.
Dark circles: Those big baggy dark pigmentations under your eyes. It portrays your image very wrongly in public as if you are tired or sick. You have to apply layers of makeup to hide them. These are caused due to lack of sleep, watching television late in the night, improper diet, allergies or too much sun exposure.
Wrinkles: It's a natural phenomenon of getting older. But what if when wrinkles start appearing very early? They are like a crease on a plain paper. It makes you look older. The reasons you get wrinkles are too much use of cosmetics, unhealthy eating or extreme dieting or drinking less amount of water.
You may like reading:
Best Diet for Healthy Skin
Face Masks Recipes for Glowing Skin
Well, the main causes we notice here in every skin problem are harsh weather conditions, improper nutritious diet and use of too many cosmetics on your skin. Whenever we spot any of the above skin problems we feel panic and get irritated and run for the commercial products that claim to treat all these skin problems. But, they do no good except leaving you with more and more skin problems as they are made with chemicals and harmful ingredients. Our skin is a very delicate organ which needs to be handled with care. Instead of going crazy over those expensive and over-advertised products you can treat your problems in a natural way.
Nowadays, skin problems are not a big issue as they can be treated easily. In older times when there were no parlors and when not much cosmetics were used back then, we Indians had our own beauty treatments. Turmeric is one of their beauty secrets which is an ultimate solution to all your skin problems. Yes, it's true, turmeric is not just for cooking but has amazing skin benefits.
Turmeric rejuvenates the skin and has the antioxidant properties that fight the damage and leaves your skin fair and glowing. It is known as an effective exfoliating agent which cleanses the skin deeply. It treats acne, removes scars or lighten them and also reduces dark circles and wrinkles. It has antibacterial properties that kill bacteria.
You can prepare turmeric face mask to treat acne, scars, dark circles and wrinkles. Turmeric mask can be applied on the face with combining more ingredients that are magnificent at treating acne, scars, dark circles and wrinkles. Turmeric is the most used spice in your kitchen. You can experiment with coconut oil, gram flour, rose water any many of such ingredients used in the kitchen daily. These natural herbs are used since long ago to treat skin problems and are wonderful at healing.

Ingredients of Turmeric Face Mask for Wrinkles and Acne
Lemon juice: 1 tablespoon
Turmeric powder: 1 to 3 teaspoon
Tomato: 2 teaspoon
Honey: 1 teaspoon
Yogurt: 1 tablespoon
For preparing turmeric face mask for wrinkles and treating scars, acne and dark circles take yogurt into a bowl and add all the ingredients and mix well till the paste gets smooth consistency without any lump. This turmeric face mask to treat acne is ready to apply.
Spread it all over your face and let it dry for 15 minutes. When it dries wash it off. You will feel an instant glow. Use this turmeric face mask to treat acne as it cleanses the skin and removes dead skin cells.
Do not neglect your skin care and choose for this turmeric face mask for wrinkles which heals acne and fades away the scars and gives you blemish free smooth skin. Who does not want a healthy and glowing skin? To your relief, turmeric face mask will do all the healing naturally.
You may like reading:
Aloe Vera Mask Recipe for Skin
Cucumber Cooling Spray to Hydrate Skin
You May Like…