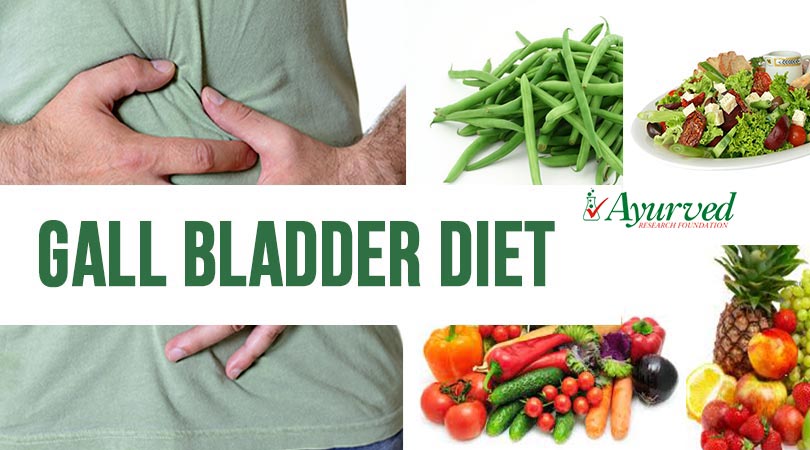 Gall Bladder Diet
Gallstones do not cause any problems till these do not move, but when stones start moving these can block any biliary or CBT duct which can raise medical emergency. Gallbladder plays a crucial role in digestion. It secretes bile during digestion which gets produced in liver and is crucial for metabolizing fat and other complex food items. People who are obese, having family history, or have lost sudden weight are at high risk of getting stones in gallbladder. Gall bladder diet is actually low fat diet which is balanced in nutrition and easily digestible.
Important points to take care of for gall bladder diet –
Consume fruits and vegetables at least five times in a day.
Include starch and carb rich foods.
Include wholegrain in diet and form 3-4 meals per week.
Limit or minimize intake of foods high on sugar and fat.
Increase water intake at least up to 2 litres per day.
Include dairy products and high fibre foods in the diet.
Avoid large meals and consume small meals few times in the day.
These practices along with dietary changes provide gall bladder diet which curbs the symptoms of the problem and protect health.
You may like reading:
Best Diet for Healthy Kidney
Best Natural Diet for Healthy Liver
Foods to Eat and Avoid With Gallstones
Read Full Details Here: Best Diet for Gallstones
Here are few dietary changes that suggest foods to eat and avoid with gallstones which can be helpful and provide a complete gall bladder diet.
Avoid use of butter, lard, clarified butter, spreads and oil in cooking or with meals. Replace these with less fatty options like jam, honey, oil sprays and less fat spreads to prepare a gall bladder diet.
Avoid eating whole milk, creams and full-fat yoghurt. Use fat-free and sugar-free milk and yogurt, skimmed or semi-skimmed milk or low-fat evaporated milk.
Eat cottage cheese, reduced-fat cheddar cheese or other types of low-fat cheeses instead of full-fat cheeses.
Avoid snacks like cakes, biscuits, pastries and crisps. Use roasted almonds, pistachios and walnuts in place of these to gain nutrition and lower amount of fat. You can also prepare butter-free popcorn or eat fruits and vegetables to maintain a healthy gall bladder diet.
Do not include puddings, ice creams and pies and custards in your diet. In place of these you can eat tinned or stewed fruits, low-fat yoghurt, rice pudding made with skimmed milk and jelly.
Avoid creamy sauces of all types and mayonnaise.Use tomato based sauces, balsamic, fat-free oils like olive and mustard or lemon juice as salad dressings or to add to soups and vegetables in a gall bladder diet.
Avoid meat and all types of processed meats such as sausages, salami, pork, lamb, beef and meat pies. You can eat in place of these, chicken, turkey, lean ham, red meat and all types of white fishes to consume a gall bladder diet.
Some of the foods to eat if you have gallstones to gain relief are
Beans and Lentils – Home Remedy for Gallstones

These legumes are high on nutrition and low on fat, consume these foods with soups or add these to other cuisines to increase volume of diet and limit quantity of relatively higher fat-supplementing foods.
Vegetables – Natural Diet to Remove Gallstones
Vegetables like broccoli, leafy green vegetables like kale, spinach, zuchhini etc. are very beneficial for a person suffering with gall stones. These can be cooked in less fatty oils or can be used in gall bladder diet boiled or roasted to gain nutrition and limit fat intake.
Recommended reading:
Homemade Healthy Fruits and Vegetables Juices
Salad – Best Diet to Cure Gallstones

Celery, onion, berries, cherries and asparagus are other food items which can be good salad ingredients or can be consumed with juices, shakes or smoothies to gain dose of vitamins and minerals and zero fat. These are useful parts of gall bladder diet which help immensely in maintaining nutrition without consuming higher volume of diet.
Other Vegetables – Natural Diet Plan for Gallbladder Health
You can change your taste and diet plan by using these vegetables to avoid boredom. Include sweet potatoes, artichokes, cauliflower, carrots, turnips etc. to prepare vegetables to go along with regular meals or as salad ingredients in gall bladder diet.
Fruits – Good Foods for Healthy Gallbladder
These are sources of minerals, vitamins and fibre and supplement minimum quantity of fat to reduce load over gallbladder. Include these on regular basis to form a complete and nutritious gall bladder diet. Apples, banana, papaya, watermelon, pineapple and oranges are good fruits to be consumed in bulk as part of gall bladder diet.
Dairy Products – Best Products for Gallstones

Do not ignore importance of these foods when it comes to nutrition. These foods are sources of minerals which are excellent for vitality. Though these foods are sources of saturated fats which can be harmful for a person suffering with gallbladder problems but these can be used after removing fat like skimmed milk and Greek yoghurt. Include these in 2-3 portions at least per week to gain optimum nutrition through gall bladder diet.
Try and prepare food yourself, this will allow you to control fat amount in diet. Use salad dressings which are home-made or use products which are plain and not mixed with other food items. Maintain optimum water intake and drink herbal teas in place of coffee and beverages.
You may like reading:
Ayurvedic Remedies for Alcoholic Liver Disease, Herbal Pills
Ayurvedic Herbal Remedies for Acidity, Gas and Indigestion
You May Like…
Sale!