List of Foods to Avoid When Pregnant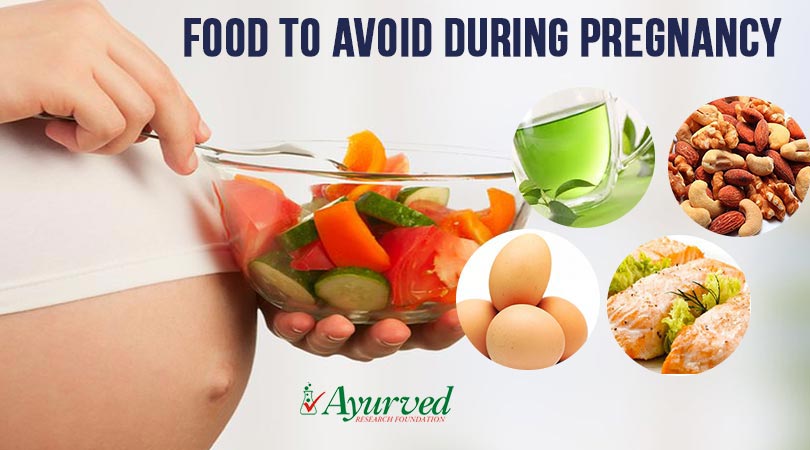 Food to Avoid During Pregnancy
Period of pregnancy is time to care about diet going down to each and every minute detail. Whatever you eat is going to affect your health and also of baby. Some women may need to take special care about their diet if they have any type of intolerance or allergy towards particular types of foods. Any food poisoning or food-induced toxicity can be hazardous. There are certain types of foods which are recommended as foods to avoid during pregnancy for all women in general. These foods have certain properties which a woman's body may not be able to handle while she has to take care of another soul.
During pregnancy hormonal secretion is on the over-drive, chances are bright that your body may react to any dietary issue overtly and in higher intensity. During pregnancy medical experts are not going to fill-you with heavy doses of antibiotics or other medicines to control the problem, which may lead to longer stay for the problem thereby posing higher danger to your health and foetus. Here is a short-list of foods to avoid during pregnancy.
List of Foods to Avoid When Pregnant
Fish – Generally these are recommended as healthy diet for men and women due to their nutritious value and health-promoting properties. But this is one of the types of foods to avoid during pregnancy. Some fishes have higher mercury level, some are stored and cooked in a way which makes them high on certain substances and metal, excessive presence of these metals and reactive-substances can be hazardous to health.
During normal times, eating fishes known to be having higher concentration of mercury in controlled quantity, is declared as safe but while you are expecting even small amount can be dangerous. So, avoid eating shellfish like oysters and clams, all types of undercooked or raw fishes, and completely avoid fish having higher mercury levels like tuna, king mackerel, shark, swordfish and tilefish. Other than these, avoid refrigerated, smoked and pickled unpasteurized fish and do not eat more than 6 ounce of fish in one serving.
Eggs – These too are foods to avoid during pregnancy but not all types. You need to avoid runny, undercooked and raw eggs in all forms. Avoid foods which are made after using raw eggs like home-made spreads and dressings. But you can eat eggs after boiling and cooking when egg yolk is firm.
Cheese – Varieties of cheese like feta which are unpasteurized and soft are foods to avoid during pregnancy. You should even avoid foods which are made after using such types of cheeses. Apart from these avoid foods which may contain any variety of cheese and cooked before 2-3 hours. Foods prepared containing combination of cheese and eggs, ham, chicken and seafood too are foods to avoid during pregnancy. Do not eat uncooked sprouts and unwashed raw vegetables like lettuce and cabbage etc. as well.
Drinks – Unpasteurized milk, canned fruit juices or even fresh fruit juices which are unpasteurized; completely avoid alcohol and alcoholic beverages. Avoid excessive caffeine intake not more than 200 mg per day. All of these drinks are foods to avoid during pregnancy.
For More Details Click Here: Avoid Foods During Pregnancy
Organ Meats – Meats are not good foods to eat but organ meats are foods to avoid during pregnancy completely. Even if cooked well organ meats like liver may contain dangerously high amount of vitamin A which if consumed during early months of pregnancy can cause birth defects in child.
Nuts – It is not that only dairy products and non-veggie foods are foods to avoid during pregnancy. Some types of nuts also need to be avoided during pregnancy due to their allergy causing properties. Peanuts, cashews, Brazil nuts, hazel nuts, pecans, walnuts and pistachios are foods to avoid during pregnancy as these can cause mild to moderate allergy which forms rashes over skin.
Herbal Teas – These days drinking herbal tea is recommended everywhere. But these may be drinks and foods to avoid during pregnancy just because these are herbal. Drink only that herbal tea which you have been drinking before becoming pregnant. Do not switch to any other herbal tea while you are expecting as herbs are sort of natural medicines which possess strong properties and supplement compounds and substances in bulk. If any of these compounds has negative effects on health the results can be devastating.
Canned Foods – All types of canned foods are foods to avoid during pregnancy. The inner lining of cans used to preserve foods contains BPA which is a compound that affects endocrine activities of foetus. Secondly canned food may be harbouring bacteria from a long time. Both ways these are not good for any expecting woman hence shall be avoided completely.
Other Foods – Avoid all sorts of nitrate-rich, fat-rich and foods high on sugar. Do not eat street foods and those which contain artificial sweeteners. Throw away last dinner's leftovers, avoid use of licorice even as spice in cooking and curtail consumption of foods containing simple carbs.