Homemade Papaya Hair Mask Recipe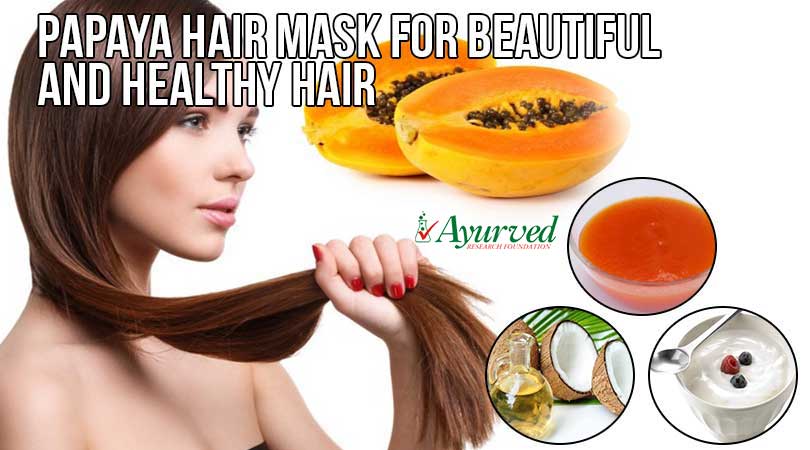 Homemade Papaya Hair Mask for Beautiful Hair
Split ends, frizzy hair, rough hair, thinning, dandruff or any other hair problem, you run for the nearest parlor without a second thought as bad hairs can spoil your look and whole mood no matter how well you are dressed up or how shining your face is. You are ready to spend thousands of bucks for getting back your long black luscious hair. You have to keep waiting for long and long hours for an appointment. You go for straightening, smoothening, hair spa treatments, this, that and what not. But, just few days of relief and you are back to the cycle.
These kinds of hair care treatments contain harmful chemicals, which is why they give you the one time look for temporary with damaging your hair at the same time. After spending these many bucks also you are unsatisfied with how your hairs lose their strength day by day. Our hairs need protein and many nutrients for their growth and thickness. Pollution, dirt, heat, unhealthy eating habits and use of chemical or toxic products are the main factors responsible for damaged and dull hairs.
Your hairstyle plays an important role in shaping our personality. Therefore, your hairs also need maintenance and care for being silky and smooth from the root. Papaya Hair mask for healthy hair gives all the attention what your hairs demand and makes sure your problem is concealed. Not just one, papaya has plenty of essential nutrients your hair need such as protein, essential vitamins and minerals and is as well rich in fiber and antioxidants.
Papaya Hair Mask Recipe for Long and Thick Hair
Papaya has many benefits besides being nutritional; it has a wonderful aroma and it is available in every season of the year and so you can have maximum benefits out of it, adding it to your regular usage. Papaya is a great fruit which can be used for hydrating hairs from roots to tips and you can include them to your regular diet as well. The homemade papaya mask for healthy hair, which we are going to discuss now is the best remedy for your damaged hair and is very easy to make as it does not require any lengthy procedure.

Ingredients of Homemade Papaya Hair Mask
Ripe Papaya : 1 cup diced
Ripe Banana: 1 cup diced
Coconut Oil: 1 tablespoon
Yogurt: 1 cup
Honey: 1 spoonful
Take a ripe papaya, rinse it well with water. Then peel its skin and cut into cube shaped slices after removing all seeds present in it.
Remove banana skin and cut into pieces. Put both banana and papaya pieces into the blender and add all the other ingredients into it.
Blend them until you get the pulpy creamy consistency. Your homemade papaya mask is ready to apply.
Now to apply it, rinse your hair with water. Use normal tap water for your hairs. Then apply the mixture and remember you should always apply the mask only to wet hair.
Make sure you cover the hairs from the scalp to ending tip so that it would nourish your tips, reduces spilt ends issues and prevents its formation.
Now cover your hairs with shower cap or a towel so that it can generate enough heat.
Leave it for half an hour, wash it off with a mild shampoo, just as you would always do while washing your hair.
Papaya itself works as a conditioner; it cleans your scalp and leaves your hair soft and smooth. Make it fresh for every time you need to use. This papaya hair mask for healthy hair prevents hair fall and boosts hair strength and growth. It also helps in preventing dandruff by removing the excess oil and dirt in hair. When you use this homemade papaya hair mask regularly you will feel a noticeable change in your hairs as regular usage will surely improve the condition. They will become much smoother, shinier and silkier hair.
You can also add almond oil, olive oil, fenugreek seeds or aloe vera as these all are natural ingredients that help in promoting the overall hair health. This homemade papaya hair mask is easy to make as all ingredients are available in your kitchen. It also saves you money and time you have been wasting in costly hair treatment in those spa and salons. In addition to this, this homemade papaya hair mask for healthy hair have no chemical or damaging agents as it is all natural.
Give your hairs their life back by going natural as nothing can compliment your looks more than long, thick and healthy beautiful hairs that are well taken care of. You can experiment any hairstyle of the latest trend you want since your hairs are away from dullness and won't damage that easily. Your hairs now have the food they crave for. Say goodbye to the bad hair days and let your hairs do all the talking.
You May Like…