Best Diet for Diarrhoea Patients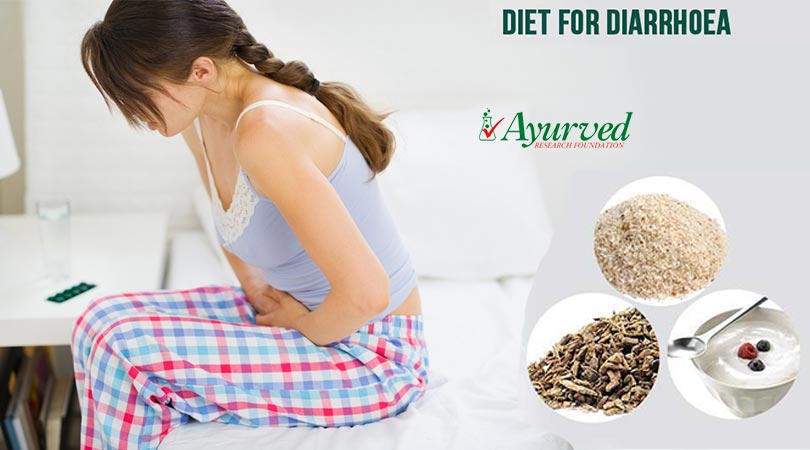 Diet for Diarrhoea Patients
Diarrhoea causes passing of loose stools more than three or four times in a day, if frequency of bowel movements is higher than three these can be source of other disorders due to dehydration and electrolyte imbalance. However occasional occurrence of diarrhoea is not a problem as it can clear the trouble-causing food in the digestive tract or mild infection, but if it stays for more than two days and occurs again and again at the drop of a hat you need to take steps. Diet for diarrhoea plays an important role in reducing existing passage of loose stools and also reoccurrence of the problem.
To handle existing problem of frequent loose stools BRAT diet for diarrhoea is widely recommended. BRAT stands for Banana, Rice, Applesauce and Toast. These foods have properties which bind stools and add bulk to resolve the problem. These are low fibre foods and also high on pectin which are very beneficial for relieving symptoms of diarrhoea. Apart from eating diet for diarrhoea avoid making following mistakes.
Do not eliminate all types of fibre from diet.
Do not switch to completely liquid diet.
Do not cut-out all types of liquids from diet.
And do not cut-out foods containing sodium and potassium.
You may like reading:
Ayurvedic Remedies for Constipation, Hard Stool
Ayurvedic Herbal Remedies for Acidity, Gas and Indigestion
Foods to Avoid with Diarrhoea
There are many foods which you may need to avoid in a diet for diarrhoea. These foods in small portion or in different temperatures can aggravate the problem unexpectedly. Following are certain food items and food types which are to be eliminated from diet for diarrhoea.
Beans, corn, vegetables and vegetables from cabbage family need to be cut-out from diet for diarrhoea due to excessive fibre.
Cut-out fruits, fruit juices, caffeine, tea and alcohol, alcoholic beverages and beer etc. completely during diarrhoea. These foods are excluded from diet for diarrhoea due to laxative effects.
Completely avoid fatty meats like bacon, lamb etc. and fried foods like pastries, chips, finger-chips etc. due to high fat content.
Eat nuts and nut butter in very limited quantity or avoid these completely in a diet for diarrhoea.
Avoid dry fruits like raisins, prunes, figs, dates etc. as these are laxative in nature.
Do not chew gums or sugary candies etc. as these can worsen symptoms of the problem.
Foods to Eat with Diarrhoea
In order to eat diet for diarrhoea, focus on foods which are high on sodium and potassium. These are two minerals which get depleted very quickly during diarrhoea and cause electrolyte imbalance which can aggravate the symptoms. Eat broth, nectars, banana, and potato and drink sports drinks as these are good sources of sodium and potassium.
Consuming low fibre foods form perfect diet for diarrhoea. Eat low fibre foods like yoghurt, rice, noodles, wheat cream, grape juice, white bread, lean meats and cottage cheese. You can also include canned fruits, one or two tablespoons of vegetables and peanut butter in small quantity in the diet.
When person is passing very loose or watery stools stopping these through regular diet may not be possible. For immediate relief there are very useful supplements which are trusted parts of diet for diarrhoea.
Psyllium Husk with Curd – Natural Remedy for Diarrhoea
Psyllium husk with curd can bind stools and reduce watery content in these to provide quick relief from the problem. Do not use this husk with milk or water as it can increase frequency of stools. If you are suffering diarrhoea frequently consume this once in a day on regular basis to avoid the problem.
Probiotics – Natural Treatment for Diarrhoea
Probiotics are famous for their positive effects in treating diarrhoea. These are found in abundance in yoghurt and it shall be consumed in bulk with diet for diarrhoea. Always remember that frozen yoghurt does not contain lactobacillus bacteria which are known for providing health-benefits and controlling diarrhoea so avoid frozen yoghurt.
Blackberry Root Tea – Home Remedy to Cure Diarrhoea

Blackberry root bark when used in tea form also helps in curbing frequent passage of stools. The root bark powder is available in grocery stores, prepare a cup of tea and drink few times to curb the problem. This tea slows down transit of stools from guts to colon to reduce frequency of bowel movements.
Pectin – natural Remedy to Get Rid of Diarrhoea
Pectin is a type of fibre which is available as supplement and also through foods like applesauce. Eating pectin rich foods work as effective supplements to control the problem. Apples contain high pectin but do not eat these raw fruits as these supplement other nutrients and fibre which may worsen the symptoms.
Take some precautions if you are suffering with diarrhoea or face frequent episodes of the problem. Do not eat smaller meals few times in a day. Consume two or three decent meals neither too large nor too small. Take some rest or sit for at least 20-30 minutes after finishing off your meal.
Moving immediately after meals can trigger the problem as digestion gets into over-drive instantly. Drink water or healthy fluids between meals during normal days, make it a habit to relieve the problem, and maintain a food diary to identify trouble causing food items.
Read Full Details Here>>Best Diet for Diarrhoea Patients Infographic
You may like reading:
Natural Diet to Reduce Stomach Acidity
Acid Reflux Diet to Prevent the Problem
You May Like…