Healthy Food Pyramid for Adults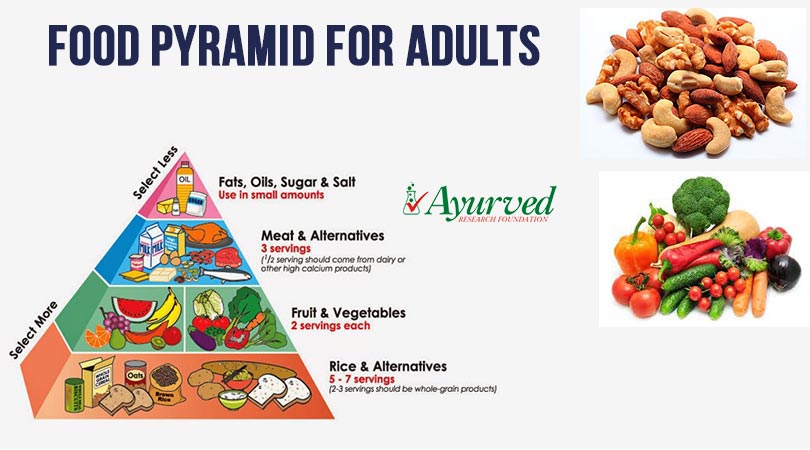 Food Pyramid for Adults
Food pyramid for adults provides information about the types of foods, quantity and combination of foods from different food-groups to fulfil energy requirements of an adult. Adults may have varying energy requirements depending upon their age, physical activity, disorders and type of job. The content mentioned in pyramid can be adjusted according to these factors but more or less the major part of diet plan shall follow the guidelines of this pyramid to eat healthy diet.
Food pyramid for adults is very important as it breaks many myths and removes doubt and confusions in the mind of people about different types of foods and their effect over health. Quite often people take-out dairy products completely out of their meals considering them harmful due to saturated fat content and ignore supply of nutrients these products can provide which are essential for vitality.
People often try and stuff themselves with anything that is labelled or described as protein-rich, without understanding that not all sources provide healthy protein. Another myth is that all types of fats are harmful and that eating all types of grains forms a good diet. Food pyramid for adults break these myths and clear doubts to allow people to eat nutritious foods and in right quantity to stay healthy.
The base of food pyramid for adults comprises of diet, exercises and weight control. These are the basic requirements for any adult to stay fit and healthy. Staying active, eating right and preventing weight from going-up by controlling intake of unhealthy foods, minerals and supplements form base brick of food pyramid for adults.
You may like reading:
Best Healthy Diet for Athletes
Best Diet for Flat Belly
Daily Servings of Foods for Adults
Little more than half of one's daily diet shall comprise of vegetables, healthy fats and wholegrain. The vegetables shall hold the major portion out of all three to obtain fibre and vitamins in optimum dosage. Healthy fat intake too is necessary as these lower levels of harmful fats and keeps weight in control. Whole-grains supplement fibre, healthy carbs and minerals to improve energy and fitness.
Nuts, seeds, beans, poultry, lean meats and fish are the foods which are mentioned at third spot from base-up. These are higher than vegetable, whole-grain and healthy fat brick which suggest that these shall be consumed in lesser quantity than vegetables. These foods are for protein, mineral and fibre supplementation and also for fat-metabolizing acids and compounds.
For Full Details Click Here>>Best Foods for Adults Infographic
Moving further up the pyramid, remaining portion of the diet is filled-in with dairy products. Food pyramid for adults states that the fat-free varieties of dairy products shall be consumed with regular diet to fulfil nutritional and energy needs of the body. The refined grains, breads, pasta and other types of foods including sugary and high-starch foods shall be used sparingly and form the tip of food pyramid for adults. These foods are only good for people involved in heavy jobs, leading strenuous lifestyle or exercising rigorously.
As per food pyramid for adults the size and number of servings per food-group is as follows. Going according to these servings one gains 1600 calories per day.
Grains – Best Home Diet to Prevent Adults Health
The diet shall contain 6 servings of grains per day. These can be in the form of one piece of wholegrain bread, one ounce of dry cereals or half cup of cereals, rice etc. Whole-grains are sources of healthy carbs which keep muscle energized and promote their endurance without increasing level of blood sugar. These stay in the stomach for longer duration and prevent excess calorie intake.
Vegetables – Best Food Pyramid for Adults

Food pyramid for adults states that one should have 3 to 4 servings every day of vegetables and preferably chunk of these containing green leafy vegetables. These are sources of fibre and maintain healthy metabolism. These foods maintain regular bowel movements and prevent host of disorders and ailments. One serving of vegetables may contain half cup of vegetable juice, or raw, cooked or cut vegetables.
Fruits – Natural Treatment for Adults Health
These foods have bountiful benefits like high fibre, vitamin and mineral content with low calorie supplementation. Diet of an adult shall contain 4 servings of fruits per day and each serving may have one medium-sized fruit like apple etc., or half cup of fruit juice or one-forth cup of dry fruits.
Dairy Products – Good Diet Plan for Adults
These shall be served 2-3 times in a day with each serving containing only fat-free variety of these products in the form of one cup of fat-free milk or yoghurt, or half or one ounce of fat-free cheese.
Protein Sources – Natural Diet Plan for Adults
Foods like lean meats, fish, chicken and veggie sources like lentils, legumes, nuts and seeds shall be consumed 3-4 servings per day. Each serving of these foods may have 3 ounces of lean meat, chicken or grilled fish, half ounce of nuts, 2 tablespoons of seeds, 2 tablespoons of peanut butter or half cup of beans.
Fat and Oils – Best Diet for Adults Health

Oils containing healthy fats like olive, coconut, mustard etc., shall be used and not more than one tablespoon in each serving, low-fat mayonnaise and fat-free yoghurt are other options for gaining healthy fats. One should have 2 servings of these per day.
You may like reading:
Best Diet for Healthy Skin
Best Diet for Strong Bones and Joints
You May Like…