Best Healthy Diet for Athletes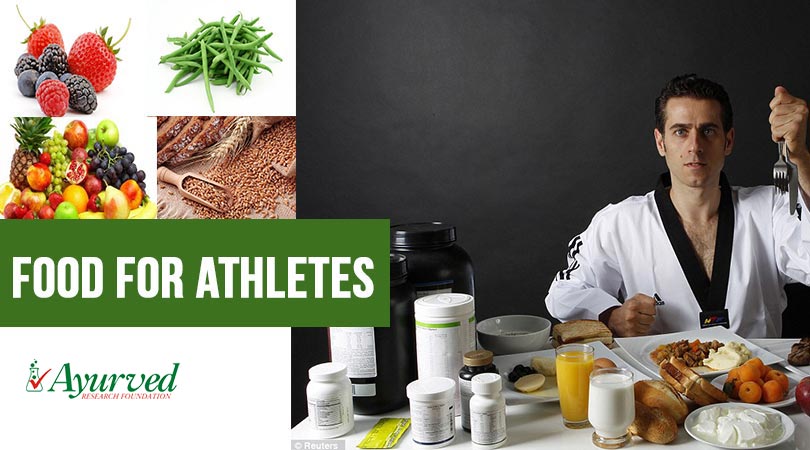 Healthy Foods for Athletes
It is commonly believed that gaining muscle mass should be top priority for an athlete, though it is correct to a large extent but not entirely. Athlete's body along with muscle mass should also have optimum availability of energy to keep muscles energized and also to recuperate from exhaustion quickly. The body of an athlete should possess other organs of musculoskeletal system like ligaments, tendons, and nerves stronger and healthier to keep body swift, agile and active.
Food for athletes shall take care of optimum tissue growth and regeneration to prevent injuries and also to heal them quickly. All these qualities of an athletic body can only be achieved by eating right kind of diet which encompasses nutrition required by the body and provides it in bit higher dosage.
Body generates tissues for organs, skin, muscles and bones by supplying nutrition and oxygen through blood. One can gain higher muscle mass by eating simple protein and carb-rich diet and exercising rigorously, but such muscles cannot be enduring unless body maintain optimum nutrition to them. Food for athletes apart from protein and healthy carb shall also contain compounds which ensure optimum supply of nutrition and keep muscles, bones and nerves of the body energized, healthy and strong.
You may like reading:
Homemade Electrolyte Energy Drink
Foods and Herbs to Increase Energy and Stamina
Best Diet for Athletes
Along with maintaining stronger and enduring muscles, bones and nerves food for athletes shall also be capable of maintaining strong digestion, purified blood and lower toxicity. Toxin presence in digestive tract or colon can be devastating for health, stamina and energy levels. And of course, food for athletes shall not supplement dead calories, harmful minerals like sodium and saturated fats in bulk to maintain strength and fitness level.
Here is list of top foods for athletes which in combination provide highly nutritious diet containing range of essential nutrients in right balance.
Beans and Legumes – Food for Athletes to Grow Muscles

These are excellent food for athletes who are veggie or want to consume plant-based protein in place of animal-based. Medically it is said that protein obtained from veggie sources is better in the long run compared to the ones obtained from non-veggie sources. Consume lentils, peas, soybeans and all type of beans like pinto, navy, black, Lima etc. regularly 3-4 servings every day or as per calorie requirement. These are foods for athletes which grow muscles, repair them and make them enduring and hardworking.
Whole Grains – Healthy Diet for Athletes
These are sources of healthy carbs which are complex carbs, these get digested and do not add to sugar levels. Body needs protein to grow muscles but it needs carbs to keep them energized and allow them to recuperate quickly. Oats, barley, millet, buckwheat, quinoa, brown rice and whole-grain breads and pasta are all excellent food for athletes as these are good sources of fibre and healthy carbs which keep muscles stronger and capable of performing strenuous activities for longer duration.
Berries – Diet for Athletes to Keep Blood Flow Smooth
Food for athletes shall contain antioxidants in higher dosage, these protect tissue damage from oxidative stress and also curb free-radical mechanism which makes body grow older rapidly. Berries supply vitamin A, C and E which are powerful and active antioxidants. These inhibit activities of fat-soluble and water-soluble free-radicals both. Consume strawberries, raspberries, blueberries and others with regular diet to keep blood flow smooth and prevent tissue damage.
Fruits – Natural Best Diet for Athletes

Nothing can match the quality of nutrition which these foods can provide. These are sources of minerals, vitamins, fibre, healthy fats and antioxidants and provide all this with minimum calories supplementation. These are instant energizers, fruits like banana can reenergize muscles in minutes and allow an athlete to go full-throttle again, consume fruits like apples, watermelon, pineapple, papaya, kiwi, avocado etc. as part of regular diet. Their juices can be consumed few times in a day to gain optimum nutrition. These are also excellent ways to keep blood purified, and digestive system free of toxins.
Vegetables and Healthy Oils – Excellent Diet for Athletes
All type of cruciferous and green leafy vegetables are excellent food for athletes. These are sources of fibre, minerals and antioxidants. Do not ignore importance of vegetables which are referred as condiments like ginger, basil, garlic, onion and tomato. These are excellent in keeping immunity higher, burning fat for energy production and supplementing powerful antioxidants like vitamin C and lycopene.
Healthy fats are as important as protein for an athlete's body, gain healthy fats from oils like olive, coconut, mustard, canola etc. to maintain strength and endurance of body. Eating fish and using fish oil are also good ways to gain healthy fat and host of other health benefits.
Dairy Products and Drinks – Best Natural Diet for Athletes

Use fat-free varieties of these foods regularly. These supplements wonderfully beneficial nutrients like calcium, vitamin D and healthy fats in optimum dosage to keep body skeleton, joints and bones stronger and healthier. Supplementation of calcium is also very necessary for better muscular functions and performance.
Drink healthy drinks like buttermilk, green tea, thin curd, and fruit shakes after adding fruit with milk or yogurt to gain instant energy and nutrient supplementation. Avoid excessive tea, coffee or soda and completely avoid alcohol intake.
Read Full Details Here >> Healthy Foods for Athletes, Best Diet for Athletes
You may like reading:
Healthy Juices and Smoothies for Arthritis Pain Relief
Best Natural Foods for Arthritis Relief
You May Like…