Glisten Plus Capsules Review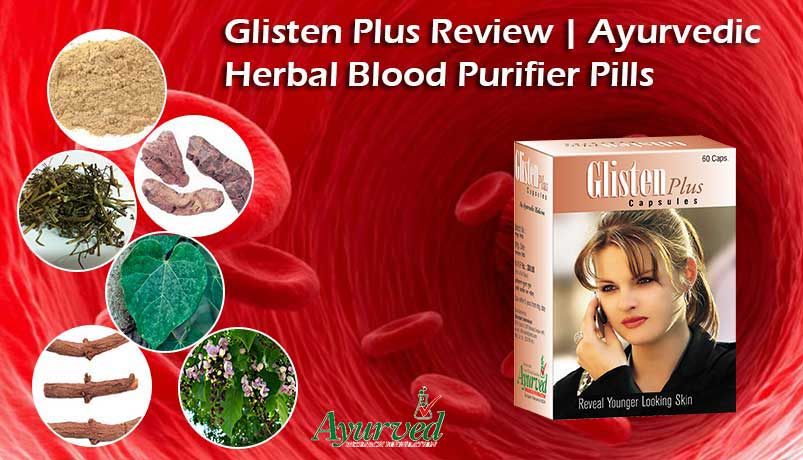 Ayurvedic Herbal Blood Purifier Pills
It is rightly said that one wrong decision, may lead to a long term regret. That is why smart purchasing must be based on a well founded research and enquiry about the product by setting some key parameters on mind. Money, being a very crucial parameter must not be the only guiding principle of our purchase and should not hamper our decision. An herbal product must also show promising results and considerable progress after its regular usage. If one has thought of purchasing Glisten Plus capsules, do not make haste and read this Glisten Plus review.
This Glisten Plus review will help a person in taking a circumspect and right decision by throwing some light on prominent features, pros and cons and effectiveness of these ayurvedic blood purifier pills. Most of the products in their advertisements tend to focus only on their low cost while their contents remain suspicious. Glisten Plus capsules fulfill both the aforementioned expectations of a user by being a very effective ayurvedic product and that too at a reasonable price.
One cannot categorize Glisten Plus into a beauty product, but it is a health care product that brings ample amount of health and beauty benefits to its consumer. Many skin related problems are entirely based on impure blood and these ayurvedic blood purifier pills ensure proper blood cleansing, blood purification and removal of toxins from our body. A glowing and radiant skin follows as a result after taking Glisten Plus capsules.
The outstanding results of these capsules make them a boon for all the common skin problems such as acne, pimples, blisters, dullness, etc. In this Glisten Plus capsules review, we would like to mention and reiterate the fact that these ayurvedic blood purifier pills are absolutely side effect free and its effectiveness is entirely attributed to the pristine natural herbs that are used in it.
You may like reading:
Ayurvedic Remedies for Blood Purification, Blood Purifier
Golden Glow Capsules Review
Salient Features
We would not sing long and verbose praises about the amazing multiple benefits of Glisten Plus capsules as these enlisted features will answer all the questions coming in one's mind . Some salient features include –
Purifies blood in a natural manner
Breaks fat and toxin build-up in the body
Invokes body's natural mechanism to clear impurities in blood
Increases energy, stamina and strength
Ensure smooth liver functioning
Strengthens immune system
Keeps all skin-related problems at bay
Helps in weight management
100% natural causing no side effects
How Does It Work in Purifying Blood?
As we all know, blood carries oxygen, hormones and essential nutrients to all parts of our body. It clots the injuries and helps fighting illness and diseases. Any level of toxicity and impurity can wreck havoc to the proper functioning of our body. Glisten Plus herbal blood purifier pills contain the best and top quality ayurvedic herbs that carry out the blood detoxification and break fat buildup. Fat build up is majorly responsible for the toxin contents in our blood. It invokes body's internal mechanism of blood cleansing and increasing the efficiency of blood. On their regular intake, optimum functioning of blood and an overall improvement in health is achieved.
For How Long Do We Have to Use These Capsules?
Glisten Plus ayurvedic blood purifier pills are not like Aladdin's magical lamp and we will state it clearly in our Glisten Plus capsules review that they will not give overnight results. One must be patient about its outcomes. Considerable progress will be observed within a couple of weeks and promised overall results will be achieved after following the dosage unfailingly for 3 to 4 months. A permanent and side effect free treatment would take place by consuming Glisten Plus capsules and one would never be disappointed after seeing its final results.
But, What About Our Safety Concerns?
Glisten Plus review will suggest everyone to rest assured of the safety concerns and put all worries aside as Glisten Plus herbal blood purifier pills are extremely safe and sound for use. Unlike most of the allopathic blood detoxification pills, which may lead to detrimental side effects to our body, Glisten Plus capsules on the other hand are different. All thanks to the presence of pure natural ayurvedic herbs that have been in use since 5000 years and based on the science of ayurveda. For those who don't know, Ayurveda is a holistic approach towards life and believes making use of the healing benefits of the readily available natural products from our very own Mother Nature.
Ingredients
All the contents of Glisten Plus ayurvedic blood purifier pills are duly enlisted on its packet and the manufacturers have kept no secrecy regarding its composition. A unique blend of premium quality and natural herbs are used to formulate Glisten Plus capsules that are time tested and highly efficient. Ancient people of the Indian subcontinent researched rigorously for years and studied about the healing benefits of these ayurvedic products. Herbal ingredients used in Glisten Plus capsules are- Amla, Amar Bel, Pitpapda, Chobchini, Guduchi, Murva, Karanj, Manjistha, Kshreerika and Kasumba.
What is The Recommended Dosage?
It is advised to consume 1 or 2 of Glisten Plus herbal blood purifier pills with water twice a day i.e. one after breakfast and 1 after dinner consistently for over 3 to 4 months to see great results.
Pros
Some of its major advantages are-
These pills are extremely safe to use and cause zero side effects.
They do not contain chemical additives and fillers.
They ensure blood purification and cleansing away of harmful impurities.
They treat the problem naturally by invoking body's natural mechanism.
They show permanent cure and an overall health improvement.
They make our skin look glowing and mesmerizing without using any makeup.
These pills ensure optimum liver functioning.
They keep skin problems like acne, pimples, etc. away from us.
They are extremely helpful in weight management.
Cons
They can only be ordered through online means.
One has to use them regularly and consistently for 3 to 4 months to avail benefits.
Healthy lifestyle must be followed and one should abstain from alcoholism, drug abuse and smoking while taking this treatment.
According to our Glisten Plus review and detailed analysis, we give thumbs up to Glisten Plus ayurvedic blood purifier pills and would recommend to every one for availing its stupendous benefits. It is undoubtedly the best herbal detoxifier among the vast array of blood detoxification products.
=> Buy Glisten Plus Herbal Blood Purifier Pills to Cure Skin Problems Naturally.
You may like reading:
Best Diet for Healthy Skin
Turmeric Face Mask Recipe for Skin Problems
You May Like…