Best Diet to Prevent Acne Problems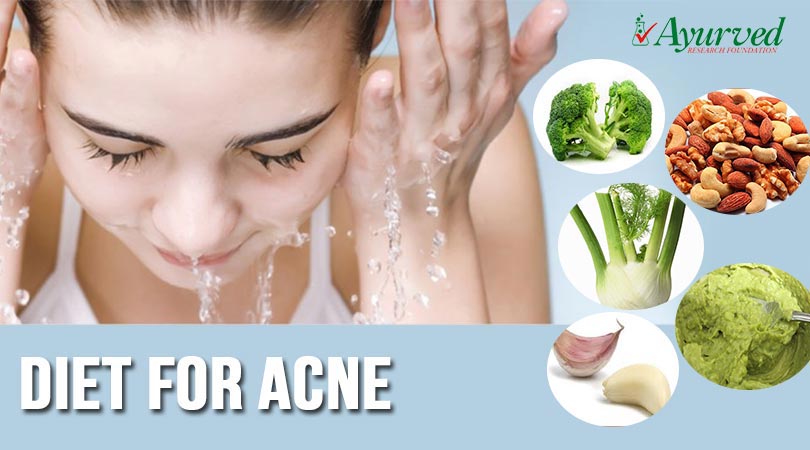 Best Diet for Acne Prevention
Acne is a skin condition which affects young boys and girls before puberty, the reasons for acne are hormonal fluctuations which occur in the body, these fluctuations can trigger this problem at any age. Even in adults the problem of acne is caused due to hormonal fluctuations which are triggered by various conditions including diet.
At young age, body is unable to adjust quickly according to increasing level of hormones; this stimulates sebaceous glands beneath the skin and produces sebum in higher quantity, once body becomes used to of hormones the problem subsides. In many cases this problem continues and harms looks and texture of skin. Many a times, problem calms down after puberty but may get triggered again at later age. Diet for acne can be of immense help in relieving an acne attack and also in its prevention.
Avoid Foods that Cause Acne Breakouts
If you are suffering with acne and have already tried creams, gels and all sorts of other measures it is high time to shed the myths and start getting acquainted to facts. It is believed that pizza and other kinds of fast food are causers of acne or trigger an attack that is why these cannot be part of diet for acne. Well, you may avoid these because these foods are fat-promoting and cause harm to health but not acne.
People following exercising regimen are suggested to consume high protein diet which may also contain carbs. These carbs pike sugar levels which initiates a series of incidents in body leading to a blister on skin. And other major factor or most common cause of acne is stressful lifestyle and oxidative-stress caused by diet. Diet for acne affects the root cause behind acne and provides relief.
You may like reading:
Homemade Anti-Tan Beauty Masks For Suntanned Skin
Aloe Vera Mask Recipe for Skin and Hair
Skin is largest organ of our body and like any other organ it also gets affected by food we eat, broadly speaking there are few foods which can promote acne formation but not alone. Poor diet supported by other factors like lifestyle and stress level results in an acne outbreak. Here is list of foods which can form very useful diet for acne capable of curbing ill-effects of hormonal fluctuations and internal and external stress to treat and prevent acne.
Foods to Prevent Acne Problems
Nuts – Natural Remedy to Prevent Acne

These are sources of minerals and antioxidants. The range of nutrients made available by these work as effective skin energizers and enhance nutrition. These promote flow in blood capillaries of skin and prevent blockages in hair follicles which form pustules of acne. Include these in your diet for acne and use only unsalted or dry roasted or plain nuts. Most of the nuts like almonds, Brazil nuts, walnuts, pistachios etc. are rich sources of selenium, vitamin E, iron, magnesium, copper and calcium. All of these nutrients are excellent for improving skin health.
Fennel – Natural Remedy to Reduce Acne
This is particularly very useful part of any diet for acne. This seed is excellent digestion improver and also helps in reducing toxicity. The seeds are good for relieving internal stress which gets created due to toxin presence. Regular intake of these through diet for acne flushes out toxins which get accumulated in skin and trigger formation of pustules of acne. You can also switch to drinking fennel tea few times in a day in place of black tea or coffee.
Brown Rice – Remedy to Get Rid of Acne

This grain is wonderful diet of acne as it supplements vitamin B which protects skin from stress. It is also source of many types of antioxidants, and protein and magnesium.
Garlic – Home Remedy for Acne
This spice is immunity enhancer, lower fat and diffuse inflammation. These benefits make it a good part of diet for acne. The anti-bacterial and antifungal properties for garlic also help in curbing infection over skin which triggers inflammatory immune response from body and causes acne.
Avocado – Natural Treatment to Treat Acne
Amongst all types of foods avocado is most useful diet for acne. This fruit is source of vitamin E which is vital for improving skin health and also keeps it healthily moisturized to prevent acne. This fruit also supplements healthy fats which reduce harmful fats in the blood and body.
Broccoli – Remedy to Cure Acne Formation

This vegetable is source of variety of vitamins, inclusion of this food in diet supplements vitamin A, B complex, C, E and K. These antioxidants protect skin cells from oxidative damage and reduce accumulation of dead cells to curb acne attacks.
Foods to Avoid to Prevent Acne Breakouts
While eating diet for acne, do not miss to exclude foods which can trigger acne. Avoid starchy foods and gluten-containing foods. Some wholegrain too contain gluten which can cause frequent acne attacks. Sugary foods are also harmful for skin and cause problem of acne. Avoid drinks containing sugar and foods which are high on fructose. Even high carb foods are also harmful for people facing problem of acne.
Drink plenty of water during the day; drinking lukewarm water few times in the day is better than cold or normal water. Lukewarm water clears digestive tract from oils, salts and chemicals quickly. Do not avoid sunlight completely, vitamin D is also very useful nutrient to prevent and treat acne.
For Full Details Click Here >> Best Diet for Acne Prevention, Foods To Avoid Breakouts
You may like reading:
Homemade Oatmeal Mask Recipe for Eczema
Juices For Glowing Skin, Get Radiant Skin
You May Like…