Aloe Vera Mask Recipe for Skin and Hair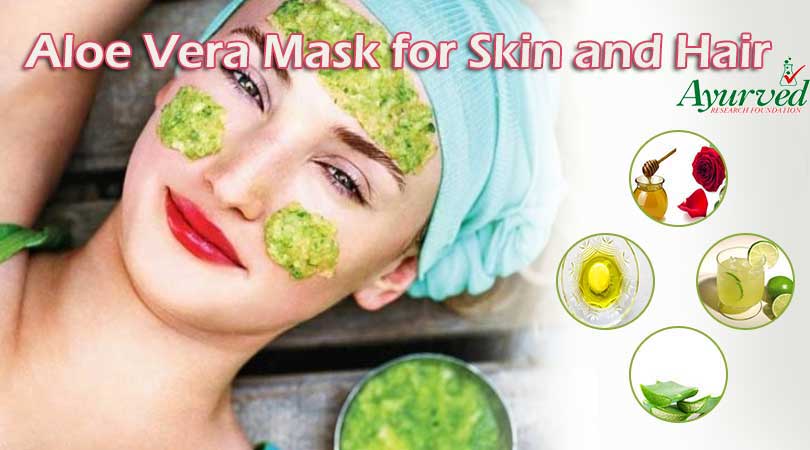 Aloe Vera Mask for Skin and Hair Care
Aloe vera which means shining and bitter in Arabic is a green-gray looking plant which has small white teeth on the margins of its leaf. The gel-like pulp present inside its leaves is beneficial and has many uses including medicinal properties and beauty care properties that none of the human body parts is remained untouched by its amazing healing nature. Markets are full of products having Aloe vera in them.
Ointment, sprays, creams, jellies, lotions, drinks and pills, you will found Aloe vera gel as the ingredient. This natural fighter plant which fights all sorts of infections was recorded in existence since thousands of year ago and is now rediscovered and recognized. It has multiple benefits due to its high nutritional value along with anti-inflammatory and antiseptic properties that cure several illnesses and enhances your beauty.
You may like reading:
Natural Aloe Vera Juice and Smoothies
Aloe Vera Gel Review
Benefits of Aloe Vera for Skin and Hair
Aloe vera is a never ending gift of nature when it comes to benefits for hair and skin. It is a tonic for skin which improves the skin's ability to hydrate and moisturize itself which automatically helps in removing dead skin cells and flaky skin keeping it moist and soothes the skin. It has antibacterial and antifungal properties that help your skin fight all the infections such as boils or cysts. When Aloe vera is used with other wonderful ingredients it does the excellent healing.
Our skin and our hair are two of the most important feature which shapes our personality and self-confidence. Beautiful long, smooth and shiny hair with bright, glowing and soft skin is what every woman desire of. Aloe vera reduces wrinkles, reduces tanning and makes your skin glow radiantly. At the other hand, it deeply conditions your hair keeping them moisturized and help you get rid of itchy scalp and dandruff. It alleviates your hair growth making them shiny and smooth.
Skin and hair problems have risen from the times when pollution was less and diets were healthy. We can watch we eat and change our lifestyles habits to healthier and natural options but there is nothing we can do about the pollution. So give your skin and hair a care of natural remedies to keep them healthy and ready to face the pollution and any infection. Aloe vera mask for skin and hair removes excess oil and give your skin and hair the glowing effect. Aloe vera mask can be used for both skin and hair. Before proceeding for mask recipe let us tell you how to get the gel out of aloe vera leaf.
Take a small sized Aloe vera leaf. Cut the leaf from its base as the aloe vera leaves are thicker from middle and have the gel much more than the bottom part.
After cutting it, keep the leaf in a standing position so that all the sap it contains drains away.
After the sap drains out completely, was the leaf with water to remove the remaining sap. Now, cut the leaves from the thorny edge both the sides.
Peel the green leaf part and scoop out the gel with the help of a spoon or cut them with a knife to extract. You can store this gel in the refrigerator by placing it in a container.

Ingredients
Gel of Aloe Vera Leaf
Half a Lemon Juice
2 tablespoons of Olive Oil
1 tablespoon of Honey
Put the gel of an aloe vera leaf into a blender. Squeeze half of a lemon juice to it.
Add olive oil and honey into it and blend the mixture for a minute so that they get mixed with each other. Pour the mixture into a bowl.
Apply this aloe vera gel for hair on your scalp. Also, cover your hairs from root to the end with this aloe vera mask for hair and leave for 20 minutes. After the time passes wash your hair.
Apply this aloe vera mask for skin on your face and neck and leave it for 15 minutes. Then wash your face off.
Lemon, honey and olive oil in aloe vera mask for hair and skin are themselves rich in essential vitamins and minerals that give you the results you desire for making your skin and hair smooth, shiny and healthy. Aloe vera mask for hair helps in reducing hair fall and promotes hair growth. Also, with benefiting hair issues this aloe vera mask for skin gives you an even and a fairer tone reducing pigmentation. This all natural Aloe vera mask for hair and skin will bring the amazing changes in your skin health and hair health.
We will not recommend you overdoing the mask's application on your hair and skin, particularly because you might not get the time on daily basis, plus it might negatively affect your bodily skin as well as the scalp. Regular usage of this mask will make all your complaints get solved naturally, and by the term regular we mean to convey consistent use like once or twice a week. It is usually suitable to all skin types but testing it on small portion of your skin won't hurt, instead give you general idea of its suitability. No wonder this Aloe vera plant is called a wonder herb. So, go ahead with experimenting it!
You may like reading:
Best Diet for Healthy Skin
Turmeric Face Mask Recipe for Skin Problems
You May Like…