Natural Aloe Vera Juice and Smoothies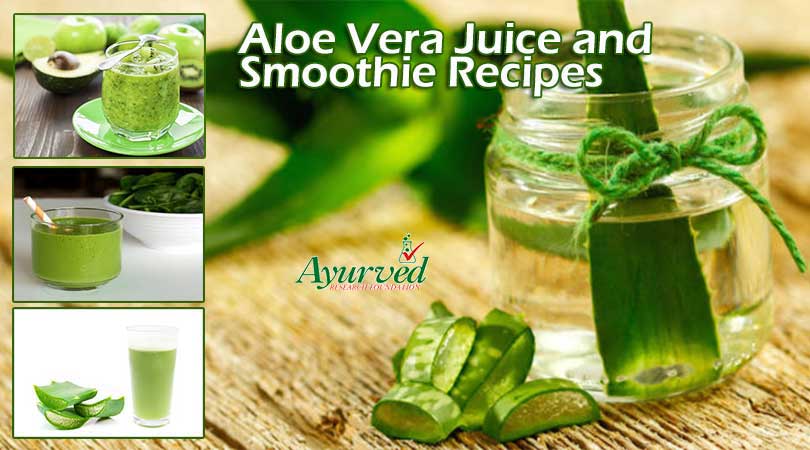 Make Aloe Vera Juice and Smoothies at Home
Aloe vera is an incredible plant and is a boon to human life from mother earth. This oldest plant that needs no introduction as it has a craze over everyone because of its high nutritional value than any other herb. Aloe vera is no less than a miracle in medicine world which is also a known as silent healing herb that heals you internally and externally as it treats almost every problem of our body whether it is related to your skin, your hair or in keeping you healthy and fit.
It is not just a decorative plant, advantages of Aloe vera seem endless when we start talking about its efficacies. Aloe vera is rich in vitamins, minerals, amino acids and antioxidants which take care of our digestive tract and immunity. It helps in detoxifying your body and your bloodstream and is good for reducing your inches. It has the anti-inflammatory properties that make it efficient in relieving pain.
You may like reading:
Aloe Vera Mask Recipe for Skin and Hair
Aloe Vera Gel Review
Aloe Vera Juice and Smoothie Recipes
Many of us have never tried it taking orally besides applying on the skin and you might be confused about its bitter taste. It can be taken in form of juices or smoothies, do not hesitate to experiment it with other fruits and vegetables to make it taste better as it can go well with many of the food ingredients.

Following are some of the Aloe vera juice and smoothie recipes which can be quickly prepared and gives you full benefits of it.
Firstly, we will start with simple Aloe vera juice recipes as nothing can be more beneficial than consuming ingredients in their purest form without mixing them with any other ingredients. Furthermore, you can also change your taste with other delicious Aloe Vera juice recipes we have listed for you. We will take 5-6 tablespoon of Aloe vera gel in each of our recipes as this much amount is sufficient for a person consuming it on a daily basis.
Ingredients
1 cup oranges
6 tablespoon Aloe vera gel
To take out Aloe vera gel from its leaf, cut the leaf from its edges, remove the green layer and scrape of the gel inside it with the help of a spoon. You can store this gel in the refrigerator for later use.
To make aloe vera juice we always have to combine Aloe vera gel with a citrus fruit. You can use any of the fruit like orange, lemon, lime etc. in this Aloe vera juice recipe.
Put a cup of any of citrus fruit into the blender and add aloe vera gel to it and blend it till smooth and your aloe vera juice is ready.

We all are familiar with the amazing benefits of green tea and when combined with aloe vera gel you can wonder how beneficial this homemade aloe vera smoothie can be.
Ingredients
1 cup brewed green tea
2/3 cup water
1/2 cup mango
6 tablespoons Aloe Vera gel
Prepare a cup of green tea and pour it into a blender with sliced mango, Aloe vera gel and some water. Blend it well to a smooth drink.
Drink it a glass full topped with some ice cubes.

This package of nutritional ingredients will repair any of the issues of your body from its roots. This green homemade aloe vera smoothie also helps in losing weight. So all those who are willing to lose weight, what are you waiting for?
Ingredients
1 to 2 tablespoons fresh lemon juice
1 cup pumpkin
1 tomato
1 cup broccoli
1/2 carrot
1 cup celery
1 clove garlic
1/2 cup sunflower seeds
1/2 cup sesame seeds
1 slice onion
6 tablespoons Aloe Vera gel
Rinse off all the veggies from water and slice them all. Place them into a blender one by one then add a garlic clove.
Add a half cup of sesame seeds and a half cup of sunflower seeds to the blender with veggies.
Add lemon juice to it and lastly add aloe vera gel. Blend it until smooth.

What can be more soothing than a chill and thirst quenching homemade Aloe Vera smoothie this summer?
Ingredients
1 papaya
1 peach
2 mangoes
1 green apple
1 kiwi
1 cup Pineapple
1 cup strawberry
150 ml orange juice
6 tablespoons Aloe Vera gel
Start with chopping all the fruits into pieces and removing their seeds if any. Place them all into a blender and add Aloe vera gel to it. Blend them till you get a smooth consistency.
Pour a glass and enjoy this amazing and tasty fruity Aloe vera combination.
You can also add some crushed ice or ice cubes over these marvelous Aloe vera juice recipes.

Chocolate banana and Aloe vera smoothie is all time hit and tastes yummy. It is highly nutritious and enhances health and energy level.
Ingredients
1 glass of chocolate milk
250 ml skim milk
6 tablespoons Aloe Vera gel
1 banana
3 tablespoon honey
Pour a glass of chocolate milk into a blender and add some skim milk to it.
Also add a banana, aloe vera gel and honey to it.
Blend it to smooth creamy consistency.
Get your glass ready with pouring this mouth-watering homemade aloe vera smoothie which is also good for keeping your stomach full. Honey is optional if you like this drink a little sweeter you can use it. As honey is a natural sweetener it won't harm you.
You may like reading:
Best Healthy Weight Loss Diet
Low Carb Diet for Weight Loss
You May Like…