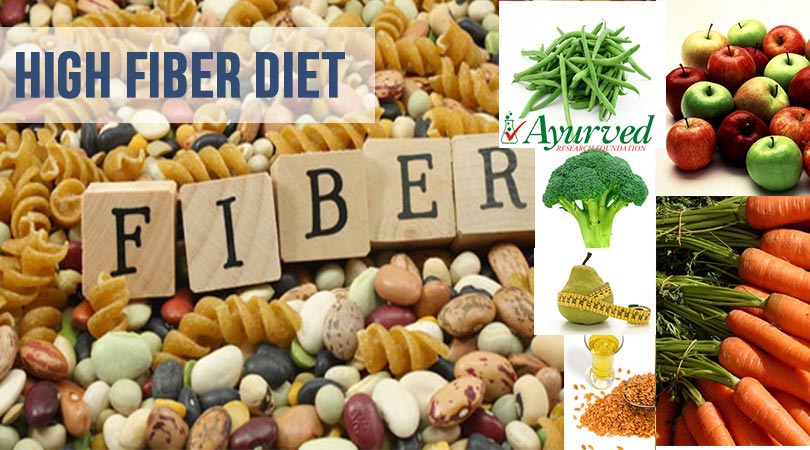 High Fiber Diet
Fiber is essential for good health as it maintains healthy metabolism. This provides many health benefits which improve health, energy and lower toxicity level in the body and also help in preventing many moderate to serious disorders and diseases. Fiber can be divided into two categories soluble and insoluble fiber. Soluble fiber slows down digestion of food to keep a person full for longer duration, this reduce calorie intake and also keep sugar levels healthy. Insoluble fiber adds bulk to stools and allows its smooth and complete removal. To stay healthy and fit person needs both types of fiber. High fiber diet supplements soluble and insoluble fiber in proper balance and optimum quantity.
Fruits and vegetables are generally sources of water soluble or soluble fiber, whereas wholegrain and other sources normally supplement insoluble fiber. Eating a balanced diet comprised of food items containing soluble and insoluble fiber is high fiber diet which is boon for health. Medically an adult needs about 20 to 35 grams of fiber every day to stay healthy and protected from illnesses. Here is short list of foods popularly consumed and easily available to gain optimum fiber dosage.
For more on weight loss, check out:
Green Tea Lemonade for Weight Loss
Natural Weight Loss Smoothies
List of Fiber Rich Foods for Weight Loss
Apples – Fiber Rich Food for Weight Loss
These are excellent sources of soluble fiber in bulk, one apple eaten along with its peel can provide 4.4 grams of fiber. This is also good source of phytochemicals too which provide numerous health benefits. Apples are available almost throughout the year so making these a part of high fiber diet is good.
Broccoli – Best Diet for Weight Loss

Use this vegetable in high fiber diet either steamed or roasted. Do not overcook as it can wipe-off its benefits. One cup of steamed broccoli is source of 2.4 grams of fiber and massive dosage of vitamin C and K.
Carrots – Natural Diet to Lose Weight
These are sources of range of nutrients and most important one is betacarotene. This vegetable has special kind of antioxidants which are extremely beneficial for eyes. Per 100 grams of carrot supplements 2.9 grams of fiber. Eating one chopped carrot with salad in raw form with meals provides you good amount of fiber to maintain sugar level and reduce your excess calorie intake.
Spinach – High Fiber Diet for Slim Figure
A bunch of spinach leaves contain 7.5 grams of fiber. Try and eat these leaves in raw form. If you want to cook do not overcook or simply boil to make them soft. You can also drink a cup of spinach juice as a part of high fiber diet. Mixture of spinach and carrot juice is also popular way to gain nutrition and dose of minerals and fiber.
Pears – Healthy Food for Slim Figure

These fruits are other commonly used and easily available sources which are part of regular high fiber diet. One medium sized fruit of pear supplements about 5.5 grams of fiber. Adding this fruit to your meals means healthy digestion, healthy blood sugar levels and reduction in calorie intake. These fruits work as remedies for constipation.
Wholegrain – Best Diet to Colon Clean and Healthy
There are many varieties of wholegrain which you can choose from, these will form core of your diet and due to variety will protect you from boredom caused by eating one and same type of diet. Oats, barley, brown rice are few varieties which can be added to your high fiber diet. These are sources of insoluble fiber which regulate defecation and prevent toxin build-up. These are also very useful for keeping colon clean and healthy.
Legumes – Diet to Maintain Colon Health and Energy
Another power-packed variety of foods which are good sources of fiber as well. These supplement fiber as well as protein and work as excellent food item for a high fiber diet. These are nutritious and also keep digestive system and colon healthy to maintain optimum health and energy.
Quinoa – Best Diet to Get Rid of Excess Fat

This is called as grain but actually it is seed. It is not only great source of fiber but also excellent source of protein. One cup of cooked quinoa serves 5.2 grams of fiber and 8.1 grams of protein. This is excellent food to be included in high fiber diet.
Beans – Good Diet to Burn Excess Body Fat
These are regarded as super-foods when comes to high fiber diet. One cup of black beans is source of 15 grams of fiber whereas a cup of white beans supplements 18.6 grams of fiber. These can be included in diet in cooked form, as part of soups or as salad ingredients whichever way these satisfy your taste-buds.
Flaxseeds – High Fiber Diet for Weight Loss
These seeds about a tablespoon full supplement 1.9 grams of fiber. These are good parts to go along with high fiber diet as these are also sources of various vital nutrients and healthy fats which provide many health benefits. These are easy to consume, you can dry roast these and sprinkle over yoghurt or oats, vegetables, salad, soups or smoothies.
Chia Seeds – Natural Diet to Reduce Excess Body Fat

These are tiny seeds but pack bulk of fiber. One ounce of chia seeds is source of approximately 11 grams of fiber. These eliminate wastes from your digestive tract efficiently and shall be consumed along with a cup of yoghurt with meals.
Increase your water intake while following a high fiber diet for weight loss. Fiber needs optimum hydration to function and deliver their maximum benefits.
Read full details here>>List of Fiber Rich Foods
You may like reading:
Frequent Sex Can Help You Lose Weight, Sex Positions For Weight Loss
Kissing Help You Burn Calories And Lose Weight
You May Like…