Healthy Snacks for Diabetics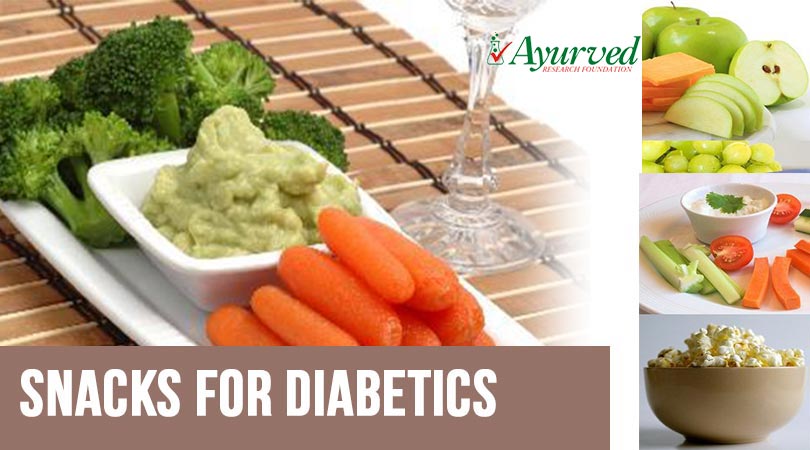 Healthy Snacks for Diabetics
Healthy snacking plays a part in handling diabetes effectively, eating between meals is strictly prohibited for diabetics as it can pike sugar levels, but healthy snacking can be very helpful in keeping blood sugar levels within range. When taking a medicine for diabetes chances are bright that you may experience few moments of low sugar level during the day. Whether sugar levels are high or low both are harmful conditions for health, snacks for diabetes avoid low sugar level moments during the day.
For more on diabetes, check out:
List of Best Foods to Control Diabetes
Healthy Foods for Diabetes
Points to Consider while Making Snacks for Diabetics
One should follow below mentioned points strictly while eating snacks for diabetes.
Check the Calorie Intake – Snacks for diabetes can become problem if they become almost as high as meals in calories. People often go over-board while eating snacks and consume extra calories. This should be avoided and each serving of snacks shall not exceed 150 calories. Do not lay your hands over snacks every now and then; go for snacks only when you honestly need something to eat.
Beware of Fat Content – Mostly people assume that low-fat foods are good snacks for diabetes. Sometime low-fat foods are meagrely low than so called high fat foods. Check the fat content before choosing what you want to eat as snacks.
Use Plate – Do not eat directly from bag or jar, this will let you eat more than intended. Always take foods out in the plate and do not run back to get more. This will help you in limiting quantity of snacks you are eating and also avoid excessive calorie consumption.
Readymade Snacks – Even if you are keen to eat fresh or natural foods as snacks, there is no harm in keeping in store some readymade snacks like wholegrain crackers, sugar-less biscuits and others which are readymade snacks for diabetes. If ever you run out of supplies you can eat these instead of going for sugary and high fat foods.
Snack Ideas for Diabetes
Read full Details Here>>Snack Ideas for Diabetes
Here is list of some snacks for diabetes which can be eaten between meals to stop cravings to eat sugary or to gain energy while feeling bored or stressed-out.
Nuts – Great Snacks for Diabetes
Handful of nuts is great snacks for diabetes. Make sure that you eat either dry-roasted nuts or plain and always unsalted. Almonds, pecans, walnuts and cashews are sources of monounsaturated fats which metabolize harmful fats and keep energy levels higher. These are sources of protein as well and do not increase sugar levels.
Vegetables – Good Snacks for Diabetes
Vegetables like tomatoes, cucumbers, cabbage, cauliflower, red and yellow bell peppers, boiled beans and broccoli are good snacks for diabetes. You can add lemon juice or some yoghurt for taste. These will supplement minerals and fibre and will not increase sugar levels.
If you do not want to eat raw vegetables prepare a small bowl of soup adding some beans and any fresh vegetable, add some garlic as well for more beneficial effects. Vegetable soups which are light are good snacks of diabetes.
Whole Gain and Peanut Butter – Healthy Snacks for Diabetes

Whole-grain crackers with peanut butter are also healthy and safe snacks for diabetes. One or two teaspoons of peanut butter and 4-5 wholegrain crackers can be filling and also nutritious. You can avoid peanut butter if you wish to; wholegrain crackers will provide fewer carbs and more protein this way.
Banana – Foods to Treat Diabetes
Take 20 grapes and cut a banana into small pieces, keep these in refrigerator for at least half an hour. These too are good snacks for diabetes. Grapes are high on glycemic index but if you eat 20 grapes you end up consuming 100 calories only.
Cheeses – Healthy Snacks for Diabetics Patients
Low-fat cheeses are also good snacks for diabetes. There are many varieties of cheeses so choose only fat-free ones. Adding wholegrain crackers or other types of food which are low on carbs can make it a nutritious and delicious treat which will also keep you from becoming hungry for longer time.
Yoghurt with Nuts – Safe Snacks to Control Diabetes

Yoghurt with nuts or seeds is also wonderfully nutritious and relatively safe snack. Add a tablespoon of almonds, pecans or walnuts to a cup of yoghurt or a tablespoon of flaxseeds grounded to consume between meals. These will supplement lean-protein and flaxseeds provide dose of healthy fatty acids to metabolize harmful fat.
Eat Apple With Skin to Maintain Sugar Level
Eat an apple with skin. This is easily available and relatively safe snack to eat. Apples supplement fibre and minerals though these may be moderately high on glycemic index. The nutrition supply makes it a safe food to eat between meals for a diabetic.
Egg Whites – Good Snacks for Diabetes
Hard-boiled egg whites too are good snacks for diabetes. These are quick to make and can be stored. Eating four egg whites will provide 70 calories and 0 carbs, plus these supplement minerals and high-quality protein.
Sunflower Seeds – Best Snacks for Diabetes Problem

You can munch on half cup of sunflower seeds to calm a passing hunger or craving to eat sugary. These are highly nutritious and also safe snacks for diabetes. These are high on healthy fats and protein and low on carbs.
Peanut Butter and Celery – Good Snacks for Relieving Hunger
Add some peanut butter to small pieces of one stalk of celery. This will supplement vitamins and minerals and also help in calming cravings to eat. These are low on carbs and high on healthy fats and protein, and form a good snack for relieving hunger between meals.
You may like reading:
Rolls, Sandwiches And Wraps For Diabetics
Indian Diabetic Recipes For Diabetes Patients
You May Like…
Sale!

Sale!