Healthy Foods for Diabetes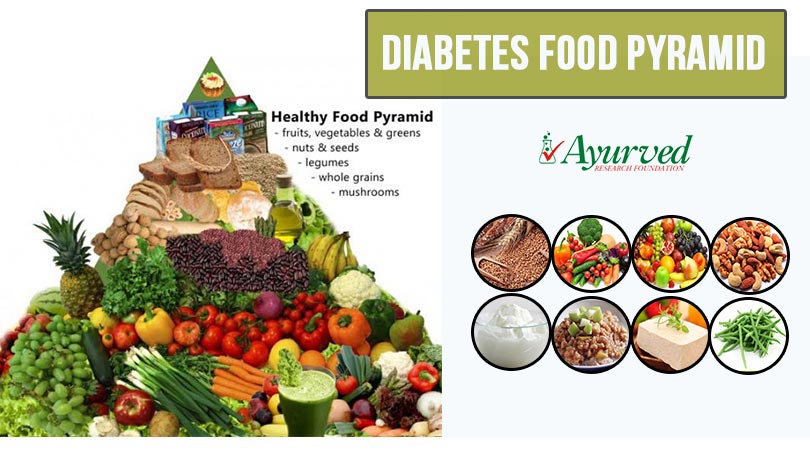 Diabetes Food Pyramid
Diabetes food pyramid is a guide to eat healthy and foods low on glycemic index to maintain healthy blood sugar levels. These foods do not pike sugar levels by supplementing too much glucose and nor these let sugar levels drop quickly in the duration between meals. Too high or too low sugar levels both are dangerous for a person and need to be avoided, fluctuating sugar level cause harm to health and aggravate the symptoms of the problem.
Diabetes food pyramid suggest quantity of food, and number of servings from each food-group during the day, to provide a complete diet plan which avoids fluctuations in sugar levels, and maintain them steady and within healthy range.
This diabetes food pyramid suggests diet plan mentioning foods from different groups and also number of their servings. If a person follows this pyramid and eat number of servings as per lower range he or she will gain 1600 calories in a day, person eating as per higher range will get 2800 calories in the day. The diabetes food pyramid has been designed keeping in mind the troubling side effects of the disease too.
People suffering with diabetes generally feel weak, lethargic and exhausted; pain in legs and poor immunity are other side effects of the problem; urinary disorders like frequent urination or low urine output; and poor healing and poor nerve functions also trouble diabetics seriously. The food plan and types of foods suggested in the pyramid can relieve the symptoms of the disease to a large extent and provide all round relief.
For more on diabetes, check out:
Rolls, Sandwiches And Wraps For Diabetics
Easy Indian Diabetic Recipes For Diabetes Patients
Healthy Foods for Diabetics
Grains and Cereals – Remedy for Diabetes

Grains and cereals these are the base of diabetes food pyramid which means that person should eat these types of foods in higher quantity than others. Grains like oats, rye, whole wheat, buckwheat and barley and brown rice are commonly used grains; quinoa and millet are also very useful grains for diabetic. These supply fibre and minerals and supplement healthy carbs which do not pike sugar levels. Along with grains include cereals, wholegrain bread and pasta to form core of your diet.
As per diabetes food pyramid one should eat 6-11 servings from this food-group during the day. One serving may account to one piece of wholegrain bread, half pita bread, 6 inch tortilla, three-forth cup of dry cereals, half cup of cooked cereals or one-third cup of rice or pasta.
Eat Vegetables – Natural Remedy to Control Diabetes
Vegetables this food-group is above the base group in diabetes food pyramid which make it second most important part of the daily diet. These are low on fat and shall be used as part of meals or snacks quite frequently during the day. These are high fibre and high on vitamins and minerals. Swiss chard, spinach, carrots, turnips, tomato, broccoli, Brussels sprout, kale, cabbage, cauliflower, bok choy, cucumber and lettuce are few commonly used vegetables for diabetics.
You can include 3-5 servings of vegetables in daily diet to gain nutrition and fibre. One serving for vegetables has one cup of cooked vegetables or half cup of uncooked vegetables. If you are eating raw vegetables as salad ingredients include half cup of these per serving.
You may like reading:
Fruits – Natural Diabetes Treatment

Fruits form third layer of the diabetes food pyramid. All fruits are good sources of vitamins and minerals, some contain good amount of fibre as well, but these are relatively higher on glycemic index therefore these are included in lesser quantity in the diet of a diabetic. Fruits like apples, banana, watermelon, cantaloupe, berries, oranges, lemon etc. are good to eat.
One can include fruits in daily diet 1-3 servings per day where one serving contains half cup of canned fruits, one small piece of fruit, one cup of diced fruits like melon or 1 cup of berries.
Meats and Beans – Remedy to Treat Diabetes
Meats and beans these are second highest layer of diabetes food pyramid. Protein obtained from veggie sources are reckoned as better for health. Foods like beans, tofu, peanut butter and cottage cheese are excellent sources of plant-based protein. If you are a non-veggie include lean meat, chicken breast and fish in your diet.
These foods shall be consumed once in a day between meals. One serving may contain a cup of cottage cheese or tofu, or half cup of boiled beans or an ounce of lean meat.
Dairy Products – Natural Remedy to Cure Diabetes

Dairy products these are even higher than fruits in diabetes food pyramid due to high content of saturated fat. Only fat-free varieties of these foods shall be used. Dairy products are good sources of calcium and vitamins like D and are good for improving metabolic functions, muscular endurance and strengthening bones. Milk, cheese and yoghurt in fat-free versions shall be used in the diet on regular basis.
Diabetes food pyramid states that 1-2 servings of fat-free milk, yoghurt or cheese can be included in regular diet of a diabetic. One serving provides one cup of fat-free milk or yoghurt and half cup of fat-free cheese.
Alcohol, sweet foods like ice cream, cup-cakes etc., and muffins, donuts etc. shall be used sparingly, just for change of taste. These foods form tip of the pyramid as these are recommended to be used not more than one serving per week.
For Full Details Click Here Diabetes Food Pyramid Infographic, Healthy Diet for Diabetics
You may like reading:
Healthy Juice Recipes For Diabetics, Diabetes Patients
List of Foods To Avoid With Type 2 Diabetes Problem
You May Like…