Natural Homemade Hair Removal Masks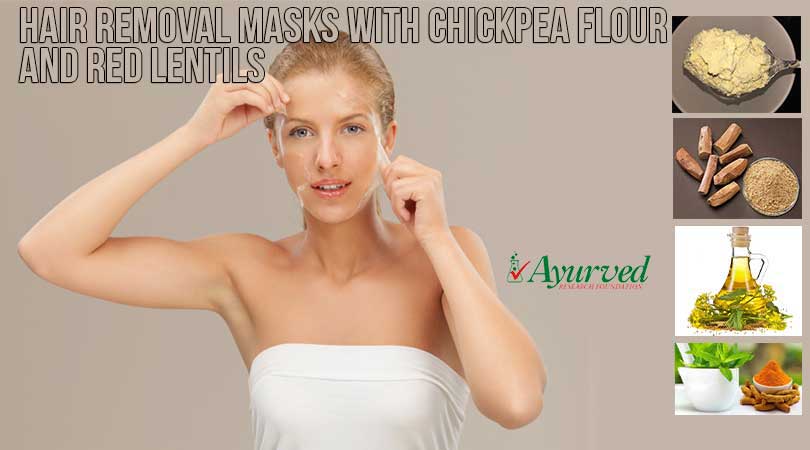 Best Natural Homemade Hair Removal Masks
Women with hairs on their hands and legs, it is too unattractive to even hear it and what about the facial hairs. Oh, they are every woman's worst nightmares. Threading, waxing, hair removal creams and various other options are tried by women to get rid of hairs on upper lips, forehead, cheeks, chin, hands and legs. It does not matter whether they are having hectic schedules, out of their comfort, they have to spend hours in parlors every second week. And this cycle never stops. Before every social gathering, party, wedding, you have to run for hair salons to avoid the feeling of self-consciousness and self-complex. Facial beauty cannot be compromised at any cost. And why should you compromise? After all, looking beautiful is every women's right.
Facial hairs or excessive hairs on your body occur due to various reasons. The reason may be genetic or hormonal imbalance. Some women have very fewer hairs on their skin while some experience excessive hairs at unwanted places too; some hairs are thick and dark which need to be removed out of your skin soon as possible and cannot be ignored at all. You have to bear painful waxing sessions and skin allergies and sore skin every time you try to get rid of unwanted hairs. And most of the times just to avoid the expenses doing waxing by yourself puts you into a mess.
There are hair removal creams also available that claims you smooth and hair-free skin but the effect lasts for one or two days. Short-term results and costing double leaves you with the decision of not experimenting anymore. But it cannot help with the hair problem and ultimately you again lead back to the same pain and procedures. Sick of spending a lot of money into your grooming every month? Still not satisfied? Want to get rid of your hairs permanently? Natural remedies are always the best solution to your problems.
You may like reading:
Turmeric Face Mask Recipe for Skin Problems
Face Masks Recipes for Glowing Skin
Hair Removal Masks with Chickpea Flour
Indians used various techniques for hair removing since ages as natural remedies never harm your skin. Store bought products used for waxing and threading can leave your skin rough and dry. Whereas, Indian spices and herbs used in natural remedies not only give you relief from unwanted or excessive hairs but also moisturize your skin, clear all the dark spots providing you blemish free skin. Today we are going to let you know about the most effective formulas used since old times, that is, hair removal masks with chickpea flour and red lentils.
The ingredients in this homemade hair removal mask are used in your daily routine and can be easily found in your kitchen. You do not have to spend an extra amount for this recipe as it is very cheap and made from kitchen stuff. You might me wondering what the ingredients are. Well, have a look.

Ingredients
2 tablespoon chickpea flour
2 tablespoon sandalwood powder
A bowl Milk cream
1 tablespoon mustard oil
A pinch of turmeric powder Rosewater
To start with, take a bowl and put chickpea flour to it. Then one by one add all the other ingredients and make a paste. You homemade hair removal mask is ready to apply. Spread this paste to the areas from where you want to remove hairs and let it dry. When the mask is dried scrub it off in the opposite direction of hair growth. And lastly, clean your skin with cold water.

Ingredients
2 tablespoon red lentils
2 tablespoon fuller's earth
1 teaspoon sandalwood powder
2 tablespoon raw honey A bowl
Soak half cup of red lentils in milk for overnight. Next morning, grind the red lentils in a grinder to make a powder. Then put 2 tablespoons from the red lentil powder in a bowl and add all the other ingredients to the bowl. With the above measurement, mix them well and make a paste. Your homemade hair removal mask is ready in no time. Apply the paste wherever you feel the need to remove hairs and scrub it off your skin.
These hair removal masks with chickpea flour and red lentils will help you remove your unwanted excess hair naturally. But remember you will see the results gradually over time and your hairs will become thinner. As herbal recipes take time to give you the effect, these definitely cures hair problem for long term or even permanently. With giving you a hair free smooth skin this hair removal mask also gives you the glowing and clear skin without any dark spots. Use of hair removal mask with chickpea flour and red lentils makes your skin look healthier and it will absorb all the excess oil making your skin shinier.
You may like reading:
Homemade Oatmeal Mask Recipe for Eczema
Homemade Anti-Tan Beauty Masks for Suntanned Skin
You May Like…