Cucumber Cooling Spray to Hydrate Skin Naturally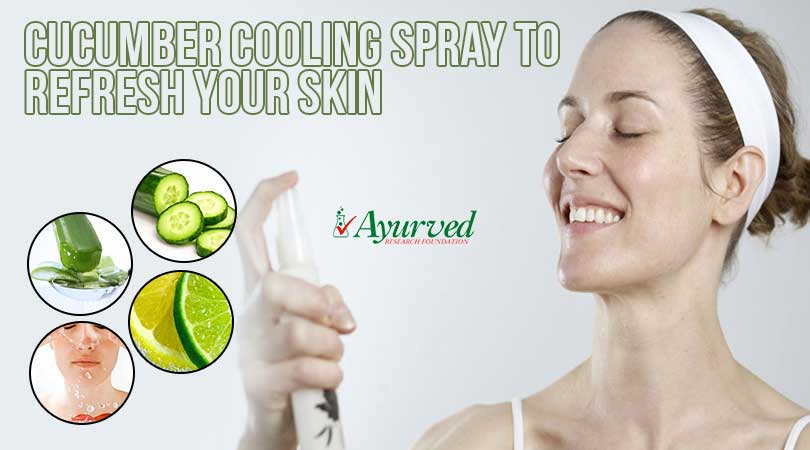 Cucumber Cooling Spray to Hydrate Skin Naturally
Summers, as they come reminds us of the deodorants, sunscreen, wipes and what not. With summer there comes dirt, sweat, oily skin, suntan and fear of getting dark complexion. We use to spend a lot more time in front of mirror doing different tricks. After so many tantrums also our skin feels to get more refreshed, more lively more nourished. We cannot stop going out in summers and always sit in front of cooling objects. Extra exposing our skin to heat can give you heat rash or in future can lead to premature ageing, dry skin, dark spots or pigmentation, wrinkles and even skin cancer.
Our skin needs special care in summers. As good healthy skin is a sign of good healthy body. As your body needs proper hydration in summers our skin too needs hydration. Eating fruits, drinking fresh juices and having a good sleep can keep your skin healthy from inside. And from outside a cooling spray will do the most of caring. A cooling spray, the name itself brings coolness in our mind. You may find a number of cooling sprays in market but with high prices and artificial chemical ingredients and aroma.
You may like reading:
Best Diet for Healthy Skin
Turmeric Face Mask Recipe for Skin Problems
DIY Cucumber Cooling Spray
Make your own homemade one with all natural things and get away from the hassle of skin problems. We are sure many of you people will be excited and eager to know the recipe. Well, the recipe is all natural, having super cool ingredients. Give holidays to your lengthy skin care tricks and try this new cucumber cooling spray recipe. We will let you know each and every ingredient with their benefits for your skin.
Cucumber

Cucumber soothes and softens your skin, and also provides a cooling effect. It also provides you relief from sunburn.
Lemon

Lemon acts as a natural exfoliate that prevents from pimples and cleans the oily skin, thereby leaving your skin smooth and soft.
Aloe vera

Aloe vera soothes your skin, promotes blood circulation, and improves your skin's elasticity.
Rosewater

Rosewater helps reduce any redness and swelling of the skin, and also works as an astringent.
Ingredients for Homemade Refreshing Cucumber Cooling Spray

1 Cucumber
Half lemon
1 teaspoon aloe vera gel
1 tablespoon rosewater
1 spray bottle
To start with it, firstly we need rosewater. Either you can buy any herbal rosewater to use for this recipe or prepare your own. Because we are making a purely homemade cooling spray, why not make our rosewater that too very easily. For the rosewater take some rose petals in a sauce pan and fill it with water so that the rose petals are all covered up properly with water. Lower the heat as the petals start losing their color. Lastly, drain the liquid into a jar, store it and let it cool.
Now, when our rosewater is ready, we can proceed. The first step for making homemade refreshing cooling spray is to cut the cucumber into small pieces and blend it in a blender. When it becomes the pulp, pour it into a cheese cloth covered up on a bowl. Now tightly squeeze out the juice from the cloth into the bowl. Then add a teaspoon of aloe vera gel, one tablespoon rosewater and squeeze half of a lemon juice into the bowl.
Mix it well and if you feel the aloe vera gel is not mixed in properly you can mix this solution once again in a blender so that the aloe vera gel blends well. Now fill it in a spray bottle. This spray can be used up to a week. You can store this in refrigerator and shake it well before using. You can use this cucumber cooling spray three times in a day.
You can also experiment with replacing rosewater with coconut water or you can try adding different essential oils to it as per your choice, although this spray has a wonderful aroma. You can omit the lemon juice if you have sensitive skin. This homemade refreshing cooling spray will leave you with soft and smooth skin. You will also feel a little glow in your skin as lemon and rosewater will do their magnificent job by exfoliating your skin and removing dead skin cells. This cucumber cooling spray will give you cool and soothing effect in hottest of summers. These summers you must give your skin a new gift of this great homemade mixture of cucumber cooling spray that works extremely well for all skin types.
We never recommend buying expensive cosmetic products because these simply cover the existing marks, pimples, scars and what not, but leave the skin with more of such problems. Why to buy expensive creams and lotions that ask you spend loads of bucks and do no good to your skin, instead leave you with skin issues?
You may like reading:
Face Masks Recipes for Glowing Skin
Aloe Vera Mask Recipe for Skin
You May Like…