5 Yummy Easy To Make Juices For Glowing Skin, Get Radiant Skin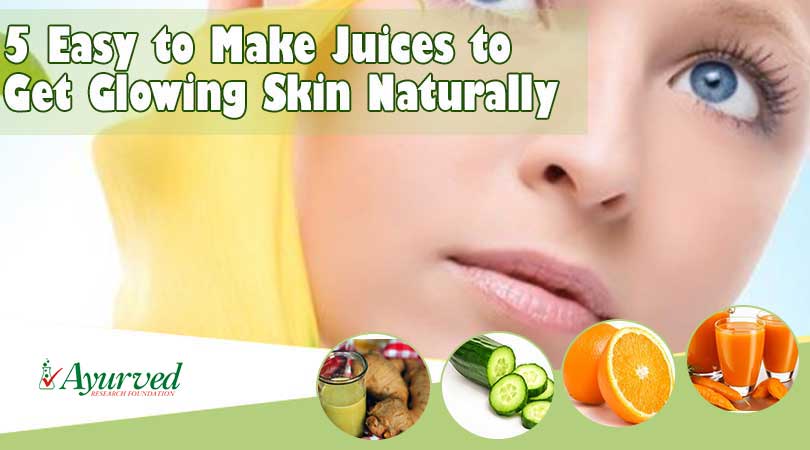 Easy to Make Juices to Get Glowing Skin
Every girl dreams of a clear and blemish-free complexion. A glowing skin reveals your inner health and how you take care of yourself. Glowing skin signifies that your skin is healthy and well hydrated. Do you always complain of having dull skin? Do you feel embarrassed because of your dark complexion whenever you look yourself into mirror? Do you try to keep yourselves out when clicking pictures just because you are not confident about your looks? You might also be using different beauty products, going to parlors for beauty treatments and what not. Tired of trying every new product you come across?
Well you might have heard that when you are healthier inside, it automatically reflects outside. The secret behind your glowing skin depends on how healthy is your diet and how healthy is your lifestyle. Combination of regular exercise, living in low stress and a balanced nutritional diet is required for a natural glowing skin. Nutrition plays a very important role in beautifying your skin. Therefore, providing nutrition to your skin and eating the right foods can boost skin health giving you clean, clear, smooth and glowing skin.
As it is always said fruits and vegetables are loaded with vitamins and minerals. Add fruits and veggies to your daily diet as they contain powerful antioxidants that help to protect skin from the cellular damage caused by free radicals. Free radicals are caused by smoking, pollution and sunlight and can make your skin rough and dull with dark spots. Vegetables like pumpkin, kale, spinach, sweet potato, broccoli, tomato, carrot are very beneficial for skin nourishment. Whereas, fruits like papaya, blackcurrants, blueberries, guava, kiwi fruits, oranges, strawberries are considered as a good source of supplying nutrients to skin.
For more on skin care, check out:
Best Diet for Healthy Skin
Turmeric Face Mask Recipe for Skin Problems
Easy to Make Juices for Glowing Skin
Let us make these interesting and delicious juices for glowing skin. Consuming vegetables and fruits whole can be a tough job. Why not make it yummier so that every time you gulp a drink it will leave you wanting more and waiting for your next turn of drink. Here are few recipes of juices for glowing skin that can be made instantly and are healthiest and tastiest.

Ingredients
1 Orange
4 Carrots
Half a Cucumber
Ginger
Half a Lemon
Peel the orange, lemon and cucumber, making sure that seeds are removed as well. Take a ginger of size 2-3 inches and use it as it is, if the skin is not too hard. Do not peel its skin as its skin also has several benefits. Juice them all in a blender. Try to drink it without any flavor or sweetener added as too much ingredients can spoil the real taste. You can add water if it is very thick. Drink these juices to get glowing skin as they have all the ingredients that are super efficient at flushing off toxins from your body and leaving your skin with a smooth and clear look.

Ingredients
2 Tomatoes
Half Bunch Kale
Half Bunch Basil
1 Garlic Clove
1 Stalk Celery
Chop tomatoes and put it in a blender with all the other ingredients and juice them till no lumps remain. Your healthy juice is ready to consume. Have a glass full of these juices to get glowing skin with breakfast. Tomatoes are rich in vitamin A and vitamin C that help brighten a dull complexion giving you a clear glowing skin.

Ingredients
Beet (chopped) – 1 Cup
Pomegranate (Deseeded) – 1 Cup
Lemon Juice – 1 Tablespoon
Rinse the beetroot with water to remove all the dirt and peel its skin. Chop it into small pieces. Cut the pomegranate and separate the seeds from it. Put them into a blender and add a little water to make a smooth consistency. Mix the lemon juice and blend well. Your juice is ready. Beet roots and pomegranate are a full package of nutrients like iron, potassium, niacin, copper and vitamin C.

Ingredients
1 Apple
1 Cup Strawberry
1 Small Pumpkin
Half Ginger
Chop them all and blend to juices. Strawberries are full of vitamin C. Vitamin C helps prevent pigmentation and protects skin from dryness and wrinkles. Pumpkin has carotenoids that help in neutralizing the skin's damage caused by free-radicals. Pumpkin also has vitamins A and E, which are both amazing for your skin.

Ingredients
Grapes – 2 Cups
Water – Half Cup
Lemon or Lime Juice
Wash the grapes and juice them with adding half a cup water to make it smooth. Squeeze a lemon into it or add a little lime juice and your juice is ready. Grapes are high in Alpha Hydroxy Acids. AHAs are used in anti-aging creams that give you the lighter tone, tightens the skin and improves the skin texture. It also reduces the melanin production which clears your skin from within. Grapes make one of the best juices for glowing skin which are also known for supplying energy.
Drinking these juices for glowing skin will bring out the magnificent results. You may try each one of these everyday simultaneously like a hard core routine.
You may like reading:
Face Masks Recipes for Glowing Skin
Aloe Vera Mask Recipe for Skin and Hair
You May Like…