Homemade Electrolyte Energy Drink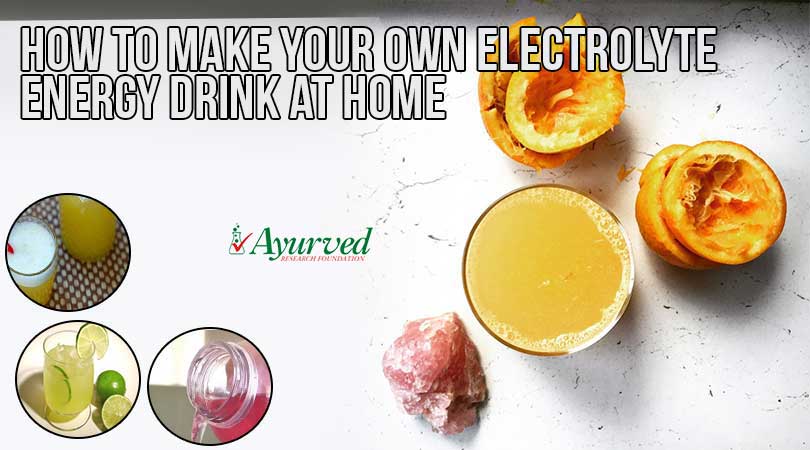 How to Make Hydrating Electrolyte Energy Drink?
Electrolyte energy drink, the most common drink, is most often suggested by doctors to the people suffering from dehydration. Other than this, we are so used to notice every athlete drinking these sports drinks, but no one has a clue why. We never stopped and thought of why athletes are drinking these sports drink or why are they so essential after a long tiring athletic session. Well, these drinks have electrolytes in them. The first question hitting on your mind will be, Electrolyte? What are they? There are a number of electrolytes but what's important for our body is – potassium, sodium, calcium, hydrogen phosphate, hydrogen carbonate and magnesium chloride. The electrolytes regulate our nerve and muscle function, the pH of our blood and basically our hydration. They rebuild damaged tissue and determine blood pressure.
Electrolytes are as much necessary to our bodies as other nutrients. As it is wisely said, when a person does the workout for more than sixty minutes and sweats then there is a drastic need for him to restore his electrolytes. Not only athletes but we normal people also need extra energy at times. Times when either our body is less of energy due to dehydration, sweating or we have done some extra calorie burning work, as sometimes keeping ourselves hydrated is not just enough. Despite of the fact that our bodies are very much capable of hydrating itself, we need a little extra and that little extra is fulfilled by these electrolyte drinks. You can call it as a fuel for our body which helps get you going.
You may like reading:
Best Food for Type 2 Diabetes Diet
List of Best Foods to Control Diabetes
Homemade Natural Electrolyte Energy Drink
Earlier use of electrolytes drinks was not required as electrolytes needed in our body was provided with water itself since water we drank used to be pure and loaded with minerals but now water is filtered and purified and has lost its earlier value, and electrolytes must be found elsewhere. There are many such kinds of drinks that are available in the market and are popular through their advertisements. But why to use those overpriced, artificial sweetener drinks when we can make one of it at home and that too very easily. The sports drink available in market may provide you energy at once, but what harm it does to your body is not known to anyone using it. The best is to make energy drink at home, the most natural and healthy and easiest way to provide you electrolyte intake.
The ingredients used in making homemade electrolyte energy drink are all those which are great source of electrolytes such as lemons, limes, oranges, salt, honey, water, coconut water, sugar, strawberries, and so on. Citrus fruits are said to be the richest resources of minerals or we can say electrolyte rich. There are many recipes of making this energy drink. One such homemade electrolyte energy drink is as mentioned below:
Ingredients
1/4 cup freshly squeezed Lemon Juice
1/2 cup freshly squeezed Orange Juice
One and a half to 2 cups of fresh water
1/8 teaspoon of Sea Salt
2 tablespoons natural Sugar or Honey, to taste
Toss everything into a food blender and blend until the honey is dissolved. Have a glass full with few ice cubes, and enjoy. You can double the ingredients or cut them to half quantity, as per your need and you can add different flavors of your choice such as cherry juice, grape juice, etc. But make sure you do not get inclined towards the taste thing otherwise its nutritional value will get compromised.
We are giving two more ways to try this recipe. This one is a smoothie drink, through which you can make energy drink at home as well.

Ingredients
3 cups of Coconut Water
1 cup of Strawberries
1 cup of fresh water
1 cup of Ice
1/8 teaspoon of Sea Salt
2 tablespoons natural sugar or Honey, to taste
This is the last one and is for those who have less sugar or are diabetic. If you are diabetic, then it becomes more difficult to find a drink which maintains your sugar level as well as keeps your diabetes control. Here we help you with this issue and giving you the easiest way to make energy drink at home, sugar free homemade electrolyte energy drink recipe.

Ingredients
2 cups of Coconut Water
Juice of 2 Lemons
3-4 tablespoon of sugar free simple Syrup
1/4 Teaspoon of Sea Salt
Mix it all together in a blender, pour a big glass and enjoy this homemade electrolyte energy drink. Stay natural, stay healthy and stay hydrated. This energy drink isn't recommended to those who are diabetic as well as suffer from blood pressure as well.
We recommend you to always consult a dietician or a registered healthcare professional if you are concerned enough for your health. Usually homemade recipes work wonders because citrus fruits are beneficial to almost everyone but there are exceptional cases as well in which you might be advised to not consume certain fruits because of specific medical case. Else, if all goes well then enjoy the recipes!
You may like reading:
Healthy Foods for Diabetes
Indian Diabetic Recipes for Diabetes Patients
You May Like…