Best Food for Type 2 Diabetes Diet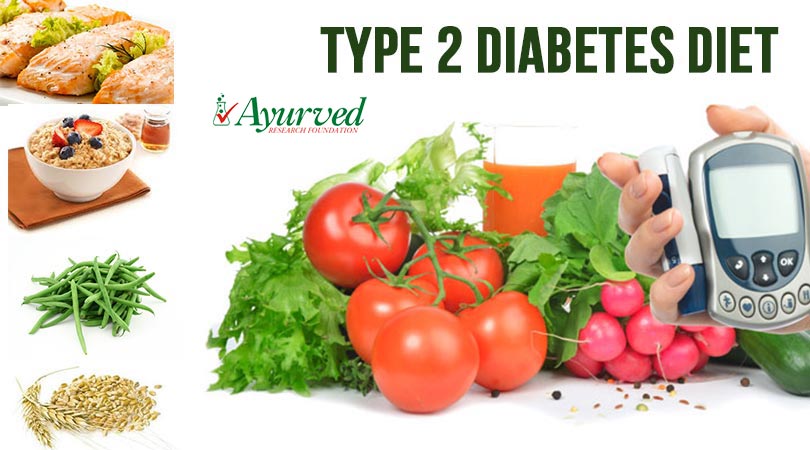 Type 2 Diabetes Diet
Type 2 diabetes is insulin resistant diabetes in which insulin hormone is unable to store sugar in cells which raises blood sugar. This type of diabetes is most common. Person suffering with diabetes need to take special care about his or her diet as foods increasing blood sugar can be very hazardous and aggravate the problem whereas supportive diet and can provide considerable relief by maintaining healthy sugar levels in blood. There are foods which elevate sugar levels and there are hypoglycemic foods which lower level of sugar in blood. Hypoglycemic foods shall be major constituents of a type 2 diabetes diet to keep problem under control.
It is not that only those foods which are sweet in taste are harmful for diabetic, foods which supplement carbohydrates in higher quantity or get converted into glucose after digestion may or may not taste sweet but are harmful. Even such foods shall be avoided from type 2 diabetes diet to prevent sudden surge in sugar levels. Simple bread and pasta, milk, starchy vegetables and some types of fruits come in this category which shall be avoided by a diabetic strictly.
For more on diabetes, check out:
List of Best Foods to Control Diabetes
Healthy Foods for Diabetes
Foods that Control Blood Sugar Levels
Barley – Best Natural Diet to Control Diabetes
Read full details here>>Best Foods that Control Blood Sugar Levels
This is super-food for diabetics and wonderful part of type 2 diabetes diet. This food dramatically slows down absorption of carbohydrate and its digestion and prevent rise in sugar levels after meals by as good as 70%. Its regular intake with meals keeps blood sugar level low and steady for few hours and prevents damaging effects of disorder on health. It is packed with high soluble fibre and other compounds which are excellent for supporting digestion of a diabetic.
Beans – Foods for Type 2 Diabetes Diet

These are other excellent foods for type 2 diabetes diet. Beans are rich sources of protein and are substitute for meat to supplement optimum protein to a veggie. These are sources of soluble fibre and one can use any type of bean. Simply avoid use of salt in the cuisine or keep it minimum and include twice or thrice in a week to keep the problem under control.
Fish – Food for Type 2 Diabetes Diet
This is another diabetes-friendly food and its inclusion in type 2 diabetes diet once in a week in most of the cases is sufficient to reduce chances of the deadliest outcome of the problem coronary heart disease by 40%. Fish curbs inflammation, insulin resistance and bring sugar levels down by supplementing rich dosage of fatty acids.
Flaxseeds – Best Diet for Diabetes

Consume one or two tablespoon of these seeds roasted with yogurt, desserts or cooked vegetables to gain a dose of protein, fibre and healthy fats. This is excellent source of magnesium which critical in reducing insulin resistance and allow cells to utilize sugar for energy production. One can even chew these plain as part of type 2 diabetes diet.
Nuts – Best Foods to Control Sugar Levels
All types of nuts are rich sources of protein and digest slowly which makes them useful foods for type 2 diabetes diet. The nuts are also high on fat but fat which nuts supplement is monounsaturated type which is reckoned as healthy fat and gets utilized for energy production quickly in the body. Nuts can form great snacks for relieving passing hunger and keep digestive system busy without raising sugar levels.
Seeds – Home Remedy to Cure Side Effects of Diabetes
These shall also be included as part of type 2 diabetes diet, sesame, pumpkin or sunflower all these seeds are excellent foods for a diabetic. These are sources of healthy fat, protein and fibre; make sure that you consume these without adding salt. These seeds come loaded with cholesterol-lowering sterols and prevent complications like hindered blood flow due to high cholesterol to curb side effects of diabetes.
Milk and Yoghurt – Best Regular Type 2 Diabetes Diet

Though milk and yoghurt are sources of carbohydrates which increase glucose on digestion and are harmful for a diabetic. But these products are also rich sources of calcium and protein and help fight obesity. These foods fight back insulin-resistance in the body which is main reason behind type 2 diabetes. Fat-free yoghurt and milk are good foods and can be included in regular type 2 diabetes diet.
Oatmeal – Best Foods for Diabetic Patients
This shall comprise breakfast of a type 2 diabetes diet. Oatmeal is rich in fibre and also slows down supplementation of sugar during digestion of carbs. It is also prevents sugar spike due to starch-rich diet. Once in the breakfast this wholegrain slows down sugar supplementation considerably throughout the day to work as useful food for a diabetic.
Olive Oil – Good Diet to Treat Diabetes Problem

This can be used in cooking or consumed raw during the day to supplement body with healthy fats and powerful anti-inflammatory compounds. It slows down absorption during digestion which prevents sugar levels from piking and its healthy fats helps in reducing intensity of insulin-resistance in the body. This too is good food for type 2 diabetes diet.
Sweet Potato – Best Foods To Control Sugar Level
This vegetable is super-food for diabetics. It is rich carotenoids and rich in fibre out of which major part is of soluble fibre which slows down absorption rate of sugar during digestion. This also lower cholesterol and improve insulin response to metabolize sugar. This food shall be part of regular type 2 diabetes diet for beneficial results.
You may like reading:
Indian Diabetic Recipes for Diabetes Patients
Rolls, Sandwiches and Wraps for Diabetics, Diabetes Patients
You May Like…
Sale!

Sale!