Healthy Snacks for Toddlers and Kids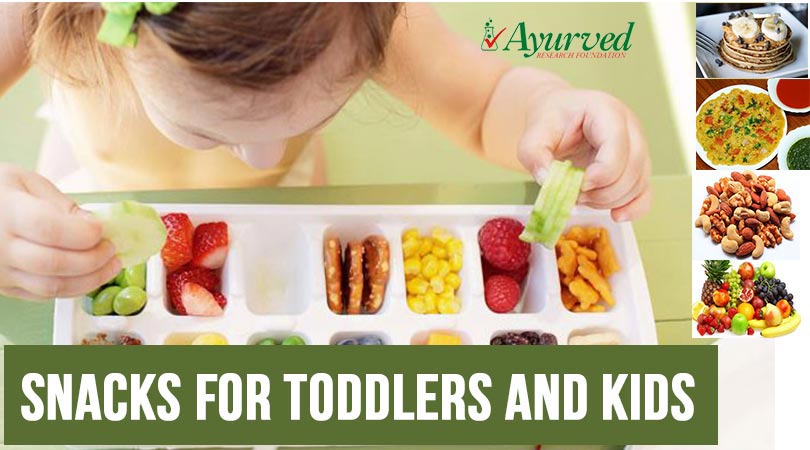 Healthy Snacks for Toddlers and Kids
Young children and toddlers usually do not eat what you want them to eat to supply proper nutrition. At this age young children go by their own likings and taste and would argue or decline in their own ways. But as a parent you also have your own methods to overcome their resistance and persuade them to eat which is good and healthy, the biggest tool at any parent's disposal to make child eat healthy is presentation of food and little innovation in cooking.
If people have more than thousand excuses stating how difficult it is to make child eat properly be sure that if right kind of tactics is employed it is easiest thing to do. If you are unable to persuade your child to eat during meals do not worry, here are few snacks for toddlers and kids which they will eat keenly and stay high on nutrition.
Rolls are the best ways to let your child eat variety of foods without making much fuss. Prepare a chapatti and wrap yoghurt, vegetables and even nuts inside. Make it according to child's taste and include decent varieties of nourishing foods. Such rolls are easy to eat and child would not make much fuss about something which he or she does not like. These are good for even in-school meals and as snacks for toddlers and kids.
You may like reading:
Healthy Food for Kids Growth
Food Pyramid for Children and Kids
Nutritious Snacks Ideas
Protein Pancakes – Delicious Snacks for Toddlers and Kids

These are delicious snacks for toddlers and kids and suit to the taste of growing child who is coming out of aura of bread and biscuits etc. you will need few things to prepare these. Take 200 grams of green lentil and soak it in water for 2 to 3 hours. Take three green chillies, you can reduce their number or avoid completely if your child does not relish heat of chillies. Two chopped tomatoes, two or three tablespoons of coriander chopped, three tablespoons of yoghurt, common salt as per taste and half teaspoon of rock salt.
Take one or two teaspoons of virgin oil. Grind soaked lentil finely and add yoghurt and chillies. Add salt according to taste. Heat a pan and smear a thin layer of oil, spread the lentil and yoghurt paste to cook, when this paste is bit hard spread chopped tomato, coriander after mixing rock salt to it. Apply another layer of lentil and yoghurt and bake from both sides till their surface becomes crispy. Serve hot with mint chutney or sweet chutney. It is nutritious and filling snacks for toddler and kids.
Besan Chilla – Healthy Snacks for Kids

This is old Indian cuisine which is fast to cook and can be made like a very light snacks for toddlers and kids or a filling and nutritious snack. Take gram flour one tablespoon for one chilla, add some water to form a thick paste and salt as per taste. Heat a pan, spread a thin layer of vegetable oil and spread the paste, bake it from both sides till it becomes solid and bit crisp over surface. Take it out in a plate, spread a layer of grated cheese, chopped tomato, boiled leaves of spinach or any other vegetable, form a roll or cut into four pieces like a pizza and serve with sauce, chutney or sweet chutney. If you want to keep it light serve without toppings. This is one of the easy to make snacks for toddlers and kids.
Potato Pizza – Good Snacks for Toddlers and Kids Health

Take one or two potatoes, boil and peel them off, mash these finely and add salt. Prepare a tomato puree and add salt according to taste. Take one piece of capsicum chopped, one tablespoon of boiled corn, grated paneer, one chopped onion, some mushrooms and 2-3 olives. Bake a flat pancake of potato mash and spread tomato puree over these. Top these with grated onion, mushrooms, olives, corn and grated paneer. Serve with chutney or sauce. This too is tasty and good snack for toddlers and kids.
While Making Snacks for Toddlers and Kids,Take Care of Following Factors
Read Full Details Here>>Healthy Snacks for Kids
Nutrition – Kids or young children will not eat three meals on regular basis. They get hungry few times but timing is not regular. This is why you must take care that snacks for toddlers and kids shall contain proper nutrition to make-up for missed meals.
Fruits and Vegetables – It is better that you include fruits and vegetables more in snacks for toddlers and kids as these kind of foods are generally missing in young child's diet. By making some tasty cuisines you can supply sufficient dose of these nutritious foods to provide optimum nutrition.
Balance the Diet – Do not just make anything which can be made easily. Work out a proper plan and balance the daily diet of the child by serving snacks which cover all the variety of foods he or she shall eat. Like if your child does not drink milk serve snacks which contain other dairy products like cheese, yoghurt etc. so that he gets minerals and other nutrients in sufficient dosage.
You may like reading:
Best Low Fat Diet
Best High Protein Diet
You May Like…