Healthy Low Cholesterol Diet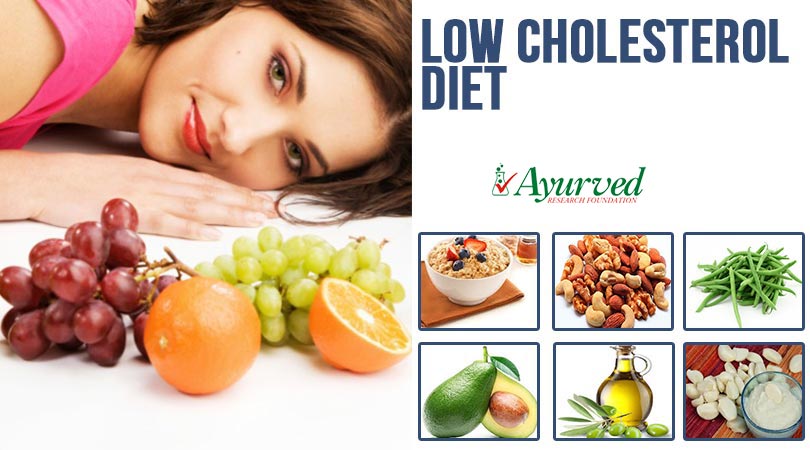 Low Cholesterol Diet
High cholesterol generally refers to a condition where body has high LDL level or poor balance of LDL and HDL in the body. LDL is saturated fat which gets deposited in arteries and block flow of blood to put pressure on heart. It is also responsible of raising many types of disorders like high blood pressure, irregular heartbeats etc. and also increase chances of diabetes.
Overweight people and those who measure high on BMI scale are generally diagnosed with high cholesterol, however even thin and lean people may also be found to be suffering with higher levels of LDL. Low cholesterol diet is the best way to keep this problem away and also reduce level of harmful fat in the body.
You may like reading:
Healthy Juices and Smoothies to Lower Cholesterol
Best Diet for High Blood Pressure
Healthy Low Cholesterol Foods
The foods which are listed below are either high on HDL, the good fat which gets utilized by the body to produce energy easily and also lower LDL level, or these are low on fat content and provide nutrition without adding fat to the body. Diet comprising majorly of these food items is low cholesterol diet and which helps in reducing harmful fat and also maintain healthy lipid profile.
Oats – Low Cholesterol Breakfast
Form a diet plan which provides a breakfast of oats. Eating this wholegrain in the morning kick-starts your metabolism which maintains higher fat metabolism throughout the day and these are very nutritious too. Apart from these, oats contain beta-gluten which absorbs LDL and flushes it out of the body. Regular consumption of oats in the morning as breakfast is low cholesterol diet which keeps level of harmful fat below dangerous levels easily.
Nuts – Best Low Cholesterol Diet

If you can snack on to nuts between meals these too are good low cholesterol diet. Almonds, walnuts, cashews all are good for lowering harmful LDL in the body and maintaining proper balance with HDL. These nuts are nutritious too and supplement wide range of minerals and protein. Do not use salted or fried nuts, plain would be ideal for reducing fat.
Beans – Good Low Cholesterol Diet for Maintain Energy
One bowl of beans with meals once in a day are good low cholesterol diet. These are rich in fibre and metabolize fat in the body. Beans have been found as very good for heart and slow down fat absorption in cells. These are also low on carb and prevent pike in sugar levels after meals. These are also nutritious and maintain energy levels.
Olive Oil – Best Diet for Healthy Cholesterol

Use of this oil in cooking, as salad dressing or its intake in any other form is wonderful for lowering harmful fat. Use this oil on regular basis to make your meals low cholesterol diet. This supplements body with monounsaturated fatty acids which reduce overall fat and are also very useful in reducing belly fat.
Spinach – Low Cholesterol Diet for Heart Health
This green leafy vegetable is fibrous and also high on mineral content like iron. Apart from these it is also good source of lutein which is fat-lowering compound and guards against heart attacks by keeping arteries healthy. One bowl of boiled spinach leaves with meals is a good part of low cholesterol diet.
Avocado – Best Food to Reduce Overall Cholesterol
One fruit of avocado gives good dose of monounsaturated fats which are heart-friendly and lower cholesterol. Avocado is nutrient rich fruit which also slows down absorption of fat in cells to maintain bodyweight. This fruit supplement beta-sitosterol which dissolves harmful fat absorbed from food and reduce overall cholesterol levels. This fruit is good part to form low cholesterol diet.
Green Tea – Natural Diet to Reduce Harmful Cholesterol

Drinking few cups of green tea during the day is simplest way to reduce harmful cholesterol. You can also drink black tea without adding sugar or milk to reduce LDL in the body. Other herbal teas may also have good effect on metabolism and provide healthy fat levels. These too are useful part of low cholesterol diet.
Recommended reading:
Green Tea Lemonade for Weight Loss
Red Wine – Best Low Cholesterol Diet
Feel free to drink a glass of red wine with meals to lower cholesterol. Red wine is also reckoned as part of low cholesterol diet as it has shown potent properties to lower cholesterol by as much as 9% in few weeks.
Garlic – Low Cholesterol Diet for Healthy Immune System
This spice has potent fat lowering properties and its use in cooking or as salad ingredient makes meals good low cholesterol diet. Garlic supports healthy immune system and prevents cholesterol molecules from sticking to arterial walls to prevent harmful plaque deposition. Along with lowering cholesterol it also lowers blood pressure and clot formation in blood vessels.
Soy – Natural Diet for Low Cholesterol

This food is high on fibre, low on saturated fat and cholesterol free. Forming a diet which includes soy products majorly is good low cholesterol diet. These supplement plant based protein which makes them perfect swap for meat and dairy products.
Barley – Best Meal to get Low Cholesterol Diet
Like oats even barley is rich source of beta-gluten which is cholesterol lowering compound and reduce level of harmful fat in the body. Include barley in the form of flour or cook these without frying to consume as regular part of the meal to get low cholesterol diet and high dose of fibre.
CLICK HERE for FULL Details>>Low Cholesterol Diet Plan Infographic, Low Cholesterol Food List
You may like reading:
Natural Foods for High Blood Pressure
Ayurvedic Remedies for Hypertension, Lower Blood Pressure
You May Like…