Green Tea Lemonade for Weight Loss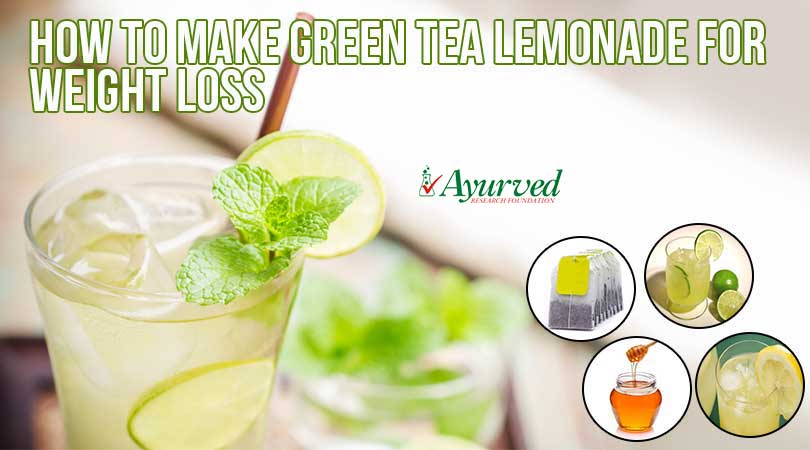 Losing weight has so many myths attached to it. People believe that not eating or remaining hungry will help them lose their weight. There is also a belief that omitting sweets from your diet will do the thing. While some think that by going to gym, by exercising or by running, they will not gain weight. But these are all just misconceptions running in their mind. And when they are not able to lose weight, they give up on putting efforts leading to ignorance towards their health. Getting fat can expose us to many diseases. Therefore, at times it becomes very necessary to cut down extra mass.
You may like reading:
Best Healthy Weight Loss Diet
Low Carb Diet for Weight Loss
How to Make Green Tea Lemonade for Weight Loss?
Dieting does not mean eat less, but it is the combination of physical workout and healthy diet. We must know what to eat, when to eat and how to eat. It is really tough to hold on when we start our mission for weight loss. Everyone somewhere in their mission faces an emotional blast of eating because of craving they are trying to stop. Many times people get disappointed due to the reason that even when they are eating less and exercising more they are still gaining weight.
We have to understand the concept first. Why do we get fat, because we eat too much? No, it's because of the carbohydrates we eat. You have to compromise with your taste a little bit and schedule a strict diet to reduce your belly or other unwanted fat. Read more to enlighten your mind!
Green tea helps burn excess fats and carbohydrate and helps you digest food easily. You will notice that you are not gaining weight and your exercise or workout have begin to bring out the results. You do not have to eat less; regular consumption of green tea lemonade can result in feeling full for longer duration as it lowers your appetite naturally. Green tea lemonade inhibits the digestion of food you eat and prevent carbs from being absorbed and can help to speed up the fat burning process.
Green Tea Lemonade for Weight Loss
Green tea lemonade drink is rich in vitamins, antioxidant compounds, and minerals which help in reducing your few inches. This quality of green tea has made its place amongst all those people who desire to be fit or are figure conscious. The green tea lemonade for weight loss recipe we are giving you is super easy with just four ingredients as mentioned below:
Ingredients to make Green Tea Lemonade
2 Lemons
1 Liter of Water
2 Tablespoons of Any Natural Honey (50 g)
4 Green Tea Bags

To make green tea lemonade, take a saucepan, pour a liter of water, put it on heat and let it boil. While the water is boiling, on the other hand, take a lemon and grate the lemon zest out of it. Now add the lemon zest to the boiling water and also squeeze a lemon juice into it. Turn the heat low and let the zest boil in it properly for about 5 to 6 minutes. Then remove the heat add the green tea bags and keep it aside for ten minutes. Now finally squeeze the second lemon juice to it and add honey. Put this into refrigerator to chill for two hours. The green tea lemonade for weight loss is ready. You can drink it 4 to 5 times in a day.
Your aim is to not only getting fit but also to maintain your health. All the ingredients used to make green tea lemonade are natural. Adding lemon to green tea makes it yummier plus lemon has Vitamin C that gives you cleansing effect and helps to get rid of the body toxins. Addition to this lemon provides a feeling of satiety which, of course, is very good as it helps to avoid the consumption of calories and therefore a person does not suffer from hunger. Honey acts as natural sweetener. You can add more flavors to make it tastier like mint leaves, ginger, cinnamon sticks.
Keep in mind that for losing weight this green tea lemonade alone will not help. Green tea lemonade is not enough until you have a balanced diet. Eat healthy and avoid fatty processed food containing unsaturated fats or sugar. A key advantage of having this kind of drink is, it controls the excessive cravings and hence it will surely help you deal with the sweet treats that come your way and greed you out! Add drinking more water to your routine. You should drink at least 5 to 6 glasses of water daily. Losing weight is not that easy, it also needs a lot of sweat and hard work. Do exercise daily or any other physical activity like walking, running, aerobics, yoga, and so on, whichever suits you best. This green tea lemonade for weight loss will do wonders if followed with a healthy routine.
Quit throwing your hard earned cash over superficial tricks such as weight loss pills, getting operated, spending on fake weight loss products, because short cuts actually slowly damage the body and increase the risk of side effects. Plan your kind of healthy routine as you are the only guide to your healthy life.
You may like reading:
Natural Weight Loss Smoothies to Get In Shape
Frequent Sex Can Help you Lose Weight
You May Like…