Fat Burning Detox Smoothies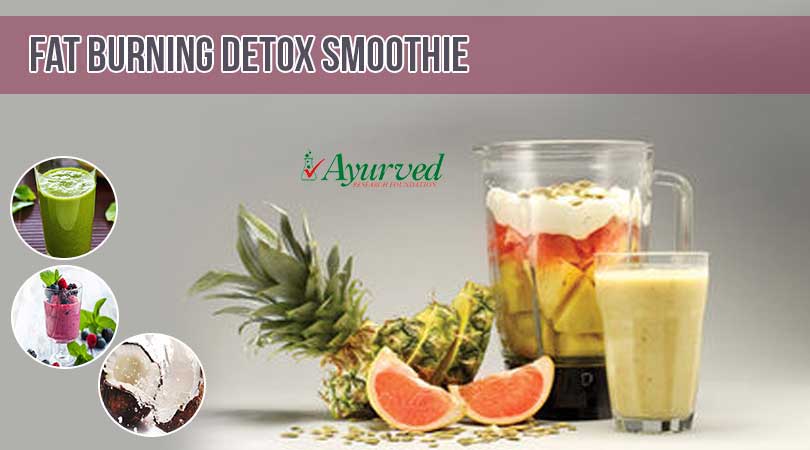 Fat Burning Detox Smoothies to Cleanse Your System
Everyone would agree with the fact that losing weight and burning fat is not that simple. You have to burn more calories than you eat. You have to exercise more than your body is habitual. People think that exercising daily will help them lose their weight. So, they go to gym or go for a walk and spend rest of the day as they spent during off diet days. This does not work that way. You have to understand your body because only you are responsible for doing wrong with your body. Change your routine a little bit. Alone gym cannot do the burning as it does only 30% of the work despite of it being tiring that it seems to be.
Try doing the usual daily chores which you ignore many a times like re-arranging your cupboard, or the house cleaning, etc. You also have to change your eating habits despite of exercise and other workout. Eat healthy food like green vegetables and fruits as the food gives you the energy, the energy which in return burns out to make your hair grow, to let your hearts beat and other body functioning as well. So, never ever think of skipping meals or go on a diet of eating less, instead workout more. Losing your weight needs exercising and consuming food both. Avoid fatty, oily, processed foods and the foods containing saturated fats.
You may like reading:
Best Healthy Weight Loss Diet
Low Carb Diet for Weight Loss
Fat Burning Detox Smoothies Recipes
This change in your lifestyle is very much essential step. There are many other ways you can include in your fat burning process. One of them is detoxifying the harmful agents we inhale or ingest every day. Detoxifying means to cleanse our body and get rid of used wastes and toxins. Remove the toxic food you eat that builds up your fat and replace it by plant based diet that is rich in fiber. A little ignorance towards your fat belly can lead to severe health conditions.
Improper sleep, unhealthy diet, lack of exercising and certain medications are also responsible for increased fat in your body. Detoxifying drinks helps you clean your body with the unwanted after remains of drugs and reduce your belly to few inches. We bring you some of the fat burning detox smoothie that performs the detox process. You can choose any of the fat burning detox recipes according your preference.

Ingredients of Spinach Smoothie
2 Cups Spinach
1 Cup Kiwi
1 Green Apple
1 Banana
1 Cup Water
Put all these ingredients to a blender and blend till it gets smooth. Have a glass full of this fat burning detox smoothie. This spinach smoothie is the best recipe if you are trying for the first time. Since you are not habitual of eating veggies to a great amount drinking them as a smoothie is the easiest and tastiest option to start with. We have added more fruits to this recipe with just one vegetable so that your taste buds would develop the taste gradually for more veggies by then. Spinach does not have any strong tastes so it will taste as a normal fruit drink. Now you can try for more of such fat burning detox smoothies with more veggies.

Ingredients of berry smoothie:
1 Cup Berries (strawberry, raspberry, blueberry)
1 Apple
1 Tablespoon Crushed Almonds
4 to 5 Mint Leaves
1 Carrot
1 Stalk Celery
1 Cup Kale
Add these altogether into a blender and mix well till you get the smooth consistency. Your fat burning detox smoothie is ready to drink now. Make sure you use fresh fruits and vegetables and also make it fresh when you want to have it.
You can replace normal water with coconut water (or vice versa) to make it a little interesting. Make a drink of your own, a drink that you can often go for. You can add any green leafy vegetables of your choice and any fruits like orange, watermelon, mango, lemon. While you can also add ginger, cinnamon, honey to add to the taste. And guess what you can experiment with adding green tea to it. As green tea is also a known remedy for reducing fat, your fat burning smoothie will become the healthiest way for reaching your goal to a fit figure.
You may like reading:
Green Tea Lemonade for Weight Loss
Natural Weight Loss Smoothies to Get In Shape
You May Like…