Homemade Natural Toothpaste Recipe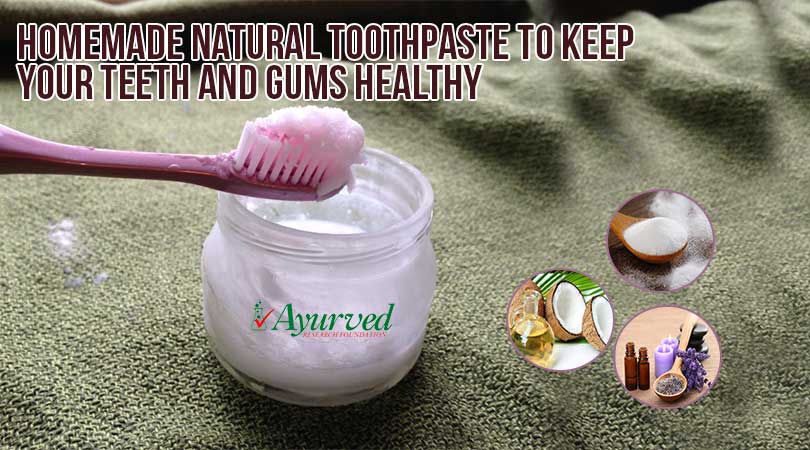 How to Make Natural Toothpaste at Home?
First impression is the last impression. Whenever we meet any new person the very first thing we notice in them is their smile, their way of talking or laughing. And all three of these things depend upon your teeth. You will look good if you have healthy teeth as your teeth define your personality. You are often judged over your teeth and so it is highly important to take care of them. People spend a lot of money on dental care and checkups.
You must know how to take care of your teeth. Cleaning them is very essential for protecting our teeth from cavity, toothaches, bad breath and gum diseases. Brushing your teeth after every meal or after anything you eat would do the major cleaning for you. Brush them slowly and properly at the backsides also and do not rub them or be harsh on your teeth as it reduces the teeth enamel and damages them, brush them softly. Floss your teeth well and clean your tongue too because the food we eat should not deposit anywhere in the mouth. More to this is to try avoiding chemical toothpaste for brushing.
The most important act of cleaning is, of course, brushing and we never pay attention to what kind of toothpaste we are using. There is a huge variety of toothpaste available in market with different flavors, different colors and different ingredients to bring taste. But just to increase in their sale they experiment with unhealthy and artificial ingredients. It is clearly instructed in regular toothpastes that they are poisonous and not to be swallowed. Then why on earth would we feel so bound to brush with them? Why we even use them? They contain fluoride, saccharin and sodium laurel sulfate which is toxic in nature. We never questioned about the ingredients being used in them. Get rid of such toxic substances and go natural with homemade natural toothpaste that we are about to discuss now.
Earlier people used no toothpaste or any brushes; they simply used home ingredients available and brushed their teeth using fingers. So basically, if you just brush your teeth with water or sea salt, it will work the same way as you expect from any of the commercial toothpaste. People tend to opt these toxic unnatural products as they find these natural things boring and apparently not so effective (probably because of the marketing strategies being applied on artificially generated products), despite of knowing (or they might not know!) how much harmful they are. They do not want to follow these old tradition tricks and wish to have a paste with refreshing aroma and a good taste. Well, natural toothpaste can also be equally interesting. Just go through the homemade natural toothpaste recipe we tend to reveal in front of you and we bet you will surely love it.
You may like reading:
Homemade Minty Clove Mouthwash Recipes
Mouth Fresheners to Keep your Breath Fresh
Homemade Natural Toothpaste Recipe
Ingredients of Natural Toothpaste for Healthy Teeth

Half cup coconut oil
2-3 tablespoon of baking soda
2 small packets of stevia powder
15-20 drops of essential oil
Half teaspoon real sea salt
Start with melting the coconut oil. When it gets soft add baking soda, stevia powder, sea salt and drops of essential oil whichever you prefer cinnamon or peppermint, provided that it is still getting heated. Keep stirring till it gets creamy consistency. Let it cool. When it cools down, store it in a jar. You can use it by dipping your brush into it or you can apply a little paste to your toothbrush yourself. This natural toothpaste for healthy teeth will take good care of your oral health and keeps your gums stronger. This is cheaper and effective than those in commercials.
You will soon notice that this natural toothpaste for healthy teeth works great by remineralizing them. This homemade natural toothpaste recipe contains all natural ingredients and sill does not harm you chemically and will keep your teeth clean and healthy. Baking soda helps you with whitening your teeth and protect against bad breath. Peppermint is anti-bacterial breath freshener that fights off the bacteria in the mouth. Sea salt helps to gently scrub teeth and also has some antibacterial properties. Same is with coconut oil which possesses antibacterial properties. Stevia powder is made from stevia leaves which are natural sweetener.
You should also eat nourished and balanced diet and chew your food properly because chewing makes your teeth stronger. In addition to it, also drink ample of water as your body should be fit from inside to make you feel healthy outside.
We would highly recommend regular dental checkups and a proper diet to provide your teeth minerals. We surely believe that it will make your teeth both whiter and healthier. Now you do not have to worry about flaunting your smile. What would you opt the next time if you will be given choice between a commercial toothpaste and a natural toothpaste? Get fully switched over to homemade natural toothpaste for healthy teeth, healthy smile and happy you!
You may like reading:
Ayurvedic Remedies for Calcium Deficiency
Calcivon Tablets Review