Mouth Fresheners to Keep Your Breath Fresh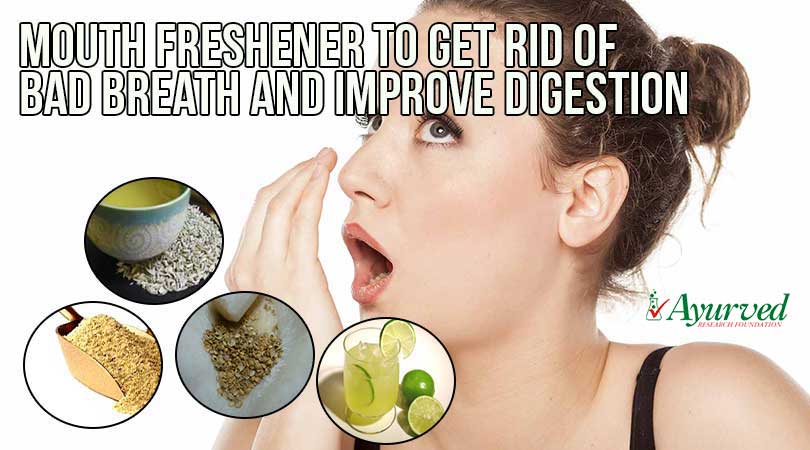 Mouth Fresheners to Keep Your Breath Fresh
Bad breath is also known as halitosis in medical terms. Bacteria get stuck to tongue, teeth and in the mouth and produce bad odor. This happens when either there is not enough saliva formed or your mouth is dry due to other reasons. Bad breath occurs due to various reasons like not regularly brushing or flossing your teeth and eating strong smelling food items like onion, garlic, any kind of curry, smoking and drinking alcohol or coffee. There may be medical issues behind it like gum disease, dry mouth, cavity, ulcers or digestive problems. Yes, bad breath is also connected to indigestion and stomach problem known as Gastroesophagal Reflux Disease (GERD). GERD is caused when acid comes back from the esophagus to the throat and creates bad smell, feels like burning in chest. Bad breath is one of the symptoms of GERD.
That is why it is said that brush regularly after every meal so that bacteria would not deposit and drink adequate amount of water needed. It often becomes the reason of low confidence and inferiority complex issues. The person is not able to speak to others as bad odor will leave bad impression on others and lots of embarrassment. This is not a big deal to worry because there are many ways to get rid of your bad breath. There are various mouth freshener to get rid of bad breath available out in market. But nothing can compare with the natural homemade stuff. Homemade mouth fresheners can be very easy as we can find many ingredients from our kitchen.
You may like reading:
Homemade Minty Clove Mouthwash Recipes
Homemade Natural Toothpaste Recipe
Homemade Mouth Fresheners to Get Rid of Bad Breath
Few foods which are very helpful in curing bad breath are lemon juice which is known for its strong smell hence it fights with the bad odor and lets you breathe fresh. Rinse your mouth with one tablespoon of lemon juice in a cup of water. Same as lemon we can add more such citrus fruits in our daily routine to get our bad odor fixed. Other ingredients are cinnamon, fennel seeds, parsley, cloves and many more. We cannot carry these all stuff with us whenever we go out or wherever we feel like having.
So, a homemade mouth freshener to get rid of bad breath is the best thing which you can take with yourself anywhere. Fortunately there are a number of recipes we can try. Today we are going to give you the recipe which is useful for both stomach and bad breath. It relieves you from gastric and acidity problems and also makes your mouth-smell good.

Ingredients
2 cups Fennel Seeds
1 cup white Sesame seeds
1 cup Roasted Coriander Seeds
Turmeric Powder
1 and a half tablespoon Lemon Juice
salt to taste
water for Sprinkling
Add fennel seeds, turmeric powder, salt, 1 tablespoon lemon juice in a bowl and sprinkle some water so that the fennel seeds will get little wet and mix them well. Keep aside for 2 hours. Now Take another bowl make a mixture of sesame seeds, turmeric powder, salt and half tablespoon lemon juice and sprinkle some water to moisten the seasame seeds. Mix it well and keep aside for the same duration as above one.
Next step is to dry roast both of the seed mixtures individually till they start giving a good aroma. Then keep the both mixtures aside and let them cool.
Finally add both the roasted mixtures with roasted coriander seeds and mix these all together. Store it in an air-tight container and use whenever required anytime of the day. Your homemade mouth freshener is ready.

Ingredients
Fenugreek Seeds 50 gm
Grated Ginger 30 gm
Grated Indian Gooseberry (Amla) 3 pieces
Lemon Juice 6 tablespoons
Salt 1 teaspoon or according to your taste.
Wash the fenugreek seeds and mix all ingredients in a glass bowl. Now shift them into a glass container and leave it under the sun for few days. Shake them after small intervals of time and when it gets dry it is ready to use. Store it and enjoy.
The good thing is about these homemade mouth fresheners are that they are natural, hygienic, healthy and digestive, unlike those artificial mouth fresheners available in the market. You can easily carry these in your pockets or in your handbags. There are no more worries of bad breath and being social.
You May Like…