Homemade Minty Clove Mouthwash Recipes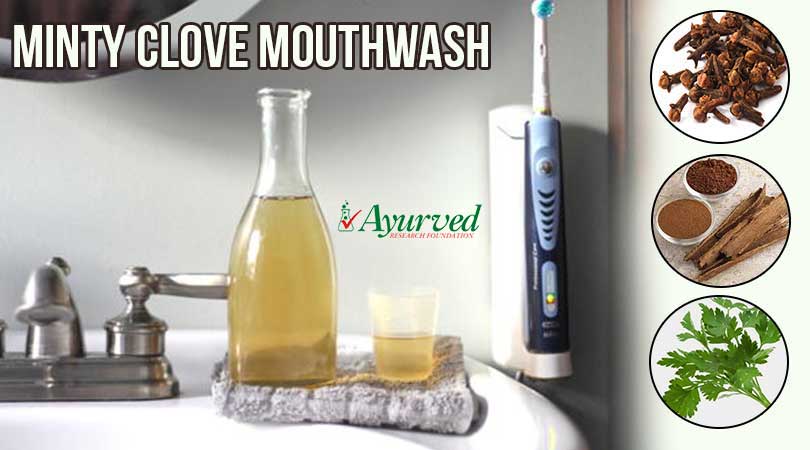 How to Make Mint Clove Mouthwash at Home?
Bad breath the most common complaint heard which leaves a person socially unacceptable many a times. Have you ever paid attention to your oral health as much you do for your looks and outer health which is clearly visible in the mirror? Being dressed up smartly and looking good in not enough to impress other people. There are a lot more things which go unnoticed or are taken lightly. Taking good oral care is as very much important for your personality as the outer looks to you. It surely leaves a good or bad impression on the other person when you speak to them. A good talk always lasts longer in memories and so is your image. Start concentrating on your oral health too as it is not just about your bad breath and self-image but can also cause gum diseases, and various other dental health problems.
Your oral health depends on your way of brushing. You should brush your teeth for whole two minutes. Food that we eat gets stored in between our teeth and mouth and bacteria develops which produces a bad odor. So, make it a habit of brushing each time post meal. There are some foods that have an unpleasant smell like garlic, onion and tuna. While other habits of smoking and chewing tobacco also gives you bad breath. With brushing and flossing, there is one more thing that matters. It is cleaning your tongue.
You may like reading:
Mouthwatering Aam Panna Recipe
Mouth Fresheners to Keep your Breath Fresh
Homemade Minty Clove Mouthwash
Oral hygiene is incomplete when your tongue is left unclean. Bacteria are all around your mouth and they multiply very quickly. So basically, oral hygiene combines of brushing flossing and tongue cleaning. Every time we visit a dentist he suggests us to use mouthwash as mouthwash rinses your mouth very well killing every bacterium hidden in corners of your mouth.
Not everyone is interested in spending their hard earnings into buying expensive mouthwashes available in the market. They contain harmful antibacterial agents, fluoride, and alcohol which can cause tooth discoloration, dry mouth and damage our oral health. We should never get attracted to the packaging and brands without knowing what they are made up of. Do not panic, we have the solution to every problem. Why not make your own mouthwash at home with easily available ingredients and that too natural and herbal. Herbal products can never harm you as the store bought products do. This homemade mouthwash is also made with the herbs and spices available in your kitchen, used in our daily lives.

1 Tablespoon Cloves
1 Tablespoon Cinnamon
Peppermint Essential Oil
2 Tablespoon Parsley
1 Cup Water
Pour a cup of water into a saucepan. Then add the cloves, cinnamon, and parsley to the water and put it on the heat to boil. After a few minutes, remove the pan from heat and leave it to cool for ten minutes. After a while, drain the mixture into a boil with the help of a fine mesh strainer. After this procedure is done, add 4 to 5 drops of peppermint essential oil to the mixture. Now, your minty clove mouthwash is ready. Fill this mouthwash into an air tight bottle and shake it well so that the solution gets mixed up well. You can use this minty clove mouthwash for about a week. Use it twice daily by gargling it for about 30 seconds at least so that it kills all the odor causing bacteria.
This homemade mouthwash recipe is one magnificent solution for your overall oral health. Not only bad breath but tooth decaying will also be controlled with using this homemade mouthwash recipe. Herbal ingredients in this homemade mouthwash recipe reduce plaque and lessen the chances of the cavity. It has the antiseptic, antibacterial qualities which inhibit the bacterial activity that can cause gum disease.
The most beneficial property of this homemade mouthwash recipe is that it can be used often because it does not contain any harmful chemical agent. Clove is wonderful spice full of efficiencies and it is known since ages for treating teeth problems as it not only freshen up your breath but also provides you relief from tooth pain and swelling in gums.
With this wonderful mouthwash recipe, you have to no longer worry about getting social. You will confidently smile and talk to everyone without the feeling of embarrassment. This minty clove mouthwash will give your mouth a fresh and pleasant smell, eliminating bad breath. We would also recommend you consumption of plenty of water which is very necessary to keep your mouth hydrated and away from bacteria. You can also make a spray out of it. Just fill the solution to a spray bottle, imagine how interesting it would be. You can carry the small spray bottle anywhere you want.
You may like reading:
Homemade Natural Toothpaste Recipe