Homemade Natural Deodorant for Dry and Sensitive Skin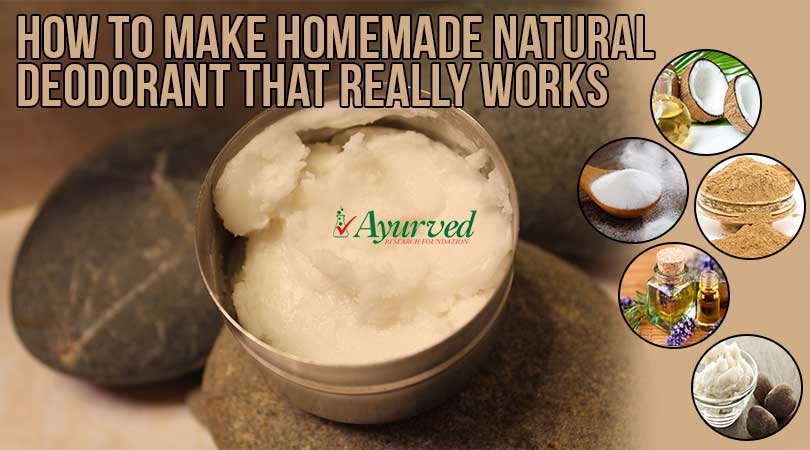 DIY Natural Homemade Deodorant
As it is said that our body is a temple and we should worship it. Worshipping term here means taking care of our body. Your skin is very delicate and sensitive organ which protects our body and so even a slight irresponsibility towards it can cause you discomfort and results may be scary. First step of caring is to avoid using toxic products on your skin or fully abandoning them from your life. One such product which is used by many youngsters is deodorants for body odor for refreshing and long lasting fragrance and to have a good impression on others. Deodorants are used in daily routine and number of times in a day due to sweating which is a natural process but sometimes it is stinky. So, basically deodorants are used to destroy that odor creating bacteria produced by sweating.
Often people get misguided by the advertisements that claim that deodorants are natural and non-toxic. But in reality they contain harmful ingredients not good for our skin. Better we should make ourselves aware of these deodorants and be safe inside and outside. People blindly follow the trend rather than being hygienic. Deodorants can cause skin allergies, breathing problems, asthma, etc. as chemicals released through them into air are inhaled by us and hence create hazards.
You may like reading:
Best Diet for Healthy Skin
Turmeric Face Mask Recipe for Skin Problems
How to Make Homemade Natural Deodorant?
People tend to have a mentality that natural homemade deodorants do not work well as the ones available widely in markets. They get attracted towards the packaging, fragrances and tag lines popular with them. They do not care about what the ingredients are or whether they are safe or not. But now is the time to erase those misconceptions from your mind and try making a deodorant which does work for your body by opting for antibacterial and antiseptic and all natural ingredients. Making homemade deodorants is very easy.
Smelling right is very much important for your image. Why not make your own homemade deodorant. We will give you the best and easiest recipe to make homemade natural deodorant. The core ingredient of this recipe is coconut oil because coconut oil has the antibacterial properties which are very much needed to keep you away from unhealthy bacteria and odor. Although you can use simply coconut oil and baking soda mixture because no doubt it works best, but to make it more interesting and your personal kind of homemade deodorant you can follow this recipe.

1/3 cup Coconut Oil
2 tablespoon Baking Soda
1/3 cup Arrow Root Powder
10 – 15 drops of Essential Oils (if you wish)
Mix the coconut oil, baking soda, and arrow root powder in the small jar and do the mixing. If you have sensitive skin you can lessen the amount of baking soda as much suitable. Now mix them all till it gets creamy consistency similar to deodorant. This is now ready to use. If you want to add any fragrance, add in essential oils according to your choice. Fill this mixture into a small jar or a container. Usage of this homemade deodorant is very easy. Just dip two fingers in the creamy deodorant and rub it at your armpits and let it get absorbed for few minutes so you won't feel sticky. And for the warmer days you can put this mixture into refrigerator.
For those having dry skin we have one more recipe using shea butter as it is a very good moisturizer. Shea butter is used for that extra smoothness and softness in your skin and wonderful fragrances. Well, the ingredients for this recipe are all similar to the above one. But not to confuse with how much amount to use, we are again listing the ingredients to

3 tablespoon Coconut Oil
3 tablespoon Baking Soda
2 tablespoon Arrowroot Powder
2 tablespoon Shea Butter
Essential Oil
Firstly melt coconut oil and shea butter in double boiler. You can directly use a glass jar into a sauce pan filled with water to avoid unnecessary cleaning. When it melts turn the heat off and add baking soda and arrowroot powder and mix them well. Now, just like above recipe, add few drops of essential oil into it. Store the mixture in a jar and let it dry. Now your homemade deodorant is ready to use.
After the deodorant gets ready, make sure that it suits your skin. This could be done by adding a little amount of the prepared liquid onto 5 cm square area on any part of your skin. If irritation occurs you may give this valuable thing to any of your friend or a relative because it might harm you but could be well suited to them. Usually this is not the case but exceptional cases are always present. We are sure that you will love this unique make homemade natural deodorant that lasts for longer hours just as those that are found in the market. The recipes we have just discussed are well known since centuries. Still wonder what princes, princesses, kings and queens used to apply back then?
You may like reading:
Face Masks Recipes for Glowing Skin
Aloe Vera Mask Recipe for Skin
You May Like…