Natural Homemade Air Fresheners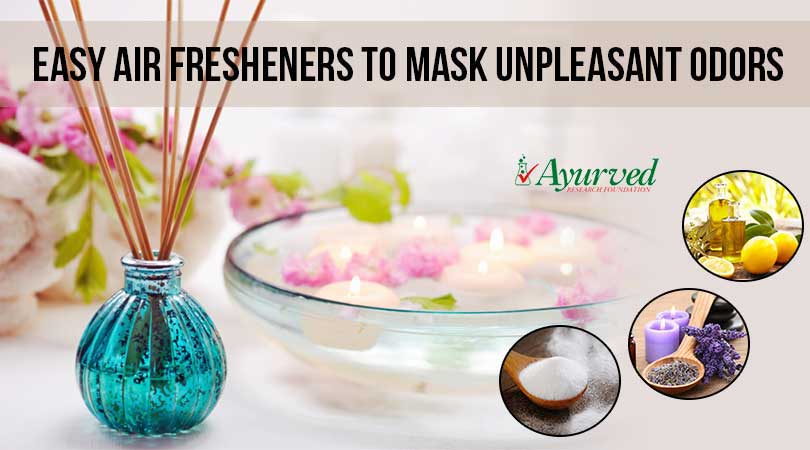 Smell is an important sense of our body. Waking up with a fresh air makes up your whole day. People go for walk early morning, and they mostly prefer gardens and an open area where they can breathe fresh and fragrance of flowers brings out the positivity in you. We expect our home to smell good and pleasant. You might have heard that the food which smells good, tastes good. Similarly, a home that smells good always has the positive environment. At the opposite bad odor can spoil your mood and therefore, it is important to keep your mood happy for being healthy physically and mentally.
Natural Homemade Air Fresheners
Whenever we go to a restaurant we expect a good ambiance and wonderful fragrance. Then why would not we wish for a refreshing environment at home? Often our kitchen and bathroom smell unpleasant and are unbearable. So, it becomes a must to mask that bad odor. Bad odor leaves bad impression whether it's your living room, kitchen, bathroom or cars. To get rid of the bad odor people but air fresheners from markets.
These air fresheners contain artificial fragrances and chemicals which when inhaled by nose can affect your health and cause a headache, throat infections and nasal irritations or even asthma. It also affects our digestive system, kidney and lungs and many other interior parts of the body.
Keep your worries aside when we are here to help you out with your problem and that too in a natural way avoiding those harmful air fresheners. Use natural fragrance available in nature that can keep you away from the unpleasant odors and are also a healthy option. Homemade air fresheners are made with all natural ingredients such as flowers, essential oils, and herbs that are known for their exotic and divine fragrances. These ingredients not only spread a good smell but also kill the harmful pathogens found in the atmosphere.
DIY Homemade Air Fresheners Recipes
You can choose from various interesting options like making natural incense sticks, candles, gels or natural sprays to make your home smell amazing. Baking is also an interesting option to help you get rid of bad odor. Bake anything, be it lemon or be it biscuits and cakes. Well, we will list here some flameless recipe of air freshener to mask unpleasant odor.
Air Freshener Spray Recipe Ingredients
A spray bottle
Water
Lemon essential oil
Lavender essential oil
Baking soda
Put 1 tablespoon of baking soda into a bowl. Add few drops of lavender oil and lemon oil each and mix them. Pour the mixture into a spray bottle. Fill the spray bottle with some water. Cover it and shake well. Baking soda is very good at absorbing odors. Although, there is no need of essential oils, but using them in air freshener to mask unpleasant odor will freshen up with your favorite fragrance.
Oil Diffuser Air Freshener Ingredients

Essential oil
A glass bottle
Bamboo kabob skewer
Sweet almond oil
Pour the sweet almond oil to the small glass bottle and add 20-25 drops of essential oils to it and mix them with the bamboo skewer and put the rest of the skewers to it. Leave it for few hours. This air freshener to mask unpleasant odor will give you soothing and spa-like environment. The air fresheners to mask unpleasant odors take no time to get ready and with very easy ingredients you get the freshening all around.
Air Freshener Gel Ingredients
A mason jar
4 packages of gelatin
1 tablespoon salt
Food color
Essential oil
Firstly cut out a scrapbook paper same size as the lid of the jar. Replace the lid with the paper covering the jar. Put food color and 30 to 40 drops of essential oil into the jar. You can take any essential oil of your favorite fragrance. On the other hand, add one cup of water to a pot and put it on the heat to boil. Add all the 4 packets of gelatin to the water and keep mixing and do not let any lump to form.
When it gets dissolved fully add another cup of cold water and one tablespoon of salt to the mixture and mix them well. Pour this mixture into the jar and cover it with the paper and put the lid on the jar. Make small holes to the paper with a needle. Leave it overnight and your homemade air freshener gel will be ready. You can make more such jars one for each room.
All these are the homemade air fresheners that need no burning. These air fresheners to mask unpleasant odors are safer and perfect for your home to fill with natural scent. These homemade air fresheners are the money saving options that will also provide you with health benefits of essential oil in addition to giving you a wonderful fragrance in your home. These air fresheners to mask unpleasant odors can be fabulous for gifting. Who would not love an amazing aromatic gift?
You May Like…
Sale!