Healthy Juices and Smoothies for Arthritis Pain Relief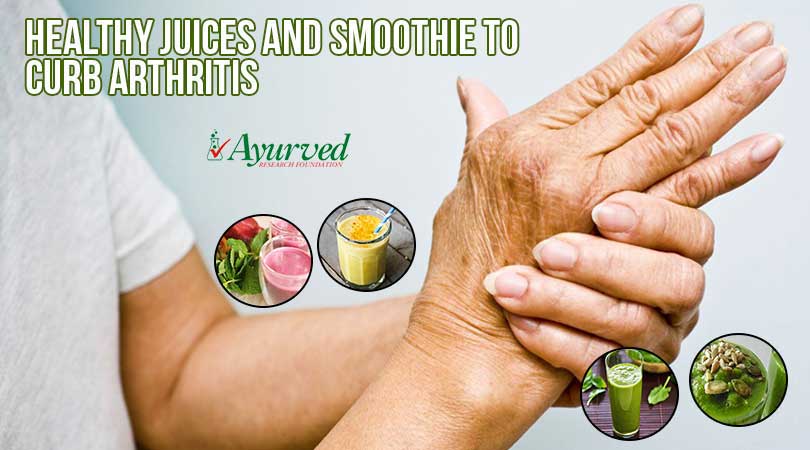 Healthy Juices and Smoothies for Arthritis Pain Relief
Arthritis is a condition where your joints are affected. Swelling and inflammation occur and the person has to bear severe pain many times. It the most common chronic disease that has more than a hundred types. There is a tissue between your joints known as cartilage which helps in absorbing shock or pressure whenever the joint moves. So, when there is any reduction in the amount of cartilage, arthritis is caused. Arthritis can seriously affect your routine lives when gets unnoticed. The person cannot even move their joints of the body and their movement gets restricted. Mostly women get affected by arthritis that too at later ages but there are always exceptional cases when arthritis can occur suddenly at an early age. It can happen due to any infection or any previous injury that has broken your cartilage.
This condition affects daily lives to a greater extent. The person feels helplessness and irritated as limited movements spoil their mood and their social life. Do not panic, because we can still get relief from this chronic condition. A healthy body is a sign of healthy diet and lifestyle. So basically, to get relief from the symptoms of arthritis there are many things we can do. First of all, make a change to your diet. Try to include fruits and vegetables in your diet as much as possible because fruits and vegetable are very helpful in reducing inflammation and pain as they have anti-inflammatory, antioxidant and pain-relieving properties. You need to include those fruits and vegetables that are rich in carotenoids, bromelain and quercetin.
You may like reading:
Best Natural Foods for Arthritis Relief
Diet for Strong Bones and Joints
Juices and Smoothies to Curb Arthritis Joint Pain
Fruits and vegetables can be consumed in a juice or a smoothie form which can improve your arthritis conditions. Inflammation, swelling and pain are the main symptoms that can be controlled with loading up your body with antioxidants. Include some effective fruits and vegetables like tart cherries, pumpkin, green apple, green tea, kiwi, parsley, spinach, beet, pineapple, pomegranate, vitamin C and E rich foods, omega – 3 fatty acids and other anti-inflammatory foods in your daily diet as these are some of the very efficient remedies to get rid of the arthritis symptoms. Juices and smoothies can be prepared very easily within minutes and will also help you in boosting your immune system keeping healthy. Here we are listing 3 best healthy juices for arthritis that are packed with essential nutrients that help in relieving from arthritis symptoms.

Ingredients
1 Beetroot
1 and a half cup pineapple
2 kiwis
1 cup frozen cherry
1 cucumber
1 and a half lemon
Rinse the beetroot with water so that all the dirt get washed away. Peel it and cut it into pieces and juice it in the juicer. Add lemon to the juicer after peeling its skin. Now, peel and slice the cucumber, cut pineapple into small chunks and add them all to the juicer. Finally, peel the kiwi and cut it into pieces and also add cherry after removing its seeds. Juice all the ingredients till it gets the smooth consistency. Pour the juice into a glass and enjoy the delicious drink.

Ingredients
1 and a half inches turmeric root
2 inches ginger
1 Cucumber
3 Carrots
2 cup pineapple
Place the turmeric root, ginger into a juicer. Add cucumber to the juicer after peeling and chopping into pieces. Wash carrots from water to clear the dirt, peel them and cut it into pieces. Add carrots and pineapple to the juicer. And blend them well. All these healthy juices for arthritis are full of antioxidants that help lessen inflammation and ease the severe joint pains.

Ingredients
2-inch piece of ginger
Green tea
1 cup celery
1 cup of kale
5 branch parsley
2 cups spinach
1 cup of mixed berries
1 tablespoon of unrefined coconut oil
Pour a cup of green tea into the blender, then add the peeled ginger piece to it. Chop all the vegetables finely. Now add them into the blender. Also, add a cup of berries and refined coconut oil to the blender and blend it well for about 60 seconds to get the smooth consistency. Your green smoothie is ready to drink. You can choose berries of your choice such as strawberries, raspberries, cranberries or blueberries. This smoothie to curb arthritis is loaded with nutrients that help in reducing inflammation and relieves you from the joint pain.
Drinking these healthy juices for arthritis twice or thrice in a week regularly will not only improve your arthritis but also reduces the risk of getting arthritis. Smoothies to curb arthritis also help in losing weight as well as these enhance your immunity making you strong and healthy from inside. Consuming juices and smoothies to curb arthritis is the easiest way to fill up your body with the needed vitamins and minerals.
You may like reading:
Rumoxil Oil Review
Rumoxil Capsules Review
You May Like…