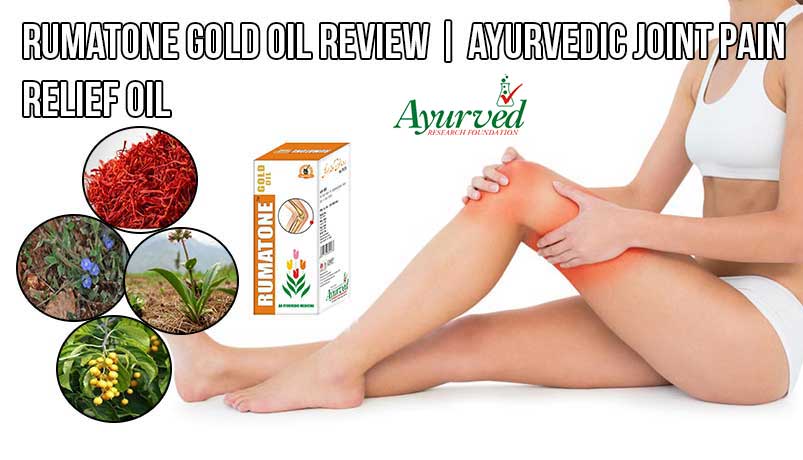 Ayurvedic Herbal Joint Pain Relief Oil
Arthritis is the most common degenerative disease that occurs due to joint inflammation. It usually strikes a person in old age and converts the most trivial day to day tasks to huge burdensome duties to accomplish. Pain, redness, swelling, stiffness and restricted motion of joints are some agonizing symptoms and after effects of arthritis and they become worse over time. Osteoarthritis, rheumatoid arthritis, psoriatic arthritis, fibromyalgia and gout are some of the commonly occurring type of arthritis among more than 100 arthritis types.
Several surgical methods such as joint fusion and joint replacement are carried out when the situation falls out of one's hands. In joint fusion, small joints are fused together to form a single unit and joint replacement is done to replace the existing joints with the artificial ones. There are many alternative remedies available for easing the excruciation joint pain and enhancing joint function such as hot and cold therapy, weight management, exercising, acupuncture, massages, tai chi, yoga, placebo, use of assistive devices such as canes and ayurvedic treatment.
In addition to taking prescribed medicines one can successfully take the aid of these effective herbal remedies which help a great deal in relieving the arthritis join pain. One needs to opt for both external and internal treatment to ease this pain. Herbal oil that used to massage over the paining joints prove to be very beneficial and Rumatone Gold oil is one of them. This Rumatone Gold oil review reveals useful information about the key features, ingredients, guarantee, pricing and the quality of this herbal oil as compared to similar products in the market. Our review of ayurvedic joint pain relief oil is an authentic and unbiased review that will help consumers in making a more informed decision on whether they should buy this product or not.
You may like reading:
Healthy Juices and Smoothies for Arthritis Pain Relief
Best Natural Foods for Arthritis Relief
Working and Results
Rumatone Gold oil is a joint and muscle relaxant oil which has got powerful anti-inflammatory properties. Regular massage using this ayurvedic joint pain relief oil reduces swelling, redness, pain and stiffness of joints in a natural manner. It is a remedy for fibromyalgia, muscle pain, osteoarthritis, spondylitis, gout, rheumatoid disorders and sciatica. It also reduces nerve pain and strain pertaining to our nervous system. The mobility and flexibility of the limbs is enhanced manifold by using this oil. Hence, it strengthens our bones, skeletal and neuromuscular systems.
Features
We will discuss some prominent features in this review of Rumatone Gold herbal joint pain relief oil
Relaxes and eases joint pain
Potent muscle-relaxant oil
Strengthens neuromuscular and skeletal systems
Increases the power, mobility and flexibility of limbs
Relieves pain caused by osteoarthritis fibromyalgia, rheumatoid disorders, muscle pain, sciatica, spondylitis and gout
Reduces strain and pain in nerves
Ingredients
Mal Kangini, Kesar, Vishnukrantha, Charota, Safed Til, Jatamansi and Bach are the major ayurvedic ingredients used to make Rumatone Gold oil. All these exotic natural products are combined in a unique blend and correct proportions which is the key to its effectiveness. Now we will throw some light on 2 of its major ingredients in our review of ayurvedic joint pain relief oil
Mal Kangini

It is a very popular herb in India and is a source of alkaloids and fatty acids. These have got powerful sedative and anti-depressant properties. Mal Kangini has exceptional abilities to ease the joint pain caused in arthritis.
Vishnukrantha
Vishnukrantha acts as a tonic to the brain and helps in boosting memory and brain power. It has also got excellent analgesic and alexiteric properties imbibed in it. This herb provides relief from pain caused by arthritis.
Directions of Use
Shake the bottle of Rumatone Gold oil well and gently massage over the affecting joints for around 10 to 15 minutes. One must massage using this oil for 3 to 4 months without fail to see extraordinary results. It is also advised to consume 1 or 2 Rumatone Gold capsules two times a day with water along with using this herbal oil. The combined effect of oil along with capsules will quickly ease the debilitating arthritis and muscle pain.
Word of Caution
One must never remain in the imagination that it is some exotic Indian magical cure that will totally alleviate the joint and muscle pain within an overnight. Arthritis is a degenerative disease and no permanent cure has been discovered so far that can treat it permanently. One can only assuage its symptoms. But after applying Rumatone Gold ayurvedic joint pain relief oil regularly, immense satisfaction will be experienced by the user. One must also use it continuously for 3 to 4 months to get enormous relief in the joint and muscular pain.
Safety Concerns
We will assert in our Rumatone Gold oil review that rigorous clinical research done by experts shows that all the ingredients used in this oil are 100% safe for use. These ayurvedic ingredients used in Rumatone Gold oil are natural, powerful and highly effective that do not pose threats of side effects to our body.
Merits
We would like to enlist several advantages of Rumatone Gold oil in our review of herbal joint pain relief oil –
This ayurvedic oil is a 100% natural and safe formula.
Rumatone Gold oil reduces joint pain, stiffness and swelling.
It wonderfully eases pain of spondylitis, fibromyalgia, muscle pain, osteoarthritis, gout, rheumatoid disorders and sciatica.
It is potent muscle relaxant oil.
Regular use of Rumatone Gold herbal massage oil reduces strain and pains of nerves.
It enhances the mobility and flexibility of limbs.
Daily massage using Rumatone Gold ayurvedic oil strengthens skeletal and neuromuscular system.
Demerits
At last in our review of ayurvedic joint pain relief oil we would discuss some of its demerits –
This oil can be ordered online only.
It works gradually after regular use for 3 to 4 months. No immediate and overnight results can be experienced by using them.
=> Buy Rumatone Gold Herbal Joint Pain Relief Oil to Relieve Pain and Stiffness.
You may like reading:
Rumoxil Oil Review
Rumoxil Capsules Review
You May Like…