Orthoxil Plus Capsules Review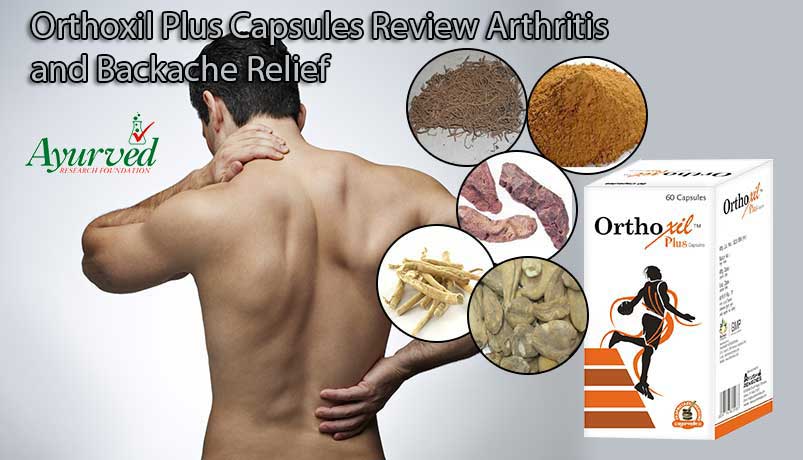 Herbal Remedies for Arthritis and Backache Relief
The word 'Arthritis' has a Greek origin meaning 'Arthro-joint' and 'itis-inflammation' which leads to the literal meaning 'joint inflammation'. It is an umbrella term used for describing over 100 types of joint and connective tissue diseases or conditions. The two most common types of arthritis are osteoarthritis and rheumatoid arthritis. Rheumatoid arthritis is a chronic autoimmune disease that causes pain, inflammation, stiffness and swelling in the joints as our own immune system attacks our healthy tissues. Osteoarthritis occurs due to repetitive use and wear and tear of our joints which gets worse every day causing a great deal of pain, warmth, swelling, creaking and stiffness of joints.
As our back bears most of our body's weight, it becomes more prone to the effects of arthritis and results in excruciating lower back pain. Non-modifiable causes of arthritis normally include age, gender and genetic composition as arthritis is more prone to people above 60 years of age, women and those having family history. But the modifiable causes are being overweight, joint injuries, joint infections and type of occupation. Additional disorders or comorbities such as heart diseases, stroke, diabetes and chronic respiratory conditions can occur when arthritis gets aggravated.
For exclusively relieving the excruciating arthritis pain and backache condition, a new herbal product has been launched in the market known as Orthoxil Plus capsules. The manufacturers claim to soothe the painful symptoms of arthritis within 12-15 weeks of use in a natural fashion without causing any harmful side effects. To find out how much truth lies in these claims, we decided to start a thorough investigation and experimentation regarding the effectiveness and safety of this ayurvedic product.
What we found out was startling! Keep on reading our reviews of Orthoxil Plus herbal remedies to relieve arthritis pain and backache and discover various important features, working, usage, advantages, disadvantages, etc. of these herbal capsules. You will be as amazed like us when you read what we found out in this Orthoxil Plus capsules review.
For more on arthritis, check out:
Best Natural Foods for Arthritis Relief
Healthy Juices and Smoothies for Arthritis Pain Relief
Features
We are starting off our Orthoxil Plus reviews by presenting all the basic features so that our readers will get a gist about working and effects of these ayurvedic pain relief pills –
Comprised of 100% natural ingredients
Zero side-effects
Relives joint pain and backache
Powerful anti-inflammatory properties soothe inflammation
Alleviates stiffness, creakiness, redness, warmth and swelling
Improves mobility and flexibility
Strengthens the joints and connective tissues
Nourishes the entire skeletal system
How Do Orthoxil Plus Capsules Relieve Arthritis Pain and Backache?
Orthoxil Plus capsules are especially designed for alleviating arthritis pain, be it osteoarthritis or rheumatoid arthritis which are the most common and severe kinds of arthritis. Arthritis is often accompanied by joint swelling, joint stiffness, redness, warmth, creakiness, and backache. All these painful symptoms are reduced on regular intake of Orthoxil Plus pills.
The highly potent herbs are packed with anti-inflammatory properties which effectively mitigate the unpleasant inflammation problem. On regular consumption, the range of movements and overall mobility and flexibility is enhanced manifold. These ayurvedic remedies to relieve arthritis pain and backache will strengthen the skeletal system by providing essential nutrients to them. Hence, Orthoxil Plus capsules will follow a natural procedure in reducing arthritis joint pain and backache that will not cause any sort of detrimental side effects.
Ingredients
We are enlisting complete list of ingredients of Orthoxil Plus capsules in our review of natural remedies to relieve arthritis pain and backache –
Piplamool (Piper Longum), Swaran Bang Bhasma (Swaran Bang), Chopchini (Smilax China), Kesar (Crocus Sativus), Rigni (Solanum Xanthocarpum), Aloe Vera (Aloe Barbadensis), Ramayphal (Strychnos Nux-Vomica), Godanti Hartal Bhasma (Arsenic Trisulphidum), Ashwagandha (Withania Somnifera), Suranjan (Colchicum Inteum), Guggul (Balsamodendron Mukul), Asthisanhar (Vitis Quadrangularis), Rasna (Vanda Roxburghii), Naga Bhasma (Plumbum)
Directions of Use
Take 1 or 2 Orthoxil Plus natural remedies to relieve arthritis pain and backache daily, one after having breakfast and other after dinner regularly for over 3 to 4 months to obtain remarkable relief.
For How Long Do I Have to Use Orthoxil Plus Capsules?
For ayurvedic procedures, it is always advised to follow the directions of use in a strict and disciplined fashion for around 3 to 4 month's (or 12 to 15 weeks) time frame. We are clearly stating in our reviews of natural remedies to relieve arthritis pain that Orthoxil Plus pills are not some miraculous remedies that will take care of all our ailments within a day. One has to make changes to one's lifestyle such as eating proper food and doing mild exercises along with following the whole dosage if one has to avail maximum benefits from this treatment to relieve arthritis pain and backache.
Are There Any Side-Effects of Taking Orthoxil Plus Capsules?
No, Orthoxil Plus capsules are totally free from side-effects as they are based on pure ayurvedic formula. These herbal capsules have pristine natural ingredients and ayurvedic herbs which gradually heal and nourish our joints in a safe and reliable way. There is absolutely no withdrawal effects produced after prolonged usage and also one can take Orthoxil Plus natural remedies to relieve arthritis pain and backache along with other arthritis treatments. Hence, we guarantee our readers through this review that these natural arthritis pain relief pills are 100% safe and sound to consume.
Advantages
There are some strikingly amazing advantages of Orthoxil Plus capsules which are enlisting below in our reviews of natural remedies to relieve arthritis pain –
The composition of Orthoxil Plus pills is completely based on pure herbal ingredients blended in perfect proportions according to the ancient ayurvedic norms.
These herbal pills are extremely safe and reliable and due to their ayurvedic formulation, one can rest completely assured of any health hazards or side effects.
The pristine and top quality herbs contain impressive anti-inflammatory properties that keep joint inflammation, redness and swelling at bay.
Arthritis symptoms such as back pain, stiffness, warmth, creakiness, are relieved up to a great extent.
The herbs nourish the joints and surrounding connective tissues as they are packed with important micronutrients and strengthen the skeletal system.
Orthoxil Plus ayurvedic capsules enhance the flexibility and mobility of joints that will lead to optimum functionality and increased range of movements.
Disadvantages
After doing intense research about this ayurvedic product, we found out few disadvantages which we would like to mention in our review of Orthoxil Plus capsules. Some limitations of these herbal remedies to relieve arthritis pain are –
Orthoxil Plus pills are not available in any exclusive stores and one has to purchase them via online modes only.
One has to strictly follow the dosage for a considerable amount of time i.e. up to 3 to 4 and also try to inculcate good lifestyle habits in order to achieve optimum results.
=> Buy Orthoxil Plus Herbal Arthritis Supplements to Relieve Joint Pain and Swelling.
You may like reading:
Ayurvedic Remedies for Back Pain, Lower Backache Relief
Rumoxil Oil Review
You May Like…