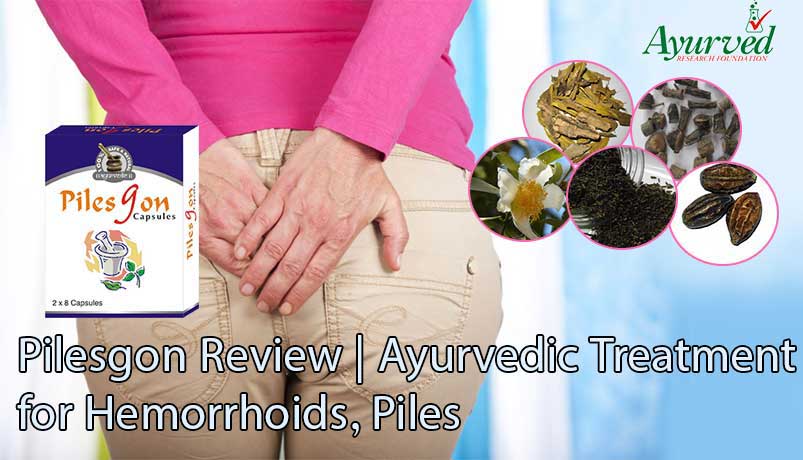 Ayurvedic Treatment for Hemorrhoids or Piles
Hemorrhoids are nothing but small vascular structures that are present in the lower rectum which in normal condition act as cushions for stool control. They are present both internally and externally. Under abnormal condition, the hemorrhoids present get inflamed, thrombosed or swollen that leads to piles. They may result due to excess pressure or strain on anal veins during pregnancy, constipation, anal intercourse, chronic diarrhea and obesity. The risk of developing piles is more in people who have crossed their 40s. Common signs and symptoms of hemorrhoids are swelling around anus, painless bleeding during excretion, formation of sensitive lump around anus that may be inflamed, irritation around anal region and leakage of feces. These symptoms are extremely embarrassing and awkward to deal with.
Hemorrhoids may be of two kinds. Internal hemorrhoids occur inside the rectum causing rectal bleeding and do not bring any painful sensation while external hemorrhoids occur under the skin of anus that causes a great deal of irritation, itching or discomfort. A person might be suffering from internal or external piles or a combination of these two. Sometimes, further straining can even push the internal hemorrhoids outside the anal canal and protrude out of it. This is known as prolapsed or protruding hemorrhoids. Thankfully, this disease is not listed among the serious ones as many treatments have been developed to treat and relieve symptoms of piles.
Home and herbal treatment are also capable of curing hemorrhoids and Pilesgon ayurvedic treatment for hemorrhoids is one among them. Certain lifestyle changes along with taking herbal remedies may treat hemorrhoids entirely and also assuage its symptoms. For making a well-founded and prudent decision regarding your purchase, you might want to know the actual truth in our Pilesgon capsules review. Most people fall into the trap of false claims of several herbal remedies and thus it becomes very crucial for us to save them from any kind of misguidance through this Pilesgon ayurvedic piles treatment review. Now, we will answer all the questions bothering your mind one by one.
You may like reading:
Ayurvedic Remedies for Constipation, Hard Stool
What Will We Get After Using Pilesgon Capsules?
Pilesgon capsules may serve as a boon to those who are suffering under the influence of piles or hemorrhoids. Pilesgon ayurvedic treatment for hemorrhoids serves as an alternate to the painful surgery as undergoing a surgery does not guarantee that piles won't occur again. On regular intake of Pilesgon capsules, they completely remove piles with the help of their powerful ayurvedic ingredients. Both internal and external piles are successfully treated by consuming them. The painful and thwarting symptoms also disappear soon after we start taking these pills.
Herbal Ingredients
We would refrain from writing any sort of heavy worded unintelligible ayurvedic jargon here in this Pilesgon ayurvedic hemorrhoids treatment review. But a rigorous study has found out that Pilesgon capsules are well equipped with ingredients that are tailor-made for providing a long lasting relief from piles. A unique natural blend of exotic herbs and natural products like Shudh Takan Rasaunt, Hemsagar, Kattha, Nagkesar, Kalijiri, Khun Sosha, Haritaki and Ritha are used in correct amounts to serve as effectual ayurvedic piles remedies.
Direction of Use
Ayurvedic experts suggest consuming 1 or 2 pills twice a day for over 2 to 3 months to get an all round treatment. This dosage of these potent capsules is sufficient to provide excellent benefits to the user.
Word of Advice
We advice everyone in this Pilesgon ayurvedic hemorrhoids treatment review to know this fact that these capsules are based on the principles of ayurveda that works in uprooting the problem from its major cause. Although one would be able to feel considerable relief from the symptoms within a fortnight, this treatment may take 2 to 3 months time frame to provide long lasting relief. It all depends upon the severity of the disease. We would suggest you to order at least a 3 month package of Pilesgon capsules to avail all round benefits.
Safety Issues
Pilesgon capsules are 100% safe and reliable to use and all this is attributed to the presence of pure ayurvedic ingredients. We have carried out intense experiments and surveys in this regard and would like to mention this conclusion in our Pilesgon ayurvedic treatment for piles review that these pills are extremely safe and trustworthy. They do not cause any sort of side effects even after we stop taking them all of a sudden.
Benefits
Now we enlist some very impressive benefits of these pills in this Pilesgon capsules review –
It comprises of a unique ayurvedic formulation.
There is no risk of side effects on taking them.
These pills are reasonable in cost and can be taken by people of all ages and gender.
It treats both internal and external hemorrhoids.
All sorts of discomforting symptoms disappear soon after taking these herbal pills.
Elasticity of anal wall is improved by taking them regularly.
These capsules provide a long lasting solution rather than temporary relief.
Limitations
In the last section of Pilesgon ayurvedic piles treatment review, go through some limitations of Pilesgon capsules –
One can order them only via online herbal shops as they are unavailable at common medical stores.
The treatment process is slow and requires 2 to 3 months to avail long-term results.
One has to watch his or her diet and lifestyle habits carefully to get a fast recovery.
=> Buy Pilesgon Herbal Piles Treatment to Cure Hemorrhoids Naturally.
You May Like…