Kid Clear Capsules Review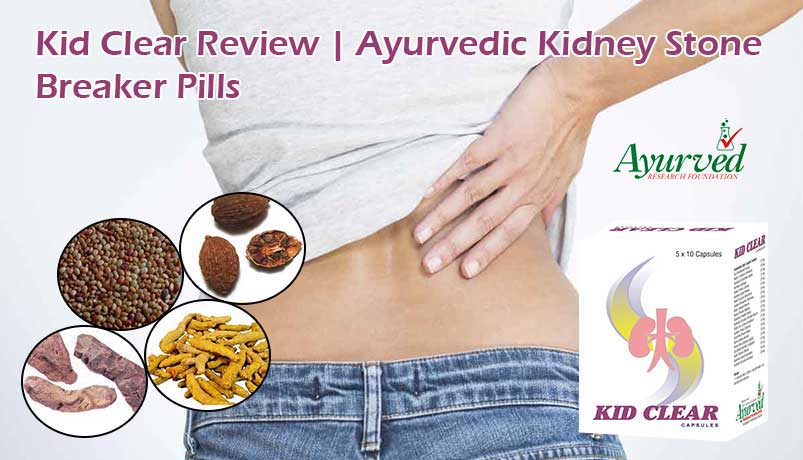 Ayurvedic Kidney Stone Breaker Pills
Ignorance is not bliss. Especially, when one is trying to tackle a major health related problem then it certainly isn't. People easily get bewitched by looking at the glittering advertisements of many health supplements and believe in the false promises they make without doing any proper research or investigation about them. It is often a monumental and sickening task to find that one correct herbal product you had been looking for. Market is overloaded with many ayurvedic health supplements and one must be well-informed and cautious before choosing them.
One must ask these questions and introspect about them. Is this product worthy of my hard earned money? Is there any other product better in comparison to this one? What are the price range and key ingredients present? Are these ingredients safe and effective? Our review will help getting answers of all these questions popping up in the minds of consumers. If you are thinking of buying kid clear capsules, hold on and read this Kid Clear ayurvedic kidney stone breaker pills review.
Kidneys are a pair of bean-shaped organs that perform essential function of the removal of waste matter and excess organic molecules out of the body through urine. Kidney stones are hard mineral deposits which get formed when our urine contains more amounts of crystal-forming substances such as oxalate, calcium and uric acid. The presence of these materials crystallizes all the minerals and sticks them together producing kidney stones.
Small kidney stones cause no perils to our body but it may be very painful to pass large kidney stones through urine. Apart from drinking lots of water and fluids, one must go for herbal remedies to dissolve and pass out kidney stones painlessly. Kid Clear capsules are 100% natural remedy to get rid of kidney stones.
For more on kidney, check out:
Best Diet to Prevent Kidney Stone
Best Diet for Healthy Kidney
What Will We Get After Their Consumption?
The powerful herbal ingredients present in the Kid Clear ayurvedic pills will help breaking the large kidney stones into smaller ones. Once, this is done, they are further dissolved and eliminated via urine. All sorts of kidney and urinary bladder infections are kept at bay using these pills. The possibility of occurrence of stones is also averted and prevented by taking them. Gallbladder and kidney functionality will reach to its maximum. It will lay an overall protection layer over the kidney wall. These ayurvedic kidney stone breaker pills also help relieving from burning sensation during micturition.
Significant Features
Pure alkaline herbs get rid of crystallization of minerals.
Breaking and dissolving the kidney stones in a natural manner.
Improves kidney functioning
Keeps all urinary bladder infections at bay
Prevents further possibility of kidney stone occurrence
Treats burning micturition
Major Ingredients
Now we mention the major ingredients in this Kid Clear ayurvedic kidney stone breaker pills review –
Bastimoda is an excellent pain killer and is specifically used for relieving pain caused by the large kidney stones.
Elaychi Badi is a very famous ayurvedic herb that aids in dissolving the gallstones.
Kulthi helps in reducing stomach pain and dissolving kidney stones.
Ambi Haldi keeps infections and bacteria at bay. It has been used for the purpose of treating and preventing bacteria, germs and kidney infections.
Dosage
In order to dissolve kidney stones naturally, it is advised to take 1 or 2 Kid Clear capsules two times a day with water for a time frame of 3 to 4 months.
How Long Do We Have to Follow Dosage Until We Notice Results?
We are making one thing absolutely clear in this Kid Clear capsules review that it will take at least 10 days to notice considerable progress in our situation. One must keep this fact straight into his or her mind that ayurvedic remedies are no magical wand. Kid Clear ayurvedic pills are pure natural formula that makes use of the healing benefits all the essential herbs to treat kidney stones. It is gradual yet effective procedure and one has to remain calm and patient about it. A period of 3 to 4 months is necessarily required to complete this treatment and get a long lasting relief.
How Will you Allay our Safety Concerns?
Considering the amount of fraudulent and brainwashing claims certain companies make in order to sell their products, your apprehensions are totally genuine. Allopathic medicines greatly carry the threats of causing pernicious side effects as and when we stop using them. But Kid Clear capsules are ayurvedic remedies and zero side effects are produced after taking them. So you can be all relaxed about the safety of your health.
Advantages
Free of side effects
Pure natural remedy devoid of any chemicals
Non-prescription supplements that can be used by anyone
Fights kidney and urinary bladder infections brilliantly
Breaks and dissolves kidney stones in a natural manner
Forms a protective layer over kidney to avoid further complications
Passes stones painlessly via urinal discharge
Improves overall efficiency of kidney
Prevents the reoccurrence of the stone
Disadvantages
Some disadvantages against Kid Clear ayurvedic kidney stone breaker pills are –
One must strictly stick to the dosage and follow it for 3 to 4 months regularly.
These pills can only be ordered online.
The results take some time to appear.
=> Buy Kid Clear Herbal Kidney Stone Breaker Pills to Dissolve Stones Naturally.
You may like reading:
Best Healthy Renal Diet
Healthy Gallbladder Diet
You May Like…