InstaSlim Capsules Review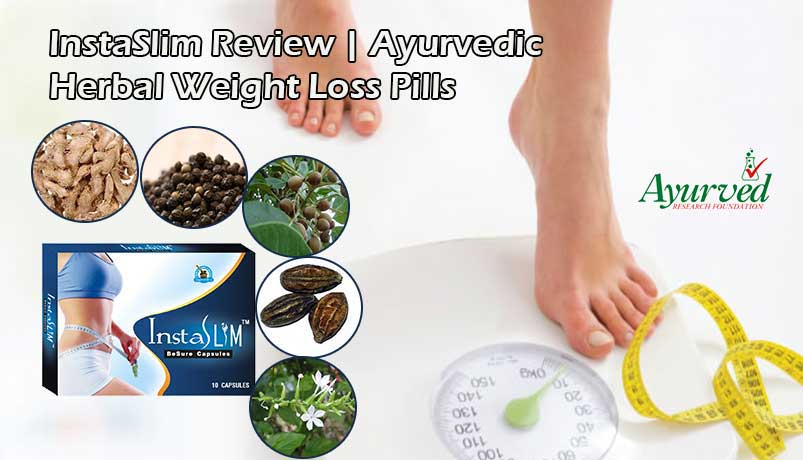 Ayurvedic Herbal Weight Loss Pills
Are you looking forward to lose weight? Well, for that one has to over-zealously work towards achieving an ideal body weight and that needs dedication and discipline. One needs to take low fat, low carbs and fiber rich diet which is healthy, comprising of all the essential nutrients. Physical activities to burn the excessive fat must be done like aerobics, cardio, dance, sports, mild yoga, swimming, brisk walking, jogging, etc. Also, one can easily speed up the weight loss process by taking herbal weight loss supplements. Ayurvedic weight loss and appetite suppressant pills aid in losing body's weight naturally and burning excessive amount of fats with ease. Fats and carbohydrates are essential in fueling our body and providing energy to do day to day tasks effectively.
But a proper balance between fat consumption and conversion of fat into energy must be there or else excess amount of fats would get deposited in our body resulting in obesity. Markets are overloaded with such products and competition is strife. One can very easily fall trap to the interesting advertisements and marketing strategies by which manufacturers endorse their herbal weight loss products.
Very often these ayurvedic supplements are unable to fulfill their promises and all these claims fall flat on our faces. In such blurred scenario, authentic and fact-based reviews of ayurvedic weight loss pills have an important role to play. Our InstaSlim capsules review will provide a complete overview and crux of these famous weight loss capsules and will be extremely beneficial for the consumers in making a wise and smart purchase.
For more on weight loss, check out:
Low Carb Diet for Weight Loss
Green Tea Lemonade for Weight Loss
Core Features
First and foremost in InstaSlim ayurvedic weight loss pills review, we are mentioning some core features of this herbal product –
Gets rid of deposited fat quickly by maintaining a balance between Pitta, Kapha and Vata
Reduces Kapha as excessive Kapha will result in obesity
Strengthens internal immune system
Removes toxins from blood, lungs and lymphatic
Oxidizes excess fat and excretes it out through stools
Puts a leash on out of control appetite by curbing cravings for junk food and sweets
Helps shedding stomach fat and improving body's metabolism
Aids in achieving ideal body weight
Working and Results
The powerful and 100% herbal ingredients are solely responsible for the effectiveness of InstaSlim herbal weight loss pills. Well researched and top grade herbs in a perfect blend are used to make InstaSlim capsules. These ingredients aid in shedding the extra kilos and tummy fat effectually. A sound balance between Kapha, Vata and Pitta is maintained by putting a leash on excess Kapha responsible for high weight and fat accumulation. These capsules treat the root cause of the problem instead of taking any shortcuts.
Toxic substances present in the body are majorly attributed for excessive fat and hence they clear out blood, lungs and lymphatic from toxins. When our health is weak, our body deposits more and more fat. So, these capsules improve the health of our immune system to make sure that doesn't happen. They also oxidize fats and flush them out through excretion. Hence, it is a healthy way to lose weight and that too without any side effects.
Ayurvedic Ingredients
A-grade and clinically tested herbs are used to make InstaSlim ayurvedic weight loss pills Saunth, Kali Mirch, Samudra Shosh, Bahera, Chavya, Haritaki, Chitrak, Pashanbhed, Arjun, Vaivading, Jawasa, Dikamari and Babool.
Dosage
It is suggested to consume 1 or 2 InstaSlim capsules twice a day with water i.e. first dose before having breakfast and another before having dinner to lose substantial amount of weight.
Safety Issues
InstaSlim ayurvedic weight loss pills are the best bet when it comes to losing weight in a natural and zero side effects manner. One cannot escape side effects in case of allopathic medicines as they are packed with harmful chemicals and additives. But the case is just opposite with InstaSlim herbal pills as they are infused with pristine herbal ingredients that cause no harm to our health by long term use or even if we stop taking them abruptly. All these facts mentioned in our review of InstaSlim ayurvedic weight loss pills are experimentally verified and clinically tested.
Word of Advice
It is a true fact we are telling through this InstaSlim ayurvedic weight loss pills review that one cannot expect quick overnight results when we talk about ayurvedic remedies. Their exotic and powerful herbal contents treat the problem from its root and work gradually in the weight loss process. One has to wait for 3 to 4 months to see long lasting benefits of InstaSlim capsules by following a healthy diet coupled with exercises.
Advantages
Now, it's time to throw some light on the striking advantages in our review of InstaSlim ayurvedic weight loss pills –
InstaSlim ayurvedic weight loss pills help in natural weight loss in a side effect free manner.
They reduce Kapha which is responsible for fat deposition and maintain a healthy balance between three components of Ayurveda namely Pitta, Vata and Kapha.
Belly fat is greatly reduced and it flushes out the harmful toxins of lymphatic, blood and lungs.
InstaSlim herbal weight loss supplements boost up the immunity power and oxidize excess amount of fats
They help in removing oxidized fats are flushed out of the system though excretion process.
These pills also curb our food cravings for sweets and fast foods and suppress out diet so that one is able to eat only the required amount of food, no less, no more.
On regular use of InstaSlim ayurvedic pills, the ideal body weight is achieved and body's metabolism is highly regulated.
Disadvantages
Last but not the least, we list some disadvantages in this section of our InstaSlim herbal weight loss pills review –
To get a desired body weight, one has to stick to the dosage unfailingly for 3 to 4 months.
InstaSlim pills can be procured only via online medium.
One also has to do mild exercises along with taking nutritious diet to avail optimum results of this ayurvedic weight loss treatment.
=> Buy InstaSlim Herbal Weight Loss Pills to Lose Weight the Healthy Way.
You may like reading:
Natural Weight Loss Smoothies to Get In Shape
Diet Chart for Losing Weight
You May Like…