Diet Chart for Losing Weight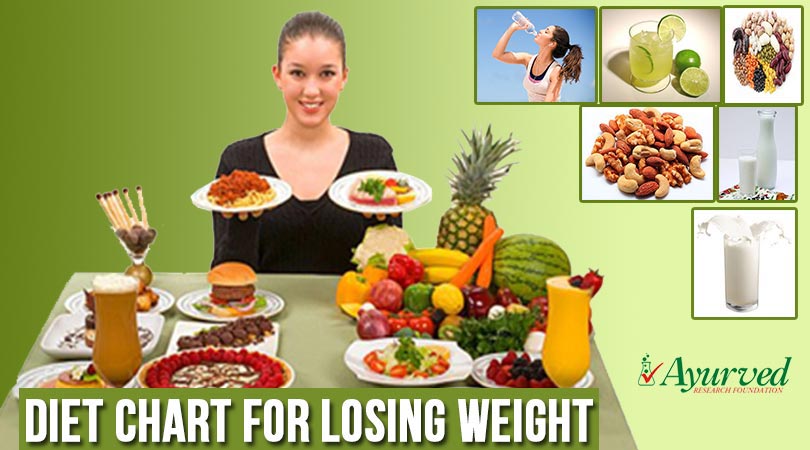 Best Diet Chart for Losing Weight
Calorie imbalance is one of the major causes of weight gain, people consuming calories higher in number than what body needs become fat and obese. Diet chart for losing weight helps in shifting balance towards lesser calorie intake to push body to utilize deposited fat and shed weight. Eating proper diet is a key to success when it comes to losing weight. People often starve themselves in order to lose weight which does not provide results. Any adult male or female needs daily calories in the range of 1200 to 1800.
If a person consumes calories lesser than 1200 per day, brain senses a lack of nutritional supply and start conserving energy, fats and carbs. This in place of decreasing weight causes weight gain. In order to lose weight one should consume minimum number of calories which are needed by the body to carry out internal processes on regular basis, and one should also take care of his or her quality of calories. Healthy calories from suitable food sources not only keep body fitter and energized but also help in utilizing deposited fat to reduce weight.
For more on weight loss, check out:
Green Tea Lemonade for Weight Loss
Natural Weight Loss Smoothies
Weight Loss Diet Plan for Sure Shot Result
Many type of diet chart for losing weight can show heartening results in initial one or two weeks, but if not followed strictly these can allow weight to grow rapidly later. Diet chart for losing weight shall create a safe calorie deficit which does not push brain into energy-conserving mode and also reduce weight consistently. The plan shall contain foods which supply healthy calories and provide complete nutrition to maintain optimum health.
The diet chart for losing weight shall provide complex carbs in place of simple carbs, plant-based protein, unsaturated fats and dose of vitamins which work as antioxidants to inhibit free-radical mechanism, to bring down weight in healthy manner. Here is one suggestive diet chart for losing weight in healthy way.
Click Here to Read Full Details of >> Weight Loss Diet Infographic, Best Indian Meal Plan for Losing Weight
Diet chart for losing weight suggests that one should divide his or her diet into six meals. It is bad to eat two or three large meals as such pattern also pushes brain to conserve energy and calories for future use. When person eats large meals he or she remains without eating for longer periods, this urges brain to conserve energyto be used in the duration between meals.
And brain is always going to instruct body to store bit extra than needed, which causes weight gain. One should eat three large meals and three small meals during the course of day to keep metabolism active and energy levels higher to prevent energy-conservation and shed weight.
Eat Healthy Food for Losing Weight

According to diet chart for losing weight every meal of the day shall contain healthy foods from different food groups. Diet for gaining healthy calories and alongside creating calorie deficit shall comprise of more than 5 servings of grains and starchy vegetables, more than 4 servings of vegetables, more than 3 servings of legumes, more than 2 servings of fruits and 1-2 servings of nuts and seeds. Fruits, nuts and seeds can form smaller meals of the day whereas grains, vegetables and legumes shall be included in larger meals of the day.
Healthy Meal Plan for Weight Loss for Indian Vegetarian
Suggestive diet chart for losing weight goes as follows.
For veggies, day can start with a glass of warm water after adding juice of one lemon, or tea without sugar and 2 biscuits low on sugar. In breakfast 2 wheat breads (Roti) with half cup of paneer curry, or one plate upma with a cup of milk without sugar can be eaten. For a smaller meal between breakfast and lunch one piece of banana, a small bowl full of grapes or half cup of diced melon etc. are good.
In lunch include one bowl of brown rice, one cup of boiled or grilled vegetables, one cup of buttermilk, bowl of cooked beans and 1 bowl of salad. In the evening you can eat handful of nuts, half cup of cereals or drink a glass of fruit juice. Prepare dinner by including foods like medium bowl of lentils, one bowl of vegetable soup and a bowl of vegetable salad with 2 wheat breads.
Recommended reading:
Homemade Healthy Fruits and Vegetables Juices
Weight Loss Diet Plan for Indian Non Vegetarian
For non-veggies, in breakfast 2 eggs boiled or scrambled with brown bread and a cup of skimmed milk is good, and in lunch legumes or beans can be replaced by an ounce of lean meat, chicken or fish to gain protein and healthy fats.
This type of diet will provide approximately 1200 calories per day which is sort of magical figure when comes to weight loss. This diet chart for losing weight states that large meals of the day will provide around 300 calories and smaller meals will supplement remaining 300 calories combined. Healthy calorie intake around 1200 per day brings down weight quickly and in healthy manner without harming internal processes or disturbing normal functions of the body.
Maintain healthy water intake and drink green tea instead of caffeine and beverages as these all disturb metabolism and reduce effects of dietary control. For those who remain active in the day increasing calorie intake by 200-300 is safe as active people burn more calories during the day.
You may like reading:
Fat Burning Detox Smoothies
Natural Aloe Vera Juice and Smoothies
You May Like…