Healthy Diet and Foods for Pregnant Women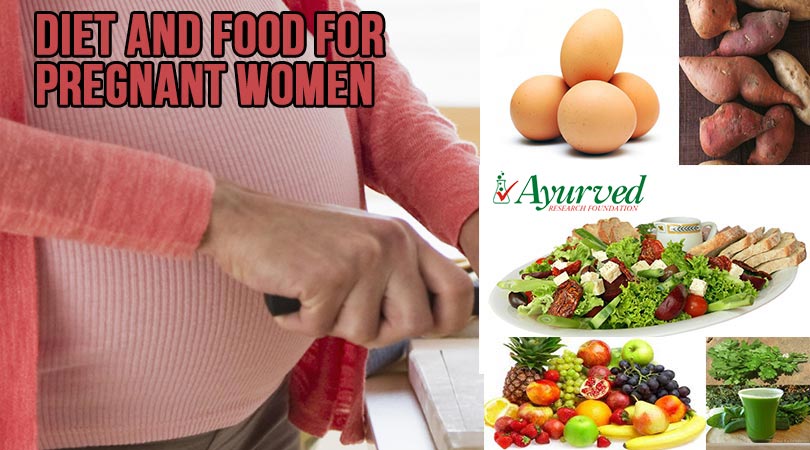 Diet and Foods for Pregnant Women
Deciding what to eat and what not can be quite confusing particularly for a first time mother-to-be. There are foods which are strictly prohibited during pregnancy but there are certain types of foods which may not be prohibited completely, such foods cause most of the confusion and also fear in the mind of an expecting woman.
There are no two opinions about the fact that health and diet of mother during pregnancy affects child's health and may bless him or her with life-long health. So whatever nerve-wrecking efforts one needs to put in to find out what is right and healthy to eat worth every bit of it. Here are certain types of diet and foods for pregnant women which are harmless but very nutritious and enhance health of mother as well of baby.
You may like reading:
Ayurvedic Herbal Remedies for Acidity, Gas and Indigestion
Best Detox Diet Plan for Health
Healthy Foods for Pregnancy
Eggs – Eggs Natural Diet for Pregnant Women

These are type of diet and foods for pregnant women which may be listed at many places as harmful, which actually they are if eaten raw, half-cooked or uncooked. But eating well cooked or boiled eggs is source of nutrition of high-value which is beneficial for mother and child both. These are sources of 12 vitamins and minerals and good quality protein, and these are low on calories as well. These foods contain choline which is very helpful in enhancing growth of child and his brain development.
Sweet potato – Healthy Foods to Maintain Health of Pregnant Women
This is another very nutritious and healthy diet and food for pregnant women. This vegetable contains good dose of beta-carotene which gets converted into vitamin A in the body. These provide much better supplementation than non-veggie sources of vitamin A. Apart from betacarotene these foods are also good sources of vitamin C, folate and fibre.
Recommended reading:
Healthy Juices and Smoothies to Lower Cholesterol
Salmon – Natural Foods for Pregnant Women
Many varieties and dishes prepared after using fish are prohibited in diet of a pregnant woman. But salmon is a variety which is included in diet and foods for pregnant women due to its nutritious value. This is source of omega-3 fatty acids which lower fat and curb inflammation of cells. This fish is low on mercury which makes it safe for expecting mother and it also promotes good mood by promoting secretion of happy hormones in the body.
Beans – Best Diet and Food for Pregnant Women

These are one of the best diet and food for pregnant women. These are not only good sources of high-quality protein but also rich supplements of fibre. Fibre is very necessary for any expecting mother as it keeps digestion and bowel movements healthy and protect from disorders like constipation and haemorrhoids. Upbeat digestion and regular defecation prevents many other issues like frequent nausea, vomiting and lesser appetite etc. All types of beans are good to eat like kidney, black, navy and pinto beans and lentils.

Wholegrain – Good Food and Diet for Pregnant Women
Read full details here>>Healthy Diet in Pregnancy
These are rich sources of fibre, selenium, phytonutrients and vitamin E. These protect cell damage and also enhance digestion and energy levels. Due to high fibre content these also prevent hunger prangs and overeating. Quinoa, oats, buckwheat etc. are good wholegrain to eat, avoid gluten-rich wholegrain if you have a condition of IBS, but gluten-free wholegrain are fit to be used and is good diet and food for pregnant women.
Dark green leafy vegetables – Best Diet for Pregnant Women
You can consume these vegetables in any quantity, but do boil them before use, avoid eating these raw to be safe from harmful agents which may remain attached to these even after washing. Spinach, kale, Swiss chard and all sorts of leafy vegetables are good sources of vitamin C, K and A, and also supplement folate. These are good sources of fibre as well. Eating dark green leafy vegetables with meals on regular basis is good diet and food for pregnant women.
Dairy products – Healthy Diet for Pregnant Women

These are sources of healthy fats which lower level of harmful saturated fats in the body and also supplement vital minerals like calcium and vitamin D to keep metabolic functions upbeat, and bones healthier and stronger. Use fat-free and pasteurized varieties of these products. Include Greek yoghurt in meals this is popularly used as diet and food for pregnant women due to low-fat content and higher nutrition.
Other foods – Natural Foods for Pregnant Women
All types of colourful fruits and vegetables are good diet and food for pregnant women. These are sources of vital minerals and vitamins which a pregnant woman's body needs, the supplementation of these nutrients work wonderfully well for enhancing health of mother and also of baby. Supplementation of enzymes and amino acids supplied by these vegetables and fruits enhance baby's immunity right from birth to keep him healthy life-long. These are also very effective in improving physical and mental growth of the child.
Lean meats – Good Foods to Gain Nutrition in Pregnant Women
These are also good diet and food for pregnant women when consumed in controlled quantity, lean meats are easy to digest and are cooked well which removes all sorts of impurities. Plus these are good on nutrition and do not contain excessively heavy dosage of any vitamin or mineral. Lean turkey and chicken breast one or two servings in a week are safe and good foods to eat to gain complete nutrition.
You may like reading:
Homemade Electrolyte Energy Drink
Homemade Healthy Fruits and Vegetables Juices
You May Like…