Face Masks Recipes for Glowing Skin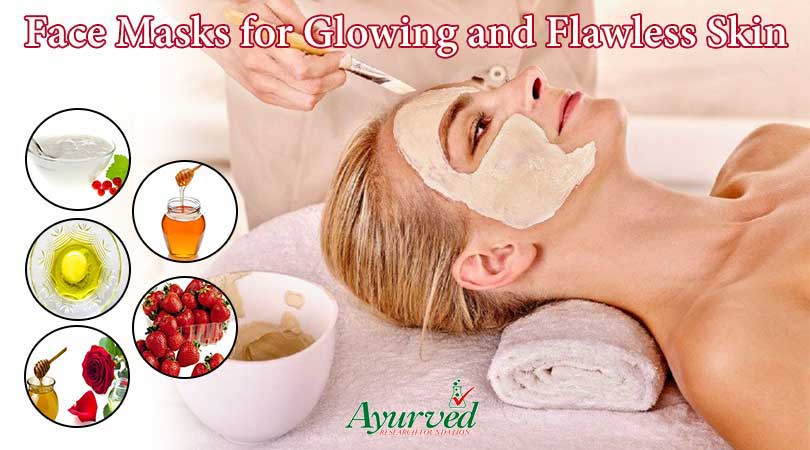 Face Masks for Glowing and Flawless Skin
Is there any single person who dies not want to have flawless and glowing skin? Who would not? But do everyone have the skin they desire for? Well no, not everyone is gifted with the beautiful and eye-catching skin look. People tend to try many of the experiments on them and lastly give up believing that this is only what is written in their fortune.
Today we will be sharing with you some of the wonderful face masks recipes that will do wonders. We will make you believe that dreams can come to reality and it was just the right step what you were missing. You do not have to rush into anything big. The beauty secrets are hidden in your own kitchen.
Natural herbs and spices are being used since ages for getting the skin everyone dreams for. They are plant-based natural remedies, away from harmful, chemical-laden and toxic products that have made their place in the market nowadays because they give you instant results but will damage your skin from within.
Our elders never used such overpriced and unsafe products and still they had the beautiful and flawless skin. Don't you think at the later age also our elders have that captivating shine and glow on their faces, as compared to us, where in early ages dull skin becomes a fact of many of our lives?
You may like reading:
Best Diet for Healthy Skin
Turmeric Face Mask Recipe for Skin Problems
3 Easy Face Masks for Glowing Skin
Let us no more wait and reveal the recipes that you are desperately waiting for and eager to try. These recipes we have here are some of the best natural face masks for flawless skin that are magnificent formulas for treating skin flaws. High nutritional value present in them makes your skin glow from within and moisturizes it giving a soft and smooth feel. These quick face masks for glowing skin will take no time to get ready.
Ingredients
4 or 5 Strawberries
1 tablespoon Honey
1 tablespoon Yogurt
1 tablespoon Olive Oil
Rose water
Rinse strawberries with water to clean dirt and remove its leaves. Mash the strawberries with help of a fork.
Add honey, olive oil and plain yogurt into the mashed strawberries and make a smooth paste out of it.
Apply the paste all over your face and leave it for 15-20 minutes. Afterward, wash your face with lukewarm water.
You will notice a slight change in your glow after first application of this face mask. Regular use will give you an even tone and flawless glow as honey will do its work. This is how this face mask for glowing skin will work.

Ingredients
Aloe Vera Gel
1 teaspoon Lemon Juice
1 teaspoon Honey
1 teaspoon Milk
A pinch of Turmeric Powder
Take a small Aloe vera leaf and rinse it well to remove the dirt. We need Aloe vera gel and to take out its gel, make a cut to the leaf, the moment you will cut the leaf a yellow colored liquid will come out which is the sap.
Let this liquid completely drain out and wash the leaf to remove the remaining sap. Cut it from sides and peel off the green part and scrape off the gel neatly.
Take this gel in a bowl and mix lemon juice, honey, milk and a pinch of turmeric and make a paste.
Apply it on your face and neck and let it dry for about 20 minutes. Rinse off your face with water.
Aloe vera is a fantastic skin cleanser and moisturizer. It has the anti-bacterial properties that make your skin healthy and immune. Lemon has acidic properties and is a natural bleach which leaves your skin with a smooth glow and softer feel. It is one of the most astonishing face masks for flawless skin.

Ingredients
Sandalwood Powder
Tomato
Curd
Oatmeal
Mix tomato juice, oatmeal, sandalwood powder and curd and make a smooth paste.
Apply it on your face for 15-20 minutes and wash it off with cold water.
This face masks for glowing skin removes dark spots, acne, and scars giving you a clear glow. Tomato has anti-aging properties and is rich in antioxidant, lycopene that helps in achieving a clear and glowing look. Curd has lactic acid in it which soothes rough skin and makes it soft. It also removes dead skin cells and hydrates skin.
Your personality will not go unnoticed with regular usage of these face masks for glowing skin. These unique face masks for flawless skin not only gives you a beautiful and soft pink look but also takes good care of your skin health. Your skin needs a daily cleansing and the ingredients used in these face masks for glowing skin makes sure that your skin gets rid of dirt and dead skin by exfoliating and cleansing it on regular basis. Show your skin some love and pampering and get ready to flaunt.
You may like reading:
Aloe Vera Mask Recipe for Skin
Cucumber Cooling Spray to Hydrate Skin
You May Like…