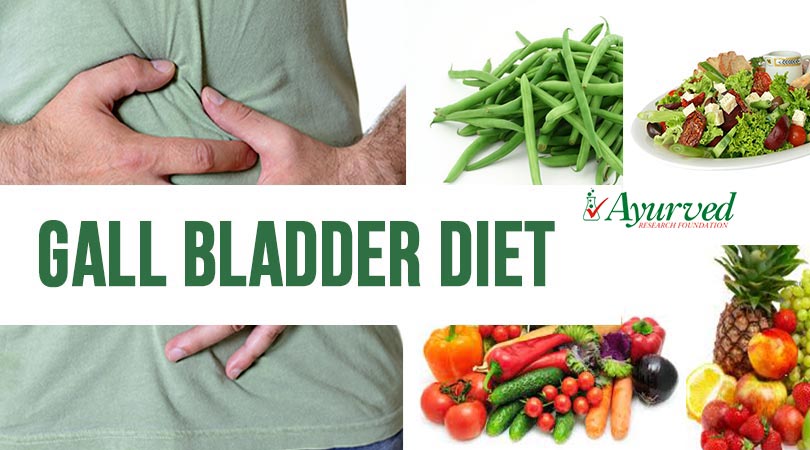 Gallbladder Diet
Gallbladder sits below liver and helps in storing, secreting and producing bile. This bile is crucial for metabolizing fat in the liver. There are stones of bile, cholesterol and minerals in gallbladder, these stone remain asymptomatic till these do not move, but once these start floating in bladder these become dangerous as these can block biliary ducts which stops secretion of bile into liver during digestion. The pain and other side effects of blockage of biliary ducts are medical emergencies which generally require surgical measure.
Weakness and slowness in gallbladder affects metabolism adversely and particularly slows down fat metabolism to increase weight, slow gallbladder functions also lead to fatty liver condition due to poor metabolism of fat in liver. Gallbladder diet is referred to foods which reduce load over this bladder and promote its functions. There are certain foods which put excess pressure on gallbladder whereas some support its health and functions, diet including supportive foods and excluding harmful ones is referred as gallbladder diet.
Gallbladder diet shall comprise of food items which are low on saturated fat, high on fibre and nutrition. Avoid foods which supplement saturated fats and also those which are high on glycemic index. Sugary and fatty foods put more pressure on gallbladder and worsen the symptoms of the problem. Avoid animal fat and replace this fat with healthy fats supplemented by veggie sources. Even animal protein intake in higher dosage is harmful, gallbladder diet promotes higher intake of plant-based protein which is good for muscles and also easy on digestive system and liver.
You may like reading:
Best Diet Gall Bladder
Kid Clear Capsules Review
Foods to Eat and Avoid With Gallbladder Problems
Here are few foods which can form a good gallbladder diet, you can form a diet plan and make necessary cooking changes to eat these foods on regular basis and gain beneficial results.
Use oil sprays for cooking so that you get minimal amount of fat through cooked vegetables etc. Use low-fat spreads and jam and honey to curtail fat-load in your diet. Use dairy products regularly as these are sources of minerals vital for enhancing health and strength of the body but avoid whole dairy products. Consume low-fat or fat-free milk or yoghurt in the diet to reduce fat intake and gain nutrition, you can also consume low-fat evaporated milk in place of skimmed or fat-free milk.
Eat a bowl of cottage cheese, this not only improves nutrition but also supplements healthy fat which reduce level of saturated fat in the body. You can also choose other varieties of cheese which are low on fat to include in gallbladder diet. Avoid eating cakes, pastries, biscuits etc. from eating and in place of these consume butter-less popcorn or wholegrain crackers etc.
You can eat almost every fruit in gallbladder diet. These are low on fat although some can be high on glycemic index so avoid those or consume in moderate quantity. Fruits like papaya, pineapple, watermelon are high on glycemic index but not by much, you can eat two or three times in a week to keep their intake to minimum to form gallbladder diet. Apples, banana, cherries, avocado, apricots, oranges, grapefruit are good to eat and shall be included in gallbladder diet to maintain nutrition along with low-fat intake.
Read Full Details Here Foods to Avoid with Gallbladder Problems
Like fruits vegetables too are good as a part of gallbladder diet. These are sources of fibre and also are high on nutrition to keep health sound and also metabolism higher. Vegetables like cauliflower, broccoli, spinach, carrots, radish, turnips, beets, sweet potato, kale, cabbage, tomatoes etc. can be part of gallbladder diet to suppress the symptoms of the problem and gain relief.
For non-vegetarians eating meats and all types of processed meats is prohibited strictly while following gallbladder diet. Non-veggies either can give-up non-veggie food or shall replace processed meats and meats with chicken, turkey, lean meats, turkey mince and red meat and eat only white fishes. These types of non-veggie food sources are high on protein but low on fat which helps in relieving symptoms of slow and weak gallbladder.
Use condiments like garlic, onion, basil, turmeric etc. in cooking. Limited use of spices in food suppresses inflammation and curb digestive disorders to reduce load over organs like gallbladder and liver. Maintain healthy water intake throughout the day. Consume at least 2 litres of water in the day and avoid excess intake of coffee and beverages. Replace these drinks with fruit juices or herbal teas like green tea.
Follow some practical advices while cooking and during the day. Eat home-made food as much as possible so that you are aware about the level of fat and ingredients. Do not pour oils while cooking measure before adding it to pan to avoid excess use. Add non-fatty foods to replace fatty ones while cooking any cuisine like you can replace meat with beans to reduce fat content.
Use paper towel or bloating paper to wipe off all the visible oil or fat from the food. Prepare home-made dressings with low-fat yoghurt, lemon juice and honey in place of using readymade spreads and dressings.
You may like reading:
Ayurvedic Herbal Remedies for Acidity, Gas and Indigestion
Healthy Diet Chart For Diabetic Patients To Control Diabetes
You May Like…
Sale!