Acid Reflux Diet to Prevent the Problem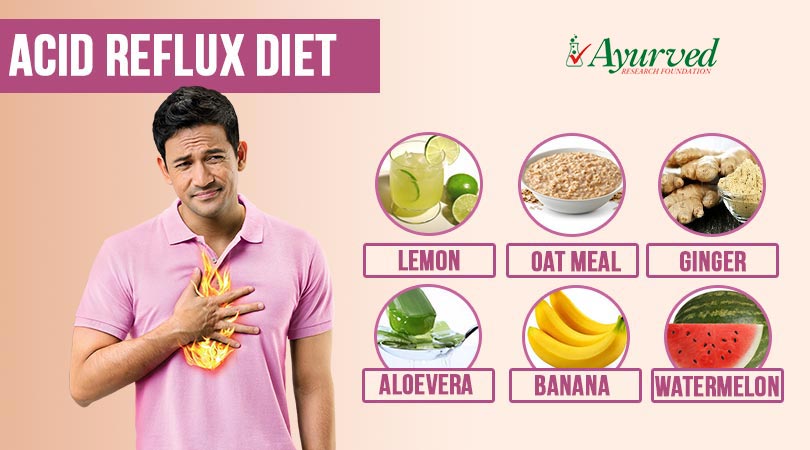 Best Acid Reflux Diet to Prevent the Problem
Acid gets secreted in digestive system during digestion; this acid breaks-down complex food items and promotes complete digestion. Problem arises when person eats too much of foods which are hard to digest, or eats at improper timings providing lesser time for digestive organs to do their job. This can cause excessive acid secretion and formation of gas.
Acid and gas in combination gradually weakens the sphincter which is located at the lower end of esophagus and, weak sphincter allows acid to regurgitate into esophagus and cause pain in chest, heartburn and hyperacidity. There are certain foods which trigger acidity and acid reflux whereas some curb acid reflux. People suffering with this problem frequently shall choose acid reflux diet to keep problem under control easily.
List of Foods that Reduce Acid Reflux
Lemon for Hyperacidity
Start your day with a glass of warm water and add one lemon's juice to it. Consume within first hour after waking up regularly. This is useful part of your acid reflux diet which keeps acid secretion under control during digestion throughout the day.
Eat Oatmeal to Reduce Acid Reflux

If you face frequent episodes of hyperacidity or acid reflux eat oatmeal in breakfast regularly. This wholegrain is high on fibre and keeps metabolism higher to digest food quickly. It prevents release of acids in higher amount and also suppresses gas formation to naturally prevent acid reflux. This is good start for an acid reflux diet.
For more on acid reflux, check out:
Ayurvedic Herbal Remedies for Acidity
Ayurvedic Remedies for Constipation
Ginger to Prevent Acid Reflux
This spice has powerful digestive properties and also suppresses release of acids in stomach. It is also very useful in treating existing condition of acid reflux. Juice of ginger nullifies acids present in stomach and relieves the problem as well. This can be consumed in raw form with salads or used as spice in cooking to prepare an acid reflux diet. You can also drink few cups of ginger tea to keep problem away.
Use Aloe Vera Gel for Acidity
This gel has unique properties to boost-up digestion and soothe internal system, it has carminative effects and also maintain healthy PH balance in stomach. Add two or three teaspoons of this gel to a glass of any fruit juice preferably citrus fruit like orange or lemon and drink. This too is good part of acid reflux diet to prevent problem of hyperacidity or heartburn.
Banana to Cure Acid Reflux
Include this fruit in your meals or eat before meals in breakfast. These are nutrient dense rich fruits which are also relieving for acid reflux. These prevent secretion of excessive acid and formation of gas to provide relief. Eating two ripe bananas in breakfast is a good acid reflux diet.
Eat Watermelon to Relieve Acid Reflux
As the name suggest this fruit has high water content. Nearly 82% of entire volume of this fruit is water and is rich source of fibre. This soluble fibre curbs slowness in digestion and relieves acid secretion in higher quantity. Add this fruit to salad or eat between meals on regular basis to prevent episodes of acidity. This fruit too is good acid reflux diet and provide relief from the problem.
You may like reading:
Hydrating Watermelon Smoothies Recipes
Almonds- Remedy for Acidity
Chew some almonds two or three times in a day; these nuts are alkaline in nature and suck-up acid accumulation in stomach. Make snacking on almonds a regular part of daily diet. Regular use will curb formation of gas and acid and work as good part of acid reflux diet.
Apple Cider Vinegar to Cure Hyperacidity
Though this is acidic in nature yet it helps in curbing acid reflux effectively. Drink a glass of water after adding two or three teaspoons of apple cider vinegar half an hour before meals. This will improve digestion and prevent release of acids in stomach to curb the problem. It also reduces discomfort caused by existing acid accumulation in stomach. Regular consumption of apple cider vinegar before meals works as useful part of acid reflux diet.
Eat Fresh Celery Salad to Prevent Acid Reflux

This vegetable works as excellent acid reflux diet with salad; cut the white part of fresh celery into thin slices and eat with meals. This has high PH balance which not only soothes existing acid secretion but also improves stomach functions and prevents reoccurrences of the problem. It is useful in many digestive disorders as well.
Eat Apple to Treat Acidity
This fruit too is wonderful in treating hyperacidity in stomach and when consumed regularly provides relief from the problem. Eat apples twice in a day between meals to prevent acid surge and also improve digestion to gain relief. This too is good part of acid reflux diet.
Foods to Avoid Acid Reflux Problem
Apart from eating acid reflux diet it is equally important that you strike-out acid causing foods from diet. Commonly used food items like tomatoes and their juice or gravy, oranges and their juice, grapefruit in any form, garlic, onion, tea, coffee, peppermint and avocado shall be avoided strictly if you face frequent episodes of acid reflux or hyperacidity.
Click Here for More Details>> List of Foods to Avoid Acid Reflux Infographic
Drink plenty of water. Lesser water intake is mainly responsible in many cases for acid reflux. Drink water with meals but avoid drinking water immediately after meals for 20 minutes. Avoid cold water with or after meals, drink water at normal temperature.
You may like reading:
Homemade Healthy Fruits and Vegetables Juices
Healthy Juices and Smoothies to Lower Cholesterol
You May Like…