Hydrating Watermelon Smoothies Recipes for Summer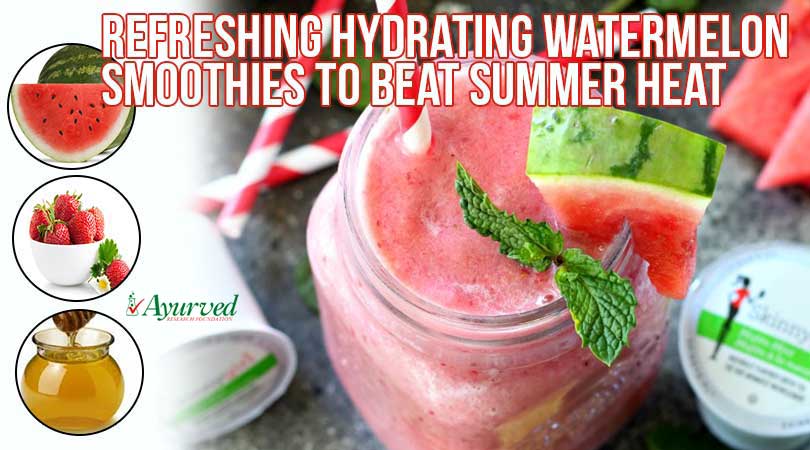 Refreshing Watermelon Smoothies for Summer
Here comes the summer which reminds us of being well hydrated. Often hydration is taken lightly and is not paid attention it requires. Hot summer days and rising of temperature makes our body wanting more water. Water is the life of our body as 70% of our body is comprised of water. Because our body needs water to remove waste through urine, water controls body temperature, controls our heart rate and blood pressure.
It is also important to maintain a healthy metabolism by absorbing nutrients needed by our body. Therefore, in summers a slight negligence towards keeping yourself hydrated can lead to dehydration as our body experience fluid loss when our skin sweats. So consuming more water to cover up the loss and maintain the fluid balance is very much essential.
Drinking 8 ounces of water per day seems to be a really daunting task. But the fact is hydrating yourself is not only concerned to drinking plenty of water but also foods we eat also have the water content in them. Fruits and vegetables also play an important role in keeping your body hydrated. They also provide you other nutrients which help your body beat the heat of the summer.
You may like reading:
Natural Aloe Vera Juice and Smoothies
Healthy Juices and Smoothies to Lower Cholesterol
Health Benefits of Watermelon
What can be more relishing than a watermelon in summers! This juicy summer favorite is a refreshing and cooling fruit with many health benefits. It can be eaten in form of salad or straightly from it or can be used for making delicious smoothies with more of such cooling ingredients like lemon, mint, cucumber and much more that adds in more healthy nutrients.
Watermelon has vitamins A and C, minerals, antioxidants, dietary fiber, beta-carotene and is said as a super re-hydrating fruit. It is loaded with lycopene which prevents cancer and cardiovascular disease, as well as having anti-inflammatory properties. Lycopene is found in most of the red-colored fruits. So, not getting much deeper to its super efficient qualities, let us make your hot summer days chilled with some watermelon drink recipes.
Following are the three fantastic tasting and relishing watermelon smoothies to beat the summer heat.

Ingredients
2 cup Watermelon chunks
1 cup Strawberries
1/2 cup Coconut Milk
1 cup Yogurt
2 teaspoon Honey
Ice Cubes
Place all the ingredients into a blender and blend it creamy and smooth. Pour a glass full and top it with some ice cubes and enjoy. Yogurt is probiotic in nature and contains calcium and protein. It is the coolest summer food that cools you from within and also helps you in losing weight.
Honey as a natural sweetener and strawberry with its unbeatable taste makes this refreshing and hydrating watermelon smoothie a rich creamy desert smoothie and a wonderful treat for you this summer. You can add other frozen berries as well such as blueberry and raspberry with any refreshing and hydrating watermelon smoothies that you find interesting. Read more to know other methods too.

Ingredients
2 Cup Watermelon Cubes
1 Banana
1 Cucumber
1 Cup Cherry
2 Cup Spinach
Mint Leaves
Water
Firstly put watermelon and banana to the blender. Remove the seeds from the cherries and add the cherries to the blender. Rinse spinach with water and remove the dirt. Then add chopped cucumber, spinach and a handful of mint leaves. Add filtered water and blend all the ingredients until you get a smooth consistency. Take a glass and pour the drink into the glass.
This refreshing and hydrating watermelon smoothie is flooded with nutrients and cleansing properties that help you get rid of toxins from your body keeping you hydrated and healthy at the same time. Watermelon and cherries are top detoxifying fruits of summer. This is the reason why watermelon smoothies to beat the summer heat are recommended.

Ingredients
2 cup of Watermelon cubes
Juice of half an Orange
1 cup frozen Pineapple
2 tablespoon Lemon Juice
1 cup Coconut Water
1 tablespoon Chia Seeds
Mint Leaves
Ice
Same as the above recipes, add all these ingredients to your blender and blend smooth. Coconut water is naturally sweet and contains potassium, iron, calcium, and Vitamin C. Pineapple has anti-inflammatory properties and it also helps in digestion and prevents bloating. You can also add electrolyte powder for that extra energetic feel.
This watermelon smoothie to beat the summer heat is an amazing thirst-quenching that cools you down at one go. You can use any frozen fruits of your choice. There is a wide range available in markets.
In summers we do not feel like eating and are thirsty very frequently. So, take a break from your cooking and try these refreshing and hydrating watermelon smoothies that will keep your stomach full and your body hydrated with its extremely delicious flavors.
These watermelon smoothies to beat the summer heat are tastier and nutritional breakfast to power you up in a healthier way. Sit back and relax with these best refreshing and hydrating watermelon smoothies ever.
You may like reading:
Healthy Juices and Smoothies for Arthritis Pain Relief
Fat Burning Detox Smoothies
You May Like…