Natural Homemade Hibiscus Hair Masks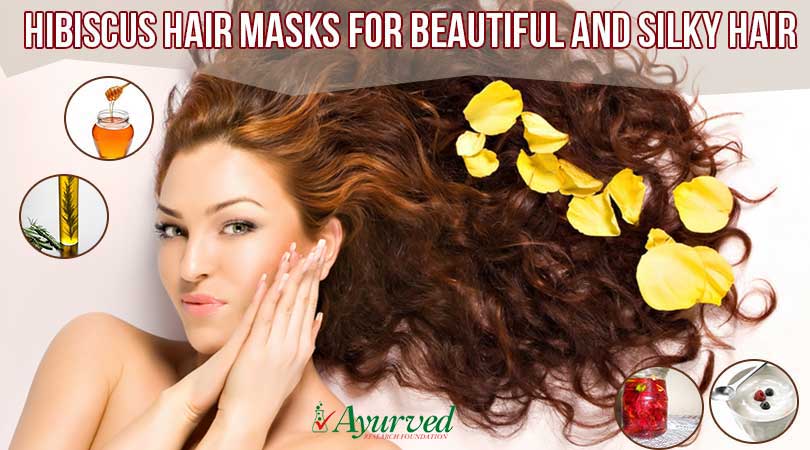 Hibiscus Hair Mask Recipes for Soft and Silky Hair
Who does not desire for beautiful and long hairs? Every girl would do anything for getting hairs they desire for. Hairs mean a lot when it comes to present yourself. It portrays your personality and enhanced your looks. Just like your body your hairs too need care and bad routines and lifestyle has affected it to a great extent. Hair problems have arisen because of unhealthy eating habits or changed eating habits due to dieting which is the reason behind your hairs are unable to get the nutrients. Overexposure to heat can also damage them. With this various other factors are responsible for hair damage such as brushing your hair aggressively or brushing while they are still wet. Tying them tightly cannot let your hair breath and many times improper cleaning lead to dandruff.
Sometimes in a wish for long and silky hairs, we blindly follow the commercials. They claim to make your dull and lifeless hairs beautiful by sounding medically beneficial and people desperately follow them. There stylish packaging, branded tags, and high prices make people believe that they might be of good quality and standard. In order to get shiny, black, beautiful and lustrous hair like celebrities they ignore the fact that they are all chemically harmful and are of no use. These products will only make the health of hair much worse.
Natural ways to maintain the care of your hair are always effective and can be trusted without a second thought. They do not impose harmful chemical and toxic elements that steal the life of your hair, instead make them strong from roots and silky and long as natural treatments are always plant based organic herbs that are full of vitamins and minerals in them. They are the remedies used since long ages by our elders. Here is a super beneficial natural plant that works wonders – the red colored beautiful hibiscus flower for beautiful hairs.
Hibiscus, also known as the flower of care is well known for its amazing benefits. It the national flowers of many countries. These flowers are also used in making drinks. Its leaves are also used in many of cuisines. But as we are talking about hair care today we should not get much deeper. Hibiscus is a gift from god to those who desire for beautiful and silky hair. The medicinal components found in the plant are Vitamin C and minerals. The leaves of this plant have been known to contain anti-inflammatory properties. The flowers, when mixed with other ingredients, are believed to cure loss of hair and encourage re-growth. It also stops premature graying of hairs. Flowers and leaves of hibiscus plant can stimulate the production of the blood and ensure that vital nutrients reach the hair follicles so that your hairs become stronger than ever.
You may like reading:
Best Natural Foods to Prevent Hair Loss
Homemade Papaya Hair Mask Recipe
Natural Homemade Hibiscus Hair Masks
Hibiscus masks for beautiful hair is the ultimate treatment for making your all wishes come true. You can make the masks adding the ingredients that are powerful at treating your hair and are well known for their benefits. You can find them easily in your kitchen because ingredients used in making hibiscus masks for beautiful hair are used in our daily routine. Preparing hibiscus hair masks is very easy. You just have to arrange few hibiscus flowers and leaves. They will be easily available at your nearby gardens.
Ingredients of Hibiscus Hair Masks

Fresh hibiscus flowers – 8 to 10
Yogurt – 3 to 4 tablespoons
Honey – 1 tablespoon
A bunch of hibiscus leaves
1 tablespoon fenugreek seeds
Rosemary essential oil
Soak the fenugreek seeds overnight in water. Next morning, wash the hibiscus flower after removing the green part from the flower which is called sepal. Also, wash the hibiscus leaves after removing the stock. Put the flowers into a grinder. Add fenugreek seeds, hibiscus leaves, hibiscus flowers and yogurt into the grinder as well. Pour some water if needed and grind it into a smooth paste. Transfer the paste into a bowl and add honey and few drops of rosemary essential oil to it. Your hibiscus mask for beautiful hair is ready to use. Apply to the roots, tips, hairs and leave it for an hour to let it dry. When it dries wash it off with a mild shampoo. We recommend using these masks only once a week.
All the ingredients used in hibiscus masks for beautiful hair are hair friendly and helps in the conditioning of your hair, preventing dryness, and breakage of your hair. Hibiscus hair masks help thicken your hair and also help fight hair problems like dandruff and hair fall. Rosemary oil is efficient in making your hairs stronger and shinier. You do not have to get jealous of others having beautiful hairs as now you will be owning them too.
You may like reading:
Aloe Vera Mask Recipe for Skin and Hair
Ayurvedic Remedies for Dandruff Control, Prevent Hair Fall
You May Like…