Ayurvedic Remedies for Dandruff Control, Prevent Hair Fall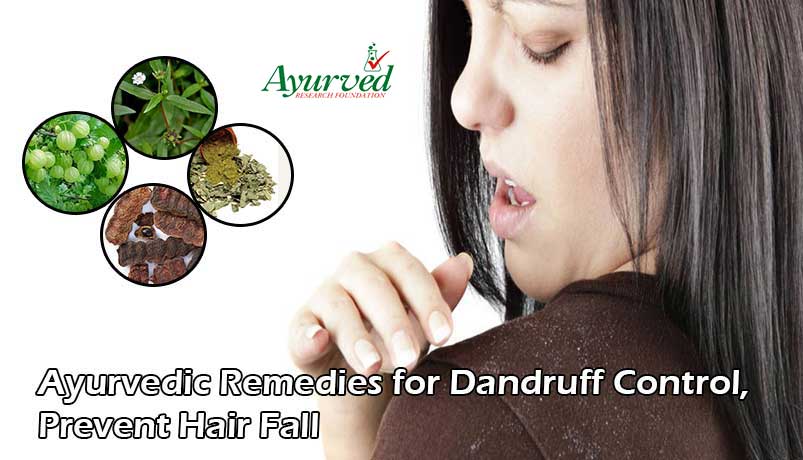 Flaky dandruff is usually due to dry skin. Other common causes are – not cleaning and scrubbing the hair often and properly, shampooing too often, hair care products' sensitivity, eczema, yeast like fungus, psoriasis and seborrhoeic dermatitis. The following are the factors that possibly cause the formation of dead skin cells on the scalp:
Oil secretion or sebum by sebaceous gland
By-product release of metabolic activity by skin micro-organisms (Malassezia yeasts)
Individual sensitivity to allergies
The dead skin cells are formed on daily basis and the flakes of dandruff are too small to be noticed in a common person if the formation is controlled but if the flakes' formation is too rapid and these are in large number they get easily noticed and found in the hair, clothes, skin, floor, or any other thing in which the hair gets in contact with. Dandruff is more common in cold weathers or regions. Following are the risk factors of catching dandruff:
You may like reading:
Best Natural Foods to Prevent Hair Loss
Homemade Papaya Hair Mask Recipe
Some Risk Factors of Catching Dandruff
Age: Teenagers and those of early twenties are more prone to develop the dandruff. This doesn't mean that older adults do not get this. The point is older people do not commonly have this as compared to younger ones. In some people the issue is lifelong.
Gender: Men have more oil generating glands compared to women and so they are more susceptible to growing large amount of dandruff.
Diet: Those folks whose diet do not contain necessary amount of vitamin B, zinc and certain types of fats are more prone to face dandruff, irrespective of their age or gender.
Underlying Illness: Individuals having weak immune system, HIV infection, neurological disorder like Parkinson's disease, hormonal imbalance, heart attack and stroke develop the chances of having dandruff more often than those who do not have such conditions.
Oily Scalp and Hair: The oil that is secreted on our scalp is what Malassezia yeasts feed on. They increase the chances of dandruff since the more oil the scalp releases the more it metabolizes and generates the by product. If the problem isn't controlled on time it is followed by itchiness, redness and inflammation.
Excessive Dry Scalp: This is usually due to over shampooing the hair thereby ruining the presence of natural scalp oils resulting into dry flakes of dead skin cells in excessive amounts. If the person scratches the itch, these flakes get scattered on clothes, floor, or any other thing on which the hair gets in contact with.
Natural Ayurvedic Remedies for Dandruff Control
Hylix lotion provides the best ayurvedic remedies for dandruff control that can prevent hair fall and dandruff naturally. This product contains natural extracts of certain herbs that are well known for their hair care natural formula since ages. Together these not only prove to be ayurvedic remedies for hair fall but also great ayurvedic remedies for dandruff control as well. Following ingredients are famous since ancient era due to their hair care benefits and so we have used them in Hylix lotion:
Ingredients of Hylix Lotion
Phyllanthus Emblica (Amla), Acacia Concinna (Shikakai), Azadirachta Indica (Neem), Wedelia Calendulacea (Bhringraj), Lawsonia Inermis (Henna or Mehndi), Nigella Sativa (Kalonji)
Its method of application is simple. First you must shake the bottle of Hylix ayurvedic remedies for dandruff control well. Now take out a small portion of it, apply well onto your scalp and message it gently for around 5 to 10 minutes. It is preferable to use it in the night and wash with mild shampoo the next morning.
Since the product is timely tested there is no sign of negative impact upon skin or scalp in any manner. Regular application of these ayurvedic remedies for dandruff control can bring fruitful results if one uses them for three to four months without gap in between. This is because these ayurvedic remedies for dandruff control are herbal in nature and anything which contains natural and pure extract of herbs takes time when it comes to results showing up. These ayurvedic remedies for hair fall and dandruff are not like artificial anti-dandruff shampoos or conditioners that show you instant results. Instead these go deep into the scalp to nourish it naturally and then come up with greater benefits that exist for long term.
=> Buy Hylix Herbal Dandruff Control Oil to Get Rid of Hair Problems.
You may like reading:
Aloe Vera Mask Recipe for Skin and Hair
Rice Water for Beautiful Skin and Long Shiny Hair
You May Like…