Ayurvedic Herbs, Herbal Remedies to Lower Blood Sugar Levels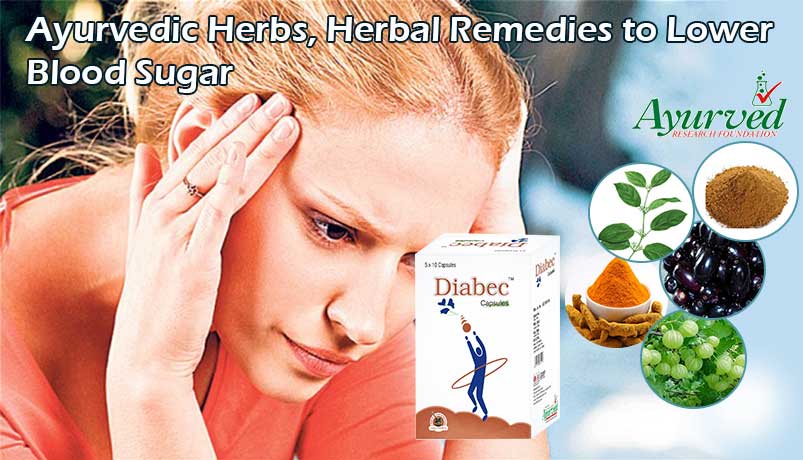 Diabetes or diabetes mellitus is a condition of high blood sugar. Our body generates insulin hormone with the help of beta cells located in the organ, pancreas. The function of this hormone is to transmit the sugar from blood to other cells of the body so as to support energy production. If due to certain cases insulin doesn't gets released either in adequate quantity or not at all or the body gets resistant towards its release, the cells do not get the required glucose (sugar) to generate energy thereby causing rise of sugar levels in the blood. This is known as diabetes which is a chronic issue and doesn't have any permanent treatment. This means a person has to live with it throughout his life. Following are the symptoms of high blood glucose that indicate that a person is likely having this issue:
For more on blood sugar, check out:
Herbal Anti-Diabetic Supplements to Lower Blood Sugar Levels
Ayurvedic Treatment to Regulate Blood Sugar Levels
Symptoms of High Blood Glucose
Excessive Thirst and Frequent Urination: Since the blood contains sugar in it the kidneys overly work to expel it out. The body then becomes dehydrated and so it asks for more water. This is the reason why excessive thirst and urination occur.
Tiredness and Fatigue: The sugar is not used for energy production and hence a person doesn't feel energetic at all. Loss of water also plays a vital role in this regard.
Weight Loss: If the amount of sugar is lost while urination the person loses calories as well. This is the reason why the patient experiences rapid weight loss.
Frequent Hunger: The sugar is never used by the cells for energy production and as a result the feeling of hunger increases constantly no matter how much you consume. This is felt even while consuming food.
Blurred Vision: Raised blood sugar levels pull fluids from the eye tissues causing difficulty in focus upon something. If this is left untreated the already blood vessels at the retina region are destroyed and replaced by the new ones causing vision loss and blindness with progress.
Sensation of Tingling and Numbness at Hands and Feet: This is because of the nerve damage. Excessive sugar levels also cause burning sensation at the arms, legs, hands and feet.
Slow Healing and Clotting of Wounds: Diabetes mellitus also hampers the natural healing process which is why the clotting is not that fast.
Frequent Infection: Though the reasons are not clear but it is believed that this could be due to the reason of inability of the body to fight infection with increased sugar levels.
Stomach Pain and Vomiting
Lack of memory and concentration as well as lack of interest in daily activities
Many people especially with diabetes of type 2 may not observe the above mentioned symptoms partially or totally and often end up with dangerous high levels of blood sugar measure which is only noticed too late.
Herbal Remedies to Lower Blood Sugar Levels
People seek medical help that includes artificial insulin injection and probably never able to control their condition. We therefore want to introduce ayurvedic herbs to lower blood sugar levels naturally. Diabec capsules are the herbal remedies to lower blood sugar levels that contain ayurvedic herbs to lower blood sugar levels. These ayurvedic herbs to lower blood sugar levels are as follows
Ingredients of Diabec Capsules
Haldi (Curcuma Longa), Jawadi Kasturi (Jawadi Musk), Aamla (Phyllanthus Emblica), Jamun (Eugenia Jambolana), Nimb (Exadirecta Indica), Subhra Bhasam (Aueminium Sulphas), Gurmar (Gymnemasylvetri)
Above mentioned ayurvedic herbs to lower blood sugar levels together are carefully extracted and blended to form an entirely unique formula as effective ayurvedic remedies for blood sugar control. The whole process is watchfully done under the guidance of ayurvedic professionals so that no signs of side effects are observed within.
It is true that type-2 diabetes is not the condition to be taken for granted but if an individual is watchful towards his or her daily activities, supplements intake and other useful measures like intake of other ayurvedic herbs to lower blood sugar levels than anyone can achieve progressive results. Diabec capsules are one of such herbal remedies to lower blood sugar levels that contain all the possible herbs that a diabetic needs. These all are mixed in a fixed proportion and the manufacture process is done in a time tested manner in a clean environment. So, the expected results are always greater.
Simply consume one capsule or two capsules of Diabec with water or milk twice or thrice in a day depending on the severity of the condition and notice the results within just three or four months. Herbal remedies are slow but progressive in delivering the results but once your diabetes is under control that would be for long term for sure. The best part about Diabec capsule is that these ayurvedic remedies for blood sugar control have no record of side effects or withdrawal effects so one may anytime stop the course whenever he or she wishes.
=> Buy Diabec Herbal Supplements to Manage Type-2 Diabetes.
You may like reading:
Common Health Risks Of Diabetes, High Blood Sugar Levels
Yoga Asanas for Diabetes that Control Blood Sugar Levels
You May Like…