Ayurvedic Remedies for Enlarged Prostate, BPH Supplements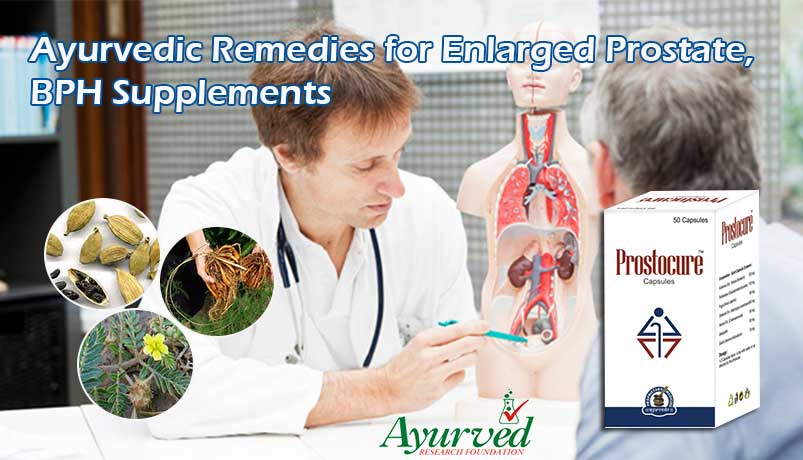 A prostate is a walnut shaped gland which is present in the male's body. Its function is to secrete a fluid that nourishes the sperms. This gland sits just below the bladder and between the pubic bone and the rectum surrounding the urethra. If it becomes enlarged it causes strain on the urethra (through which the urine flows from the bladder to get excreted out). Men usually after crossing the age of 60 to 80 years experience this and those who have the age below 40 years are the least likely ones. Between 40 to 60 years the cases are not as high as that of 80 years and above. The fact is clear. As you age there grow more chances for you to develop this.
You may like reading:
Prostocure Capsules Review
Best Diet for Healthy Sperm and Semen
Symptoms of Enlarged Prostate
The person suffering from BPH (Benign Prostatic Hyperplasia) feels urgent nature's call but unable to empty the bladder completely. It further causes thickening of the bladder which pushes the urine with force out of it, thereby making it even more sensitive. If the urine remains inside and doesn't pass out then further troubles like bladder infection, bladder stones, UTI (Urinary Tract Infection), etc. occur. If left untreated may cause acute urinary retention (inability to urinate) which is a medical emergency. The following are the signs and symptoms of enlarged prostate:
Frequent and strong urges to urinate
Troubles starting the urination
Facing difficulties while urinating
Excessive straining during urination
Increased frequency of urination at nights
Inability in emptying the bladder entirely
Urine leakage at the end
Inconsistent urine stream
There are also some less common signs witnessed by a few folks such as bloody urine, inability to urinate and UTI in case they don't seek medical help on time. Though the actual causes of enlarged prostate are still unknown but there are some risk factors that increase the chances of developing BPH. So, let's highlight some of the very common ones.
Crossing the age of 40 years, especially if any blood related person like father or brother happened to face this, the person is more likely getting the issue. People of different ethnic backgrounds have varied experiences in this case. This problem persists less in Asian men as compared to black and white men. Black men probably witness the symptoms earlier compared to white men. Men suffering from heart disease, diabetes and obesity are at much greater risk of developing enlarged prostate than those who don't.
There is no hard and fast rule for anyone in what circumstances one might face BPH and others do not. There are no rules for getting rid of it either. People seek numerous doctors' help and take allopathic medicines in order to get their health back on the track but usually everything fails in most cases. The treatment is painful yet ineffective. Moreover, a long list of side effects start showing up in the midway which is even more devastating.
Ayurvedic Remedies for Enlarged Prostate
We therefore recommend you Prostocure capsules as one of the impeccable herbal BPH supplements in order to improve prostate health. These enlarged prostate supplements solely target the root causes of the problem and solve that entirely from its roots in a natural way. This ayurvedic treatment for enlarged prostate contains a list of pure herbs as follows:
Ingredients of Prostocure Capsules
Tribulus terrestris (Gokshura Ext.), Areca catechu (Puga), Caesalpinia bonducella (Putikaranja), Asparagus Racemosus (Shatavari Ext.), Crataeva nurvala (Varuna Ext.), Amomum subulatum (Elaichi), Akik Pishti
Each of the above mentioned ingredients are watchfully chosen and blended under the guidance of ayurvedic professionals who have several years of experience in this field. Ayurveda is the world's leading concept of healing many diseases and disorders which is the oldest technique used back then by our ancestors. Today, we follow those journals and use genuine herbs in their less refined form which is why we are quite successful in delivering awesome results.
Now the question arises why one should rely on these ayurvedic remedies for enlarged prostate? This is because despite of so many herbal BPH supplements available in the market, Prostocure ayurvedic remedies for enlarged prostate gland are the standout when it comes to treating the issue from its root causes and providing the benefits for long run. These remedies can improve prostate health in a natural manner. Many men have already gone through the whole course and got the desired results in such a way that they never seem to face any negative impact on their health even if they were taking other or related medications in parallel. Everyone would claim their product to be the best but unless the ingredients are not complete and used in the correct proportion, the claiming for ayurvedic remedies for enlarged prostate would be utterly useless.
The manufacture of Prostocure herbal BPH supplements is carried under clean and scientifically well equipped campus with a continuous testing. We also have several years of experience of providing the benefits of Ayurveda along with case studies. We thus ensure everyone that these ayurvedic remedies for enlarged prostate are the safest and reliable means to get rid of Benign Prostatic Hyperplasia.
=> Buy Prostocure Ayurvedic BPH Supplements To Improve Prostate Health Naturally.
You may like reading:
Ayurvedic Herbs to Improve Sexual Performance
Ayurvedic Medicines for Sex Power in Men
You May Like…