Ayurvedic Remedies for Kidney Stones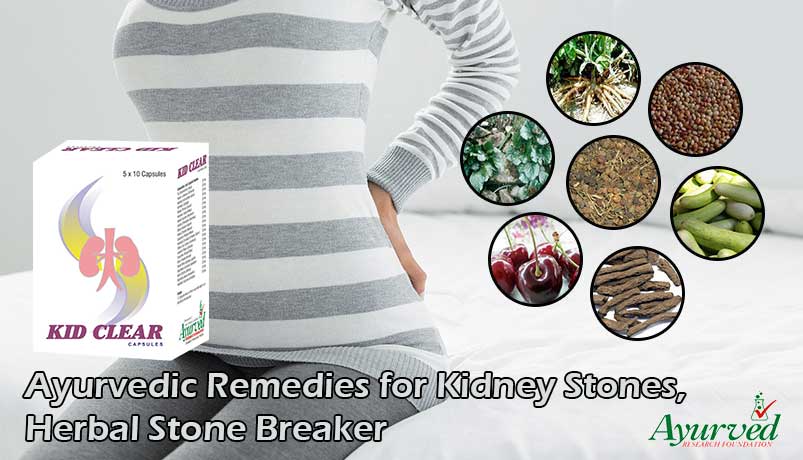 Kidney Stones Ayurvedic Remedies
Kidneys are a pair of bean shaped organs situated at the back muscles of upper abdomen facing each other. These have many vital functions such as under:
Waste Extraction – The first and foremost important task is to expel the toxic elements, excessive salts and urea (waste of cell metabolism) out of the system. The urea is generated into the liver and transported all through the blood to kidneys.
Regulation of Blood Pressure – The kidneys need contiguous pressure for the blood filtration. If the pressure is irregular, that is too high or too low kidneys manage that as well to make it normal by releasing angiotensin (blood vessel restricting protein).
Regulation of RBCs – In case the kidneys don't receive adequate red blood cells these signal the bone marrow to generate more of oxygen releasing RBCs by producing erythropoietin hormone.
Water Level Evenness – If the human body is lacking the normal water levels the kidneys maintain that by not excreting out excessive of it. If the body contains water more than necessary the kidneys expel it out.
Acid Balancing – Whatever food we eat either increases the acid levels in our body or decreases it during cell metabolism. The kidneys' function is to maintain those levels as well.
Since the function of kidneys mainly is to excrete the waste matter out of the system it is needed to detoxify at regular intervals else a person may face UTI (urinary tract infection), kidney stones, kidney failure, bladder stones, etc. If the kidneys stop functioning in the body a person then requires new kidney. Almost everyone is born with a pair of kidneys but it is possible to live with one as well. This is why anyone can donate one of the pairs to any other person who requires that urgently.
You may like reading:
Best Diet to Prevent Kidney Stone
Best Diet for Healthy Kidney
Symptoms of Kidney Stones
Kidney stones are the unbreakable bond of crystallized mineral in the kidneys or urinary tract. Nephrolithiasis or Renal Lithiasis is the medical term used for it. It is quite common among people and so about one in twenty individuals do develop that at a certain point in their life. In many cases, the stones are too small to be passed out by themselves while urinating and the person never knows about that. But in case that stone forms itself into a large one and moves itself around the kidneys or passes to the ureters it causes the following symptoms:
Extreme pain below the ribs at the side and back
Pain that reaches the lower abdomen and groin
Fluctuations in the achy feeling that grows and settles like waves
Pain while urinating
Blood in the urine
Pink, red or brown colored urine with or without cloudy texture
Foul smell in the urine
Feeling nauseated in which a person probably vomits
Feeling of urgency to urinate more frequently than normal and that too in small amounts
Chills and fever in case of the presence of an infection
In the case of kidney stones the ache may shift its location from one point to another and could become more intense with time. But before knowing about the treatment one must know about nephrolithiasis that what it is. The stones are made up of minerals and acid salts. The stones are capable to affect the whole urinary tract starting from the kidneys to the bladder. When the urine becomes too concentrated and doesn't excrete out on time the crystallization process occurs. There is no permanent damage if one suffers from this issue.
Break Kidney Stones with Natural Ayurvedic Treatment

An individual is usually advised to drink lots of water to pass the stone but in case the stones become big enough surgery might be required. And in order to avoid that all we recommend some ayurvedic remedies for kidney stones in order to break kidney stones naturally. Kid Clear capsules are excellent herbal kidney stone breaker pills that effectually help break kidney stones naturally. These ayurvedic remedies for kidney stones are filled with outstanding composition of plant based herbs, which are as follows:
Patthar Chur (Coleus Aromaticus), Bastimoda (Apium Graveolens), Kulthi (Dolichos Biflorus), Pashan Bhed (Saxifraga Ligulata), Ambihaldi (Curcuma Aromatica), Elaychi Badi (Amomum Subulatum), Barna (Crataeva Nurvala), Gaukshroo (Pedalium Murex), Javakhar (Potassii Carbonas), Kali Musli (Curculigo Orchioides Gaertn), Kaknaj (Physalis Alkekengi), Makoy (Solanum Nigrum), Kakadi (Cucumis Utilissimus), Alubalu (Prunus Cerasus), Javatea (Orthosiphon Stamineus), Karmkalla (Cabbage), Taj (Cinnamomum Cassia), Apamarg (Achyranthes Aspera), Hauber (Juniperus Communis)
The manufacturers are remarkably cautious while blending them all in their pure extracts. Every product that is manufactured here is timely tested and assures that whoever consumes these herbal kidney stone breaker pills gets greater possible benefits. Not only are these ayurvedic remedies for kidney stones made in scientifically sound environment but also in the clean and hygienic campus.
The reasons why we recommend break kidney stones naturally despite of the emergence of latest medical technology are the extra-ordinary advantages that one could get while taking them with the fact that there would be no side effects on the surface even while taking some other medicines in parallel or consuming these herbal kidney stone breaker pills for than recommended intervals. The job of Kid Clear capsules is to soften the hard bond between the stones and pass them through urine. Consumption for a few months is enough for a person to get fruitful benefits and men or women of any age are free to take these capsules without hesitation.
You may like reading:
Best Healthy Renal Diet
UT Clear Capsules Review
You May Like…
Sale!