Best Diet to Prevent Kidney Stone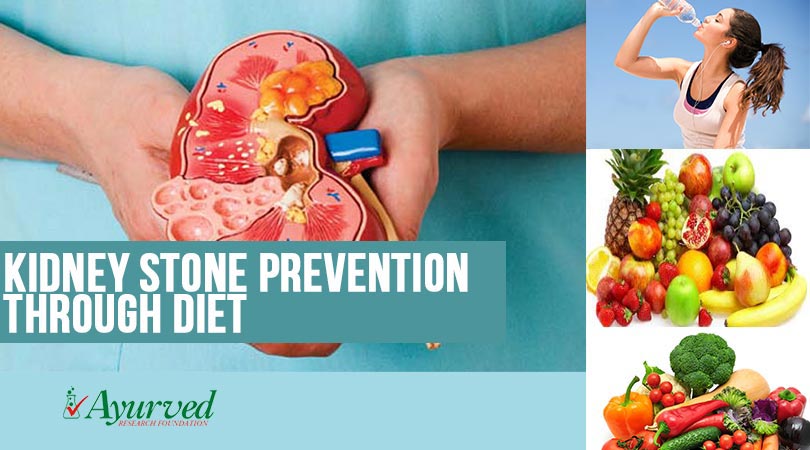 Kidney Stone Prevention through Diet
Kidney stones are very debilitating problem as these can reoccur again and again and damage these vital organs of the body irreversibly. Diet and lifestyle play a crucial role in causing and relieving this problem, with proper diet and healthy lifestyle person can reduce chances of getting a stone whereas chances compound if person eats wrong types of foods and leads an unhealthy lifestyle.
Water intake is primary and very important step for a person who has faced occurrence of a stone in kidneys. In fact water intake is vital for every individual but it is even more important to minimize chances of stone formation. Apart from this, forming a diet which includes foods and drinks which naturally play a direct or indirect role in preventing formation of stone provides effective kidney stone prevention through diet.
Minerals like calcium, oxalate, xanthin, phosphate, urate and cysteine are majorly responsible for forming stones in kidneys. These minerals when precipitate in these organs their crystals bind together to form a stone, largely higher oxalic acid and uric acid present in urine work as adhesive to bind the crystals of these minerals.
Lowering presence of these minerals in urine and maintaining healthy water intake allows safe removal of mineral precipitate to prevent stones and by following proper diet levels of uric and oxalic acid can be kept under control to gain kidney stone prevention through diet.
For more on kidney, check out:
Best Diet for Healthy Kidney
Healthy Gallbladder Diet
Foods to Avoid with Kidney Stones
Read Full Details Here>>Best Kidney Stone Prevention Foods
There are certain commonly used food items and drinks which one needs to avoid for kidney stone prevention through diet. Keep water intake up to 2 litres a day necessarily, reduce beverages and soda consumption in any form. Curb intake of beer, whole wheat breads, dark chocolates, instant coffee, black tea, sesame seeds, figs, pretzels, berries, lemon and orange peel, juices of high oxalate fruits, eggplant, beets, carrots, celery etc. as these are high on oxalate and bind crystals of minerals to form a stone. Reducing or stopping intake of these substances provides effective kidney stone prevention through diet.
If you are living in an area where water has higher fluoride levels beware this mineral, as it increases chances of kidney stone. Use proper water purifier or drink water obtained from other place where fluoride levels are low in water to gain effective kidney stone prevention through diet.
Higher level of fluoride is one of the main reasons behind kidney stones these days. People suffering with fractures or bone disorders are at high risk of getting kidney stone due to higher level of calcium crystals floating in blood. Proper diet can minimize chances of calcium crystals binding in kidneys to provide kidney stone prevention through diet.
Exercise regularly and divide your meals in small portions. Even performing mild exercises like walking or jogging can be of great help to prevent kidney stones. Eating two large meals can be triggers for stone formation so eat four or five times in a day dividing your diet into small portions at regular intervals. This type of eating will also help to gain variety of foods which provide health benefits and minimize chances of the problem for effective kidney stone prevention through diet.
Foods to Eat with Kidney Stones
Here are few foods which are low on oxalate and provide kidney stone prevention through diet, include these food items to form a diet plan and steer clear of the problem.
Fruits – Best Diet to Prevent Kidney Stone

Include fruits in the diet like bananas, lychee, mangoes, huckleberry, grapes, avocado, melon, grapefruit, passion fruit, papaya, peaches, green and yellow plums and raisins. These fruits are low on oxalate and maintain healthy nutrition, these fruits are also sources of fibre which enhance digestion, lower toxicity to keep blood free of toxins and reduce load over kidneys to minimize chances of stone problem. Regular consumption of these fruits between meals or with meals provides effective kidney stone prevention through diet.
Drinks – Best Diet for Healthy Kidney
Green tea, buttermilk, lemonade, lemon juice, pineapple juice, milk, wine, apple juice, apricot nectar, apple cider vinegar, oolong tea and grapefruit juice are few examples of drinks which can be included in daily diet to gain as low as 2 grams of oxalate for kidney stone prevention through diet.
Vegetables – Best Natural Diet to Remove Kidney Stones

You can include vegetables like cabbage, cauliflower, radish, water chestnut, peas, chives cucumber and mushrooms liberally to your diet to keep oxalate supplementation to minimum and reduce chances of stone. You can also include barley, white rice, pasta, cereals, wild rice etc. to your diet to eat low-oxalate diet.
You can use condiments like basil, cinnamon, nutmeg, honey, sage, oregano, peppermint etc. in cooking to keep oxalate level under control and gain kidney stone prevention through diet.
Go slow with food items like pumpkin seeds, sesame seeds and sunflower seeds, also consume foods like tomatoes, prunes, brown rice, onions, fennel, canned carrots, liver, sardines, whole yoghurt etc. as these food items have relatively higher oxalate levels and may speed-up process of stone formation. Check your medicines as well, if you have just started any medication after which you faced problem of stone you need to discuss about this with your doctor.
You may like reading:
Best Diet Gall Bladder
Healthy Colon Diet
You May Like…
Sale!