Diet to Reduce Stomach Acidity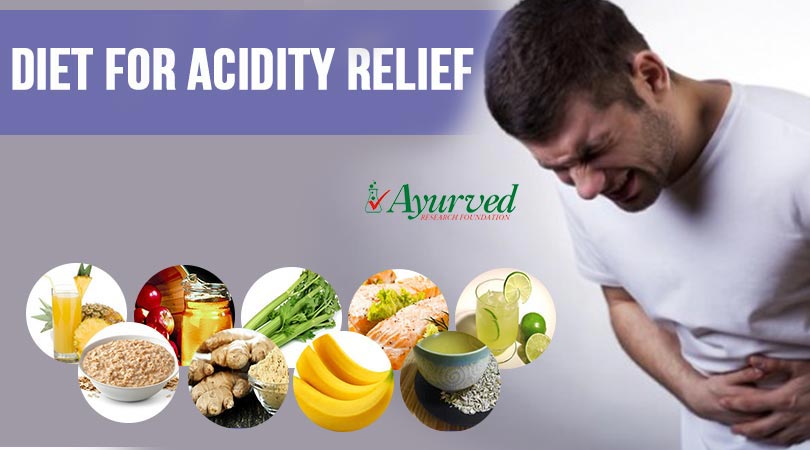 Diet for Acidity Relief
Acids are released in stomach during digestion. These are necessary as digestive system needs these acids to breakdown complex food items as fat. The problem arises when acids get secreted in higher amount in stomach and regurgitate into esophagus to cause hyperacidity. Esophagus has a sphincter at the lower end which prevents food and digested matter from regurgitating into food pipe, regular episodes of acidity cause weakness in this sphincter which allow digested material to flow back into food pipe and cause heartburn.
Regular episodes of acidity can damage delicate internal organs and raise serious disorders and problems in digestive system. Diet for acidity relief suggests consumption of foods which prevent secretion of excessive acid; these foods also produce less gas during digestion which curbs occurrences of acidity, hyperacidity or heartburn naturally and effectively.
Diet of acidity relief put stress on eating alkaline foods in higher dosage. This diet is collection of foods which are alkaline in nature and provide complete nutrition. Such foods get digested easily, nullify existing acids in stomach and do not produce excessive acid and gas during digestion to provide complete relief from the problem. Eating diet for acidity relief is far better option than using antacids and other measure to gain relief.
For more on acidity, check out:
Ayurvedic Herbal Remedies for Acidity, Gas and Indigestion
Acid Reflux Diet to Prevent the Problem
List of Foods that Reduce Stomach Acidity
Oatmeal – Remedy to Reduce Stomach Acidity
This is bland grain, it is rich in fibre and keeps stomach full for longer duration. The fibre present in this food improves digestion and prevents secretion of acids in stomach during digestion. Avoid using whole milk or whole yoghurt with oatmeal, use fat-free varieties of these dairy products and eat it in the breakfast to gain relief from problem. Oatmeal provides very useful breakfast for diet for acidity relief.
Use Ginger – Remedy for Acidity

Use this spice in any form and in many ways in diet for acidity relief. You can drink cups of ginger tea few times in a day or add this spice in cooking. You can also cut a two inch long piece into fine pieces and eat these as salad ingredient with meals. You can even chew a small piece plain whenever feel like excessive acid presence in stomach. This rhizome has potent properties to nullify acids and improve digestion to inhibit their excessive secretion.
Bananas – Natural Remedy to Cure Acidity
These are preventers and curers for acidity and very useful part of diet for acidity relief. Eat ripe bananas two or three pieces in a day, eat them with breakfast or between meals, these digest and also have low PH balance to nullify acids present in stomach. Avoid eating over-ripe bananas as these may not contain similar benefits.
Melon – Natural Remedy to Reduce Hyperacidity
Natural Remedy to Reduce Hyperacidity This fruit is reckoned as weakly acidic. But duet to presence of magnesium it is included as a part of diet for acidity relief. Another advantage of this fruit is that it is high on water content. Most of the times lesser hydration in stomach causes acid build-up and good water presence help body in flushing acids out before they cause any harm. In some cases consumption of melon with banana may worsen the symptoms.
Fennel – Remedy to Get Rid of Acidity

You can drink fennel tea two or three times in a day or eat it as salad ingredient. Its digestive and gas inhibiting properties make it a useful choice for diet for acidity relief. Chewing fennel seeds after meals is also useful for those who suffer with mild acidity after meals. Using raw fennel bulb provides more benefits than seeds when it comes to acidity relief.
Non Vegetarian Foods – Diet and Foods for Acidity Relief
If you are fond of non-veggie foods news is bad for you as these foods generally increase acid level in stomach. But eating fish, chicken and turkey are good choices for diet for acidity relief. Avoid using excessive spices while cooking these to gain all the benefits.
Celery – Natural Treatment to Treat Heartburn
This is very useful salad ingredient or you can use it as a snack as well between meals to suppress acidity. This vegetable is water and fibre and prevents you from eating excessively. It is best for relieving passing hunger and prevents acid secretion when stomach is empty. Two or three stalks of celery in a day are good foods for diet for acidity relief.
Pineapple and Papaya – Remedy to Reduce Stomach Acidity

These fruits too are good diet for acidity relief. Papaya contains papaine which is anti-inflammatory and it also supplement antioxidants. Pineapple is rich source of bromelain which is digestive and anti-inflammatory. Include these fruits in your diet for acidity relief as their juices may turn acidic in nature particularly pineapple.Dices of these fruits as snack or salad ingredient provide relief from the problem.
Brown Rice – Natural Remedy to Cure Acidity
Add some brown rice to your diet. These are good sources of fibre and keep you full for longer period and also curb acid secretion during digestion. You can add these to your soups as well to get a dose of fibre and eat diet for acidity relief.
Potatoes – Natural Diet for Acidity Relief
These are sources of complex carbohydrates and very effective diet for acidity relief. Do not make potatoes heavy by deep frying or using butter, consume boiled potato one medium sized piece preferably without spices with meals to suppress acidic secretion and absorb excessive acids in stomach.
You may like reading:
Homemade Healthy Fruits and Vegetables Juices
Homemade Probiotic Lemonade Recipe
You May Like…