Homemade Probiotic Lemonade Recipe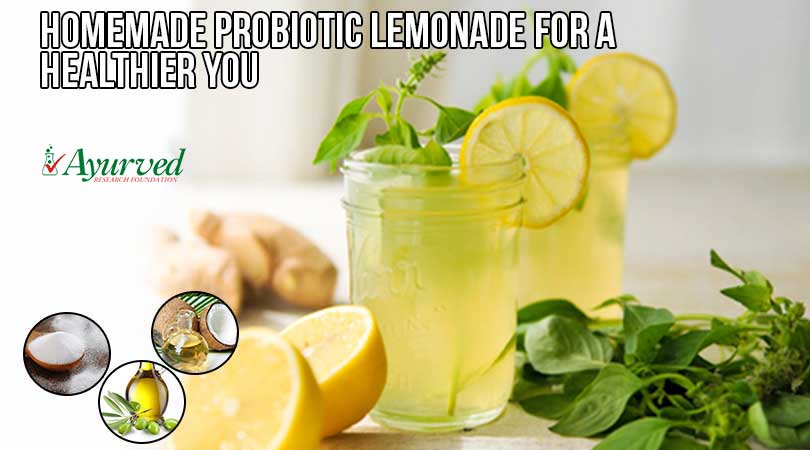 Refreshing and Healthy Homemade Probiotic Lemonade
Digestive problems have become a fact of our daily lives. Eating too much or having nothing to do, less workout, not getting enough sleep or eating junk foods are the unhealthy reasons behind our stomach discomfort. Keeping our stomach in check is very much important as our whole body health highly depends on proper functioning of the digestive tract. Maintaining a healthy routine by daily exercising and eating balanced nutritional diet can improve our overall health. Whereas, taking a good sleep and hydrating our body also add benefits to our health.
There is one more factor that can affect your health. Even we follow a healthy lifestyle and good eating habits, many times our body needs detoxification. It means to get cleaned our body from bad bacteria. The bad bacteria which can cause hundreds of illness is as they multiply very quickly and you cannot escape from them as they are all around your environment. So, the best option is to cleanse your body to get rid of them through probiotic.
Now, what are probiotics? Well, these are live bacteria that are good for your health. Yes, bacteria can also be good. There are two kinds of bacteria, the one we always heard of is the bad bacteria and the other one is good bacteria that help in prevention from diseases, enhancing your immunity and keeping your stomach health intact. Although your body naturally has probiotics but there is a constant fight between good and bad bacteria in our stomach and sometimes bad bacteria take over the good ones and hence our body needs supplements of probiotics for our survival.
You may like reading:
Best Diet for Diarrhoea Patients
Best IBS Diet
Homemade Probiotic Lemonade Recipe
Probiotics are commonly available in markets but are expensive. There are several other food supplements that we can add to our diet. One such probiotic element we can easily prepare is probiotic lemonade. Lemon, the name itself sounds refreshing, cool and energetic and what if the lemonade is fermented. It becomes loaded with the goodness of bacteria. Homemade probiotic lemonade is healthier and tastier and at the same time relieves you from hot summers. For those wishing for a flat belly and losing weight, this drink is a must try. Follow the below recipe and make your own probiotic drink.

Ingredients
10-12 lemons
¾ cup sugar
1 cup of whey
Filtered water
A gallon jar
Start up filling a jar with ¾ cup sugar then adding one or two cups of hot water to it, so that the sugar gets dissolved. Once the sugar gets dissolved add the lemon juice to it; do not forget using only fresh lemons. Then fill the remaining ¾ jar with filtered water. Add the whey to it and cover the jar with a lid. Remember, all this preparation should be done at room temperature. Leave the jar for 3 days. After 3 days when your homemade probiotic lemonade is ready, you can refrigerate it. When you want to drink just pour a glass and enjoy the chill homemade probiotic lemonade.
You will notice that the sweetness of the sugar has become less and it tastes a little tangy because the sugar gets fermented. If you want it sweet you can add stevia, as stevia is a natural sweetener. You can buy the whey ready-made from the market or prepare the whey at home. The best way is to get it prepared at home. You can make it by draining the plain yogurt into a bowl with the help of cheesecloth tied tightly around the yogurt with help of a rubber band. Whey is the culture of live bacteria which also b obtained from raw milk or remains left after making cheese.
Homemade probiotic lemonade is beneficial in healing your digestive health by balancing your natural good bacteria and it also helps in losing weight. Taking medications like antibiotic can cause an imbalance of good and bad bacteria, thereby causing diarrhea which can be controlled by consumption of homemade probiotic lemonade. Many times a person having stomach issue go through mental illnesses like memory problems or depression.
Taking homemade probiotic lemonade reduces the depression levels and is found very efficient at treating mental health. Along with this lemonade has many other benefits too. It controls your cholesterol level and keeps your heart healthy. This probiotic drink helps in lowering your blood pressure and also reduces inflammation and allergies.
These are some of the many wonderful benefits provided in just one delicious drink. What could you more expect for? We are sure you would go crazy without a second thought for this homemade probiotic lemonade for a healthier lifestyle and a healthier you.
You may like reading:
Ayurvedic Herbal Remedies for Acidity, Gas and Indigestion
Ayurvedic Remedies for Weak Immune System
You May Like…