Ayurvedic Remedies for Weak Immune System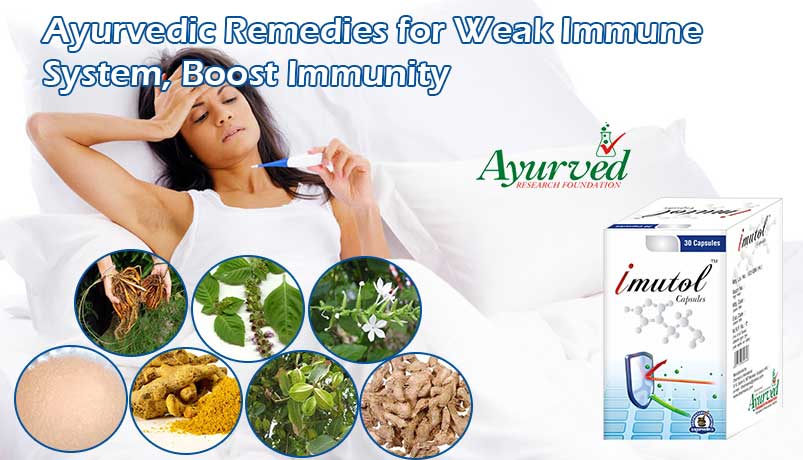 Boost Weak Immune System with Ayurvedic Remedies
Our immunity determines whether our body is capable to fight against external bacteria, viruses, dirt, toxins, etc. or not. Everyone possesses different immunity levels. You might have noticed some people catch cough and cold so easily and it is longer than expected period of time, others either don't catch at all or catch lately and their issue simply vanishes in just few days. The former ones are more common than the latter ones. Which one are you?
You may like reading:
Imutol Capsules Review
Super Health Capsules Review
Reasons of Weak Immune System

There are a few reasons of weak immune system to explain why a person has this in the first place. Depending on too much of sugar depletes the body's basic ability to resist the external stressors. A study shows that 100 gm of sugar intake habit makes the white blood cells react 5 hours later to kill the bacteria. Drinking less water than average intake also invites low immunity. This is because fluids help to expel the toxins out of the body which ultimately keeps it physically healthy. Being full of toxic elements causes frequent infection within.
Not only this, the extent of your water to be safe, clean and mineralized also is important. Therefore, it is always recommended to drink clean and filtered water. Psychologically stress and depression makes a person more prone to weak immunity and it is quite evident among individuals that whenever they have to give some kind of performance like singing, paper presentation, etc. it is a likely scenario that they catch cough or cold or both.
Other factors like inadequate amount of sleep on daily basis, physical exertion, medicinal side effects, some specific surgeries, blood transfusion, nutrient deficiency, etc. also play a vital role in weakening the natural immune system of the body. It sounds weird but if a person catches cold twice or more he or she has weakened immune system in a chronic manner and it won't stop since the body gets busy in rectifying that and so the overall immunity also continues getting hampered. They keep on getting caught with different kinds of infections frequently. It seems like this cycle never ends and such people never get to stay away from it. If a person doesn't get cured he or she may develop the most feared disease – Cancer!
Ayurvedic Remedies to Boost Immunity

To avoid everything, one must seek ayurvedic remedies for weak immune system such as Imutol capsules. This is because these ayurvedic remedies to boost immunity can boost immune system naturally. Imutol ayurvedic remedies to boost immunity is capable to provide rid from many major diseases and infections and make a person capable of fighting them all on long term basis. The reason why these ayurvedic remedies to boost immunity are successful is the presence of herbal ingredients in their very pure form. Such potent composition we show you here below:
Shatavari (Asparagus Racemosus), Tulsi (Ocimum Sanctum), Kesar (Crocus Sativus), Abhrak Bhasma (Abhrak Bhasma), Anantmul (Hemidesmus Indicus), Chitrak (Plumbago Zeylanica), Suvarna Bhasma (Aurum), Kutki (Picrorrhiza Kurroa), Haridra (Curcuma Longa), Daruharidra (Berberis Aristata), Nimba (Azadirachta Indica)
Processed in decoction of
Bhumyamalaki (Phyllanthus Niruri), Amlaki (Emblica Officinalis), Yashtimadhu (Glycyrrhiza Glabra), Ashwagandha (Withania Somnifera), Punanrnava (Boerhaavia Diffusa), Giloy (Tinospora Cordifolia), Brahmi (Centella Asiatica), Manjistha (Rubia Cordifolia), Bhangra (Eclipta Alba), Arjun (Terminalia Arjuna), Sonth (Zingiber Officinale)
Immune System Natural Boosters
All the above ingredients are carefully chosen and cautiously refined under the watchful guidance of ayurvedic experts. This is the reason why these ayurvedic remedies for weak immune system claim safe consumption. Regular intake of Imutol capsules, being highly renowned ayurvedic remedies for weak immune system can boost anyone's immunity belonging to any age or gender.
The fact that these capsules won't bring you pain or side effects is a great relief one can hear since that cannot be possible with allopathic medicines. Guess what the best part is! Whichever medicines you take can be combined with these ayurvedic remedies for weak immune system with no negative reaction. Your medicines might seem legitimate at the moment since these bring instant results but this is unfair to be dependent on such things for the whole year. What about never catching cough or cold for long run?
Take 1 capsule or 2 capsules of Imutol after breakfast and dinner and consume these ayurvedic remedies for weak immune system with either water or milk and see the changes within you. The changes would be seen within the first three-four months. You are absolutely free of halting your course at your own will all of a sudden. Unlike other medications that deliver withdrawal effects and make a person addicted, these immune system natural boosters won't do such acts. We are therefore assuring you great benefits.
You may like reading:
Revival Capsules Review
Best Healthy Diet for Athletes
You May Like…